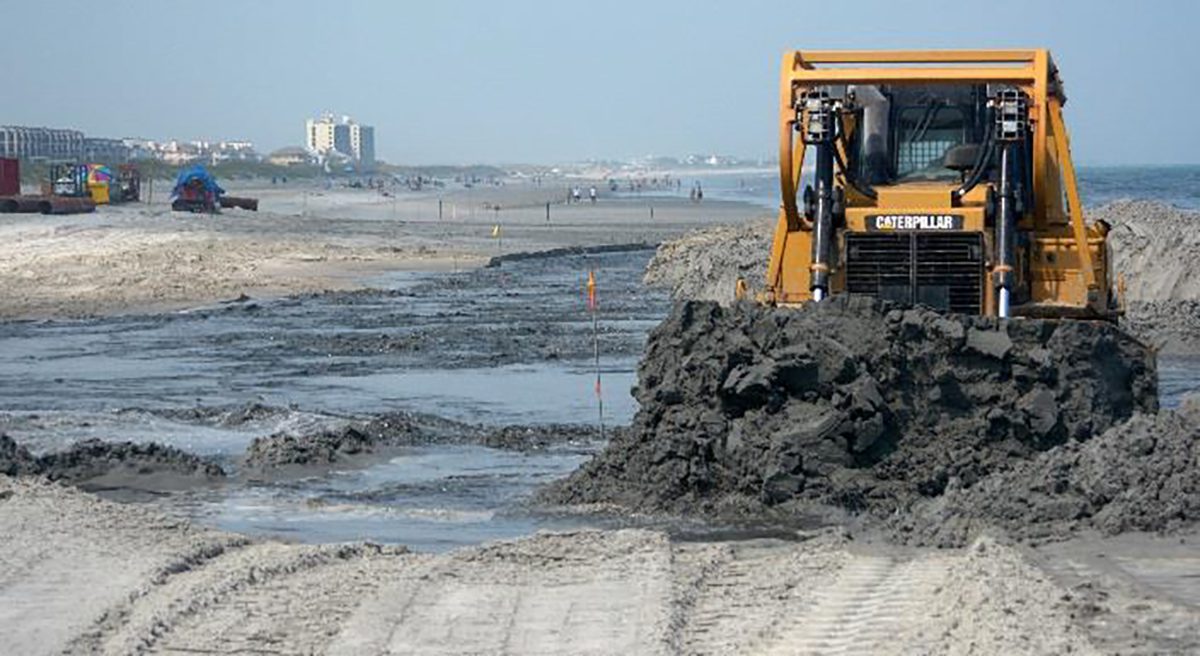 Sand to renourish Wrightsville Beach's ocean shoreline later this year will be pumped from within the same inlet it has for decades.
Making what it calls an emergency exception, the U.S. Army Corps of Engineers Wilmington District has determined the beach will get sand from Masonboro Inlet, sparing the town what was forecast to be a hefty price increase for a renourishment project that was already behind schedule.
Jed Cayton, a public affairs specialist with the Corps' Wilmington District, said in an email responding to Coastal Review's questions that the agency had exercised a Coastal Barrier Resources Act, or CBRA, exception for the town's upcoming emergency nourishment project.
"Since Masonboro Inlet has been the historic borrow source for the project, the necessary environmental clearances are currently in place," Cayton said in the email. "This exception was made on a case-by-case analysis, meaning it is for this particular situation only. However, the inlet could be used in the future if the situation fits the criteria of a federal emergency."
The Corps no longer plans to finalize an environmental assessment of the town's storm risk management project, the draft of which was released in January, examining alternative sand borrow areas for the town.
Masonboro Inlet has been the town's go-to sand source since the 1960s.
The rich, beach-quality sand routinely pumped from Banks Channel onto the ocean shoreline lies within federally-designated Coastal Barrier Resources System Unit L09.
CBRA, pronounced "cobra," was passed by Congress in 1982 to discourage building on relatively undeveloped, storm-prone barrier islands by cutting off federal funding and financial assistance, including federal flood insurance.
The act was also established to minimize damage to fish, wildlife and other resources associated with coastal barrier islands.
The interpretation of the law as it pertains to whether sand that is within a CBRA unit may be dredged and placed onto a beach outside of a CBRA zone has been kicked back-and-forth between federal regulatory agencies for years.
Wrightsville Beach had been shielded from the debate because the town was given an exception since it had been using the inlet as a borrow source years before CBRA was enacted. In the mid-1990s, the Corps made the exception a permanent rule, one that continued to be upheld through 2019 when then-Interior Secretary David Bernhardt determined that federal funds could be used to pay for dredging sand within CBRA units and for placing that sand on beaches outside of those zones for shoreline-stabilization projects.
Looking back: Tiresome issue won't stop Wrightsville Beach sand project
Last year, the Biden administration overturned the rule, a move that forced Wrightsville Beach to look offshore for a sand borrow source.
Aside from anticipating a higher price tag to move sand from the ocean floor, the town ran into an unexpected problem with its offshore site – tires.
During surveys of the offshore borrow site, the Corps discovered some 300,000 tires had broken free from an old artificial reef and scattered along an area of seafloor within the site. A Corps official last year said the agency would have a mitigation plan to try and prevent a dredge from sucking up tires and pumping them onto the beach.
The Corps did not indicate whether the presence of tires within the offshore borrow site played a part in its decision to grant the emergency exemption.
Wrightsville Beach was initially on track to receive sand last year, New Hanover County Shoreline Protection Coordinator Layton Bedsole said Monday.
"I think it's a positive step," he said of the emergency exemption.
Wrightsville Beach Town Manager Tim Owens did not return a call Monday seeking comment.
Congressman David Rouzer, R-N.C., in January introduced a bill to amend CBRA to allow federal funds to be used for coastal storm risk management projects that have been pumping sand from borrow sources within a CBRA zone for more than 15 years.
Earlier this month, Rouzer and Wrightsville Beach Mayor Darryl Mills testified in favor of the bill before the House Natural Resources Subcommittee on Water, Wildlife and Fisheries.
During his May 10 address to the subcommittee, Rouzer said that the inlet borrow site has "served as a reliable, ecologically friendly" source for more than 50 years. He expressed urgency for renourishment of the town's beachfront.
"Seasonal storms have caused flooding to occur quickly and more easily than in the past. In fact, if Wrightsville Beach experiences one more major storm, the destruction to property could be catastrophic, costing taxpayers as well as the National Flood Insurance Program significantly more," he said.
Cayton said the Corps will continue to work with the Bureau of Ocean Energy Management to identify suitable borrow sources "within and beyond 3 nautical miles" for the town.
"An environmental assessment will be completed on any source considered," he said.
Work to move tens of thousands of cubic yards of sand from the inlet borrow source to the town's ocean shoreline is expected to begin in mid-November and wrap by the close of the environmental window March 31, 2024.