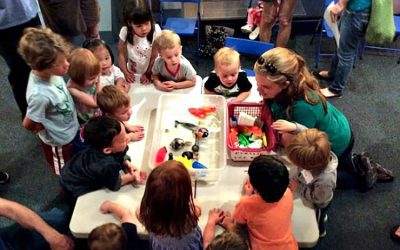 The North Carolina Maritime Museum in Beaufort will offer in February programs for little learners, two-day boatbuilding courses, a talk on love triangles at sea, and a chance to archaeological conservators.
Museum Associate Education Curator Christine Brin took over as programs coordinator when she was promoted in October. In her new role, she oversees the museum's event schedule.
"I'm always excited to see how people respond to the variety of programs we have on our schedule each year," Brin said. "But this year, I'm paying even closer attention so moving forward I can make sure the events we host continue to appeal to locals and visitors."
The Maritime Museum is at 315 Front St. in downtown Beaufort, and the Harvey W. Smith Watercraft Center, which houses boatbuilding programs, is across the street from the museum. Hours are 10 a.m. to 5 p.m. Monday through Saturday and noon to 5 p.m. Sundays. Admission to both sites is free. Donations are appreciated.
For more information on any of the programs or to register before the event, call 252-504-7758 or visit ncmaritimemuseumbeaufort.com/events.
The February schedule is as follows:
Lift Half-Model Class 9:30 a.m.-4:30 p.m. Feb. 4-5. Learn how to read a set of plans and use the basic woodworking tools most commonly found in a boatbuilder's tool kit to shape a lift half-model of a North Carolina shad boat during this two-day course at the watercraft center. The models are built following a step-by-step procedure and are then taken home to apply a finish. Course fee is $120, or $108 for Friends of the Museum members. Course size is limited, and advance registration is required.
Merry-time for Tots 10 a.m. Feb. 8. Ages 2-5 and their caregivers will be able to participate in a maritime themed hands-on experience, craft, and activity during the program offered every second Wednesday. Topics rotate between pirates, sharks, whales, and fish with a focus on both experience and exposure. Each program is 45-60 minutes long. Caregivers are asked to stay for entire program. Pre-registration required; $10 per participating child (Friends of the Museum members $5). Or buy a three-month package and get 20 percent off.
Ocean Infants 9 a.m. Feb. 9. The program for 0-2 years and their caregivers involves maritime items such as whale bones, shark teeth, and pirate hats. This program, offered every second Thursday, is designed to give the caregiver and infant the chance to bond, learn, and socialize. Registration before the event is required. Cost is $5 per participating child, $2 for Friends of the Museum members, or buy a three-month package and get 20% off.
Love at Sea program 11 a.m. Feb. 9. Duels, deathbed confessions and love triangles help make up some Crystal Coast love stories. Join Associate Education Curator Christine Brin in the museum auditorium as she shares eight of her favorite stories of love at sea during this unique approach to Valentine's Day. Free, no registration required.
Heart of the Sea program 7 p.m. Feb. 14. Join the museum for a Valentine's Day presentation about its beloved whale Echo. Learn about putting together his skeleton and preserving his heart. This presentation also covers the story of Bonehenge Whale Center, a massive volunteer effort inspired by the skeletal display of our sperm whale and its heart. Free, no registration required.
Don't Be So Salty: Diffusion and Desalination in Archaeological Conservation 11 a.m. Feb. 16. Ever wonder why archaeological conservators keep things in tanks, or why a crusty cannon can take more than 10 years to travel from ocean floor to museum showcase? Join Museum Conservator Michelle Crepeau as she breaks down the fundamentals of desalination and the underlying science that makes it all work. Free, no registration required.
North Carolina's Antebellum Shad and Herring Fishery 11 a.m. Feb. 23. For generations, river herring and shad were the most important fisheries in eastern North Carolina. Join Maritime History Curator David Bennett in the museum auditorium to explore the business of operating these fisheries and the role of black labor in the decades prior to the Civil War. Free, no registration required.
Introduction to Wooden Boatbuilding 9 a.m.-4:30 p.m. Feb. 25-26. Explore the art of boatbuilding from start to finish during a two-day, hands-on course at the watercraft center. The course begins with the design and lofting of boats and moves on to the setup, steam bending and different methods of creating the backbone of small boats. Additional topics include how to make planking systems, both carvel and lap strake, and all the appropriate fastening systems. By the end of the course, students will have the knowledge and skill to choose a design and style of boat to build on their own and the confidence to take on the job. Course fee is $180 or $162 for Friends of the Museum members. Course size is limited, and advance registration is required.
Carolina Maritime Model Society Meeting 2 p.m. Feb. 25. The model society exists to promote the production of high-quality ship models and encourage members and the public to participate in a craft that is as old as shipbuilding itself. Meetings are open to the public and take place in the museum auditorium.