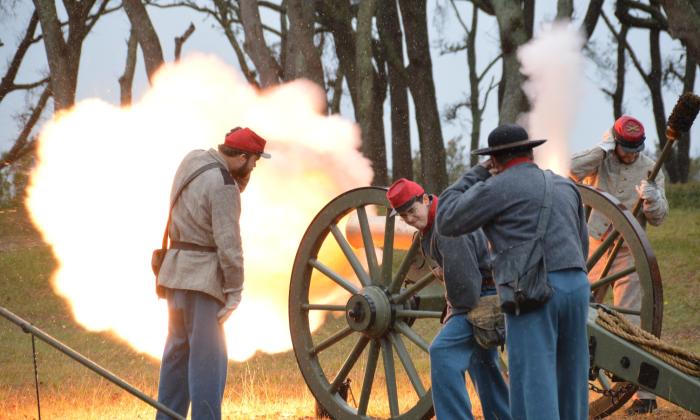 Fort Fisher State Historic Site is commemorating its 158th anniversary 10 a.m. to 4 p.m. Saturday with the program, "With Artillery, War is Made."
The free living history program will focus on the artillery at Fort Fisher during the American Civil War.
At 10 a.m., noon, 1:30 p.m. and 3 p.m., there will be demonstrations of the 32-pound banded and rifled seacoast gun, the 12-pound Napoleon, and a 10-pound Parrott gun.
Curator of History Ray Flowers will present "The Sword of Fort Fisher" in the visitor center auditorium at both 11 a.m. and 2 p.m. that day. Seating will be limited.
Visitors will also be able to view living history displays set up in the Fort Grove.
Due to new visitor center construction, visitors are encouraged to park at Battle Acre, or the temporary lot south of the museum. Accessible parking is limited to two spaces just north of the museum.
Fort Fisher kept North Carolina's port of Wilmington open to blockade-runners supplying necessary goods to Confederate armies inland until the last few months of the Civil War, according to state Historic Sites. By 1865, the supply line through Wilmington was the last remaining supply route open to Robert E. Lee's Army of Northern Virginia. When Fort Fisher fell after a massive federal amphibious assault on Jan. 15, 1865, its defeat helped seal the fate of the Confederacy.