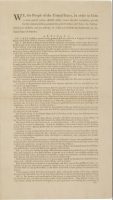 The North Carolina Museum of History from 9 a.m. to 5 p.m. Wednesday will host a special one-day public exhibition of a rare first printing of the U.S. Constitution.
Admission is free to view the exhibit at the museum in Raleigh.
The document is one of 14 known copies of the official printing of the Constitution produced for the delegates to the Constitutional Convention and for the Continental Congress. It is one of only two copies of the first printing of the Constitution that remain in private hands, according to the museum.
The document will be exhibited along with the state's original copy of the Bill of Rights, currently held in the permanent collection of the State Archives of North Carolina, providing a unique opportunity to view original copies of the two documents side by side.