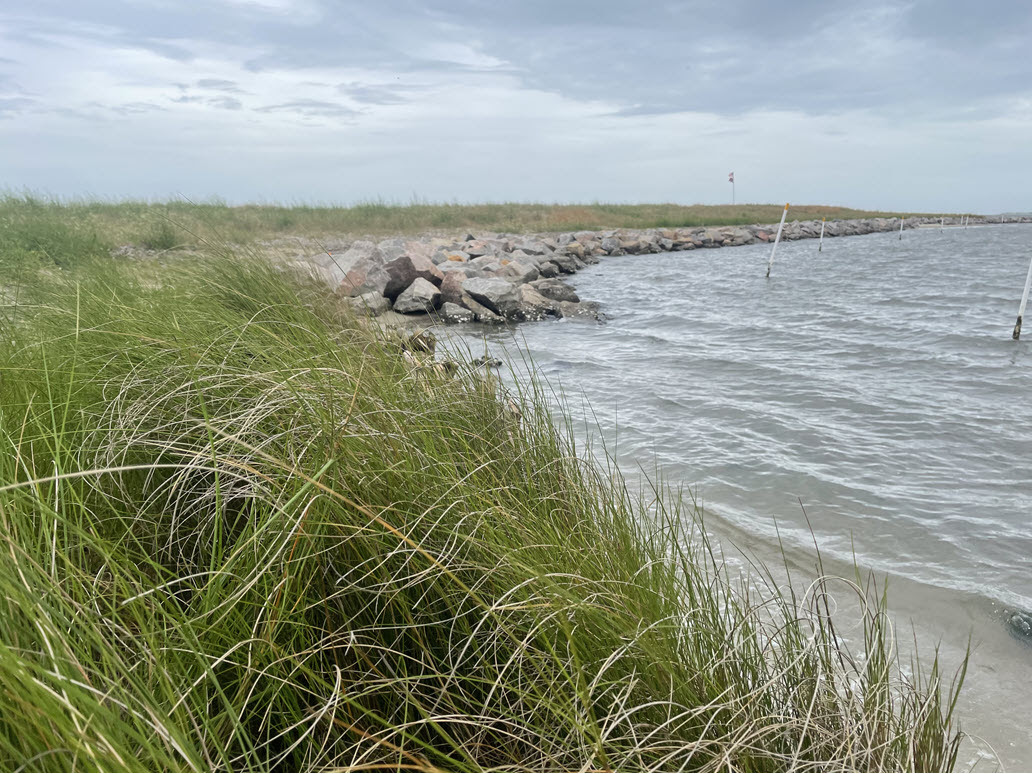 To keep up with how the shoreline stabilization industry is evolving, a team of shoreline restoration specialists during its recent meeting invited a handful of companies to talk about their proprietary techniques to build the alternative for hardened bulkheads and seawalls.
Living shorelines are made of materials such as salt marshes, sand, rock or oysters, and are a natural barrier for estuaries, bays, tributaries and other sheltered shorelines. They protect shorelines from erosion, provide habitat for fish and other living resources, improve water quality and store nutrients, increase stability over time, can outperform hardened shorelines during a storm, and attract natural wildlife, according to the National Oceanic and Atmospheric Administration.
Dr. Lexia Weaver, coastal scientist for the North Carolina Coastal Federation, and Jimmy Johnson with Albemarle-Pamlico National Estuary Partnership, an Environmental Protection Agency-funded program based in the North Carolina Department of Environmental Quality, co-chair the North Carolina Living Shorelines Steering Committee made up of scientists, federal and state agencies, and other invested organizations that work to identify and bring together efforts focused on promoting and implementing living shorelines. 
Weaver explained to Coastal Review that innovative options for living shoreline construction materials have really exploded in the last few years, which is why the committee brought in the companies to present their materials. Those companies were Atlantic Reef, ECOncrete, Native Shorelines, Natrx, ReadyReef Inc., Sandbar Oyster Co. SoxErosion and Living Shoreline Solutions.
The companies have their own methods and designs for shoreline stabilization systems and use local or biodegradable materials, concrete or a combination, to build their systems, most of which have wave attenuation properties to slow erosion. One company offers a product that can be added to the concrete mix to keep it from breaking down under water.
Depending on the business, the units making up the shoreline stabilization structures are shaped like discs, rectangles, triangles, pyramids, blocks or a site-specific design. Many of the units are texturized to give oyster spat a place to hold on and grow. Most are installed in the intertidal zone either by the company or through a local contractor.
Johnson reiterated at the beginning of the Nov. 30 meeting that the committee was not trying to compare companies or methods, rather give the members a better idea of what's being used by those in the restoration and living shoreline business.
Weaver said in an interview that the federation's goal is for living shorelines to be the go-to approach for shoreline stabilization.
"Living shorelines reduce shoreline erosion while at the same time restore and protect our salt marsh and oyster habitats. Living shorelines are also more economical and a longer-term option when compared to bulkheads and seawalls," she said.
Weaver added that it was important to hear these new perspectives because there is a need for an alternative living shoreline construction material instead of the traditionally used plastic mesh for bags of recycled oyster shells.
"The ideal mesh material would last long enough — at least three years — in the marine environment to allow oysters to attach and grow. Although these plastic mesh bags of recycled oyster shells stay in place along living shoreline sills and marsh-toe revetments, and are extremely successful at reducing shoreline erosion and providing valuable estuarine habitat, they are still plastic, which is not the best material to be placing in our waterways. Even mesh bags that claim to be biodegradable are still plastic, Weaver continued. "We have been searching for an alternative mesh product to bag our oyster shells for a very long time and it may not exist or just has not been developed yet. In the meantime, multiple companies have developed materials that can be used instead of the plastic mesh bags of oyster shells and we are excited to test them and use them in living shoreline construction."
Weaver said after the meeting that attendees now have a variety of tools to use and test for living shoreline construction. A variety of materials were presented that each can be used at specific distances from shore, wave energies and site conditions.
"There were a lot of great before and after photos that really tell the story of how effective the products can be for use in living shoreline construction," she added.
About the methods
Atlantic ReefMaker, based in Wilmington, has developed a flow-through, pile-based wave attenuation system with ecological benefits, co-founder Phillip Todd said during the meeting.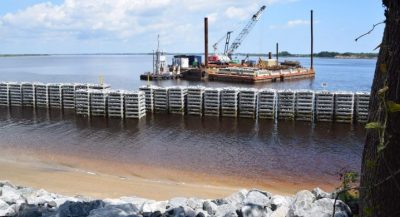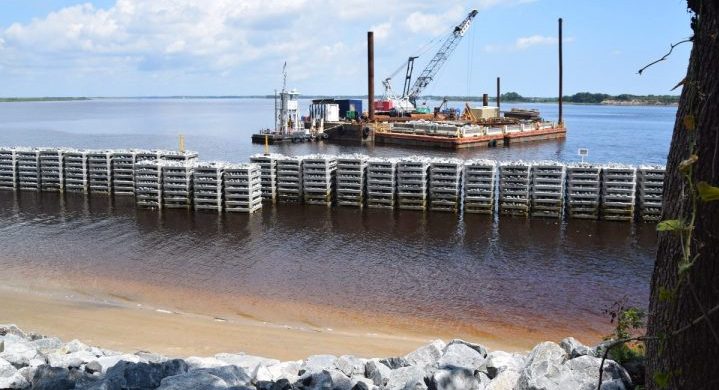 These artificial reef systems, designed to reduce shoreline erosion caused by tidal energy, are made of what the company calls ecodisks. A mechanical support system on a 12-inch diameter fiberglass pile holds the stack of concrete disks above the substrate. The height and length of the system are dependent on the project. When it comes to sea level change and how to adjust for it, Todd said these stacks can easily be made taller without any additional impacts to the substrate.
Dr. Andrew Rella is the technical director of business development of ECOncrete and he is in New York though the company is based in Israel. The company has a compound that can be added directly into the concrete mix that creates a hard layer to keep the concrete from breaking down. The company also has technology to make the concrete molds used to build the site-specific infrastructure have complex textures to give organisms something to grab onto and grow, holes that serve as shelter or breeding spaces, and tidepool or cave-like features that offer intertidal habitat generally missing from rocky coastal riprap, the website states.
Rella said this method can be used in any concrete in the marine environment, such as shoreline protection, waterfront infrastructure or offshore applications.
Native Shorelines, a division of Restoration Systems based in Raleigh, has a material called QuickReef that combines the aesthetics and ecological benefits of an oyster shell bag shoreline with the stability of heavier materials and eliminates the use of plastic, according to the website.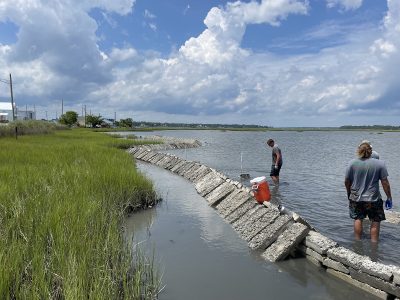 The company's Coastal Restoration Director Mary-Margaret McKinney, who is also on the committee, said during the meeting that the QuickReef system was designed for the intertidal zone so as to be underwater at high tide and exposed at low tide.
The system is a row of rectangular units, mostly made of native coastal materials, like limestone marl and oyster shells. These units are about 12 inches wide by 5 inches thick, weighing in at about 90 pounds. The units are arranged in a trapezoidal shape to create as much space as possible for habitat inside the structure.
Matthew Campbell, co-founder of Raleigh-based Natrx, a company focused on coastal restoration, said the company has a manufacturing technology called dry forming.
Sort of like a 3-D printer, water is robotically injected from several needles into a dry bed of concrete mix. The water diffuses through the dry mix, creating spheres with rough surfaces.
The spheres that form merge together to create a solid structure that resembles a simple sandcastle with a similar texture. The dry forming method allows for creating different designs using different materials.
Chris Davis with ReadyReef Inc., of the Chesapeake Bay area, said he is a marine contractor who uses a range of options for shoreline erosion control in the intertidal zone. The company "provides turnkey shoreline erosion control installations" according to its website and custom builds systems using low and high sill oyster reefs, which they backfill for living shorelines, and use nonwoven growth bags, tied concrete blocks and geobags, together or individually.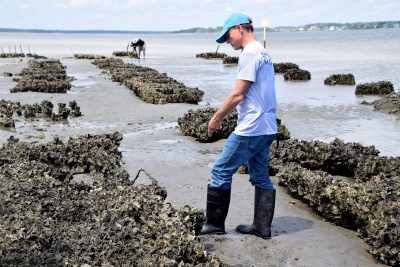 Dr. Niels Lindquist with Sandbar Oyster Co. in Carteret County said the company uses plant-fiber cloth as the foundation of its material, which is infused with different cement mixtures and molded into different shapes, such as a pillow to promote sediment accumulation and marsh growth.
One shape they use is called a table design, which combines vertical and horizontal elements. The design can be modified to allow for the tables to interlock to create different configurations, adjust the height and add a range of elements to reef design with little effort.
SoxErosion's Regional Manager Greg Bell, a Myrtle Beach resident, said this system can be used along any stream, lake, retention pond or the Intracoastal Waterway. SoxErosion, based in Boca Raton, Florida, this shoreline-stabilization method is designed with a double layer of technical mesh, which is a high-density polyethylene material. The pervious, flexible mesh is folded in half, like a taco, Bell said, and tethered to two or three rows of strategically placed anchors, depending on the size of the project. The ends are sewn shut making an envelope that is filled with soil material. The mesh molds to the topography of the bank itself. It is covered in sod, seed or plants to establish a root structure.
Florida-based Living Shoreline Solutions President and Founder Scott Bartkowski said the company designed wave attenuation devices, or WADs, that are three-sided pyramids made out of marine-grade concrete and fiber mesh, and are about 4.5 inches thick. These are placed in what he calls a WAD array, or designs specific to the shoreline area to prevent predominant wind and wave energy from reaching the shore. The company manufactures the forms based on the needs of the client. Those forms will be shipped to a local manufacturer that pours concrete and then the company uses local marine contractors to deploy the system.