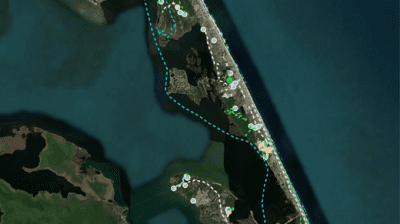 Dare County residents, property owners and visitors have access to a revamped online map to help discover what attractions and amenities are near their location.
The Dare County Geographical Information Systems Department announced Friday that its community map housed on the county website has undergone some updates, including moving all the recreational components previously listed in the community map to the newly launched recreation map.
The revamped community map allows users to access the location of nearby hospitals and healthcare facilities, town halls, administrative offices, police and fire departments, post offices, trash and recycling centers, libraries, meeting rooms and community centers, among others, officials said.
The updated community map also features information on hurricane evacuation routes, ferry schedules, how to contact government officials, and pay taxes and water bills.
The new recreational map allows anyone to enter their location in the county to find attractions and amenities, including area beach accesses and what is available there such as restrooms and lifeguard stations, as well as public boat launches, off-road vehicle ramps, fishing piers, playgrounds, dog parks, picnic areas and sports facilities, historical sites, museums and walking, hiking and paddling trails.
Municipalities and businesses operating within the hospitality and recreation industries able to embed individual links to a specific type of attraction or amenity such as lifeguard locations, beach accesses and trails on their websites.