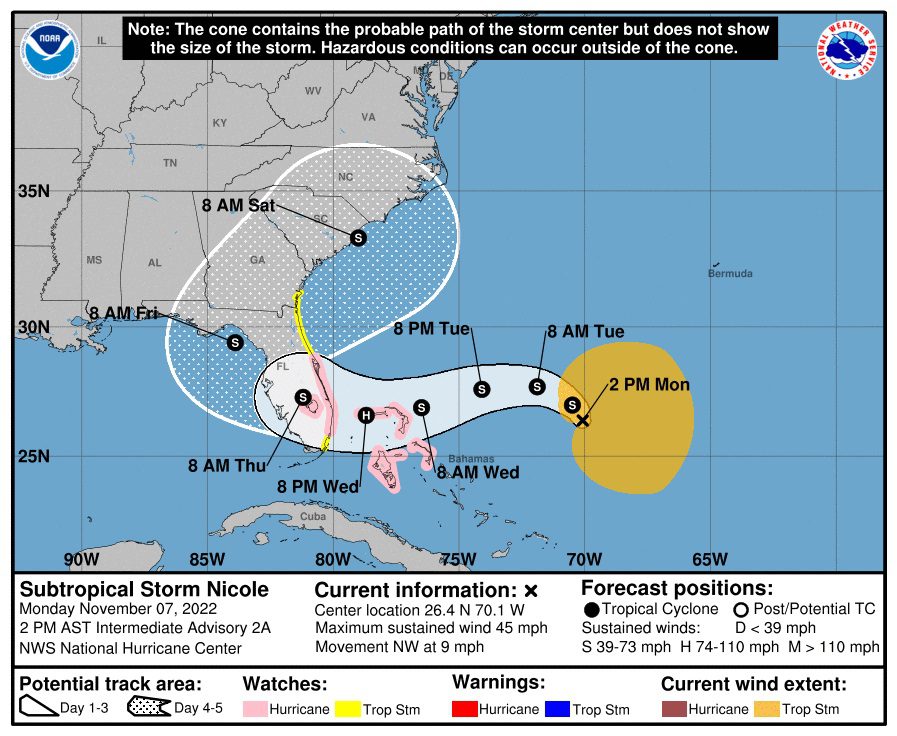 The National Weather Service Morehead City Weather Forecast Office issued an alert Monday that Subtropical Storm Nicole had formed that morning east of the northern Bahamas.
The storm is forecast to turn west toward the Southeastern United States and may eventually impact portions of eastern North Carolina later in the week.
Effects from the strong northeasterly onshore flow are expected Monday night through Wednesday, but are not directly associated with Nicole, forecasters said.
A coastal flood advisory is in effect from 1 a.m. Tuesday to 7 p.m. Wednesday, and a high surf advisory from 4 p.m. Tuesday to 1 a.m. Thursday.
Forecasters said up to 2 feet of inundation is possible in some areas near shorelines and tidal waterways resulting in an elevated threat of property damage. Some roads and low-lying property including parking lots, parks, lawns, and homes adjacent to the waterfront will experience shallow flooding.
Cape Hatteras National Seashore officials warned Monday that travel along N.C. 12 on the Outer Banks may be difficult because of potential ocean overwash and beach erosion from the two weather systems.
From Tuesday through Wednesday, the national seashore may experience strong winds, minor to moderate flooding along all oceanside beaches and significant beach erosion. Additionally, visitors should avoid a 2-mile stretch of beach at the north end of Rodanthe and use caution on any oceanside beach.
Visit www.weather.gov/mhx for weather updates. To view travel conditions, go to: http://drivenc.gov.