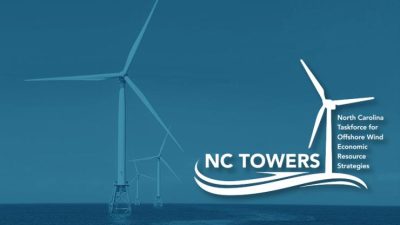 The North Carolina Taskforce for Offshore Wind Economic Resource Strategies, or NC TOWERS, discussed with wind energy experts from the United Kingdom how to grow the state's industry.
The task force met Nov. 1 for the last quarterly meeting of the year at Carteret Community College in Morehead City. The task force was established June 2021 through Executive Order No. 218, which sets offshore wind development goals of 2.8 gigawatts off the state's coast by 2030 and 8.0 GW by 2040. The task force includes representatives from government, industry, wildlife and environmental agencies, community leaders, and the military.
"A clean energy plan that includes offshore wind is good for our people, good for our planet and good for our pocketbooks," Gov. Roy Cooper said in a statement. "North Carolina is leading the way in transitioning to a clean energy economy."
In the United Kingdom in 2020, wind power accounted for one-quarter of total electricity generation in 2020, with 13% from offshore and 11% from onshore wind, according to the UK Office of National Statistics.
Albert Clark, global head of Offshore Wind for the UK Department of International Trade, told task force members that his country has learned over the past 20 years in offshore wind to never doubt how quickly the sector will grow.
"The UK is one of the world leaders in offshore wind," Clark said. "We actually have the second-most installed capacity, second only to China, with 12.7 GW installed. We have a pretty monumentous ambition of 50 GW of offshore wind by 2030."
UK experts also spoke on workforce development and ports. They said that building up port infrastructure to support offshore wind can lift up an entire region with well-paying new industry jobs.
Offshore wind development along the U.S. Atlantic Coast, and the accompanying supply chain, present a significant economic opportunity for the state, with an estimated 85,000 new jobs and $140 billion in capital expenditures by 2035, according to the governor's office. Additionally, a recent report by the National Renewable Energy Laboratory estimates that the U.S. offshore wind industry will need an average of between 15,000 and 58,000 full-time jobs every year from 2024 to 2030.
North Carolina Commerce Assistant Secretary for Clean Energy Jennifer Mundt provided an update on state and federal offshore wind activities including the Inflation Reduction Act that removes the 10-year moratorium on the leasing of offshore wind areas in federal waters.
"The passage of the Inflation Reduction Act clears a path for North Carolina to take advantage of this once-in-a-generation opportunity to create a new industry in our state, Mundt said during the meeting. "The U.S. offshore wind industry – and the supply chain to go with it – represent a potential $100 billion in economic investments across North Carolina, tens of thousands of family-sustaining jobs for North Carolinians across our state, and clean, renewable energy to power hundreds of thousands of North Carolina homes and businesses."
NC TOWERS in June released its first report, which are required annually under the executive order, highlighting work to date and identifying goals for the 2022-23 year. One goal is to create a master calendar with all state, federal and local government meetings, as well as stakeholder and advocate meetings about offshore wind.
The task force was provided an update on the NC TOWERS stakeholder survey, set to close Monday, as an opportunity for residents to share feedback, ask for specific information and sign up for the Department of Commerce's new newsletter on offshore wind.
The task force meets quarterly with the next set for Feb. 2. Public meetings are livestreamed to the Department of Commerce's YouTube channel.  
Recordings and presentations from each meeting are available on the Department of Commerce website.