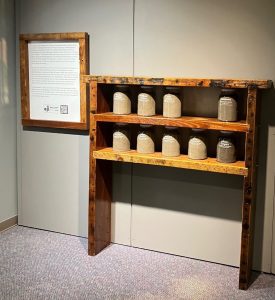 A collection of marked jars that show the names of victims of the massacre and coup that took place Nov. 10, 1898, in Wilmington will be on display until Nov. 20 at the Cape Fear Museum of History and Science.
The jars were filled Nov. 6, 2021, during a ceremony in the 1898 Memorial Park and are housed in a wooden display case created by Kids Making It, a Wilmington nonprofit organization.
The jars were supplied by the Equal Justice Initiative in Montgomery, Alabama, where a duplicate set of jars are displayed in their Legacy Museum.
There will be a free panel presentation 3 to 5 p.m. Saturday, Nov. 12, in the Williston Auditorium at the museum where the public can learn about the New Hanover County Community Remembrance Project, the organization presenting the exhibit.
The New Hanover County Community Remembrance Project was established to memorialize victims of the massacre that occurred in Wilmington in 1898. The project is a coalition of individuals and organizations, including the New Hanover County NAACP, LINC Inc., Third Person Project, Cape Fear Collective, Coming To The Table, Sokoto House, and the Restorative Justice Collaborative at University of North Carolina Wilmington.
"Our work is to provide truth about what led to the massacre and the damage done to the Black community as a result. We will work toward future reconciliation," the group states on its Facebook page.
More information about the Equal Justice Initiative is available at https://museumandmemorial.eji.org/museum and the New Hanover County Community Remembrance Project has a Facebook page at https://www.facebook.com/nhccrp/.