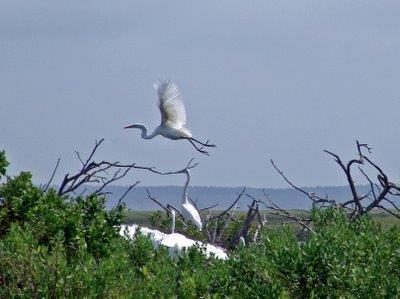 The nonprofit Friends of the Reserve and the North Carolina Coastal Reserve have created a summer internship award to encourage promising and talented students from traditionally underserved and underrepresented populations to pursue study and careers in coastal and estuarine sciences.
The Friends of the Reserve, which supports the North Carolina Coastal Reserve and National Estuarine Research Reserve, is sponsoring the internship so that students may work alongside the reserve staff.
The N.C. Coastal Reserve Undergraduate Internship Award seeks to provide the opportunity for economically disadvantaged students from racial, ethnic and cultural minorities, students of diverse gender and sexual orientations, persons with disabilities, and first-generation college students to gain professional experience working in coastal and estuarine science, management and education.
For 2023, one intern is to be selected to work with staff at the Rachel Carson Reserve and will be based out of the National Oceanic and Atmospheric Administration lab on Pivers Island in Beaufort, the group recently announced. COVID-19 protocols in place at the time of the internship will determine actual working locations, which may include remote work and/or modified fieldwork.
Eligibility
To apply, visit for-nc.org/intern. To be considered for the award, students must meet the following requirements:
Be currently enrolled in a two- to four-year science program.
Be of freshman, sophomore, junior or senior standing.
Show academic promise as evidenced by academic references.
Have demonstrated financial need.
Recipients will include but not be limited to students aligned with one or more of the following categories:
Racial, cultural or ethnic minorities.
Diverse gender and sexual orientations.
Physical or developmental disabilities or differences.
First generation college attendee.
Nontraditional student.