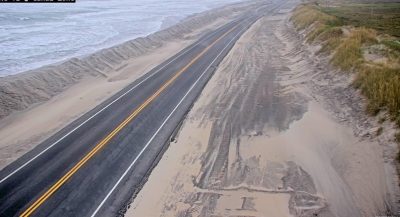 This post has been updated.
As a low-pressure strengthens off the North Carolina coast, Cape Hatteras National Seashore officials expect major to moderate oceanside flooding, ocean overwash on some beaches and roads, soundside flooding, gusty winds and dangerous rip currents Monday morning through Wednesday.
A coastal flood warning is in place. The National Weather Service forecast 2 to 4 feet of oceanside inundation and 2 to 3 feet of soundside inundation for some areas. Ocean overwash is expected around high tides through Wednesday. For up-to-date weather information, visit the National Weather Service's Newport/Morehead City website.
Sections of N.C. 12, especially near the north ends of Hatteras and Ocracoke islands, may be difficult for travelers around high tides through Wednesday. Monitor road conditions at https://drivenc.gov or the state Department of Transportation's N.C. 12 Facebook and Twitter.
National seashore officials are advising visitors not to enter the water because of due to dangerous surf conditions. Large breaking waves of 8 to 12 feet are expected in the surf zone from Monday morning through Wednesday. Sign up for beach-related weather and ocean condition alerts by texting OBXBeachConditions to 77295. Learn how to stay safe at the beach at www.lovethebeachrespecttheocean.com.
The 2-mile stretch of beach between the north end of Rodanthe and South Shore Drive should be completely avoided through Wednesday because there are several vulnerable houses that may be damaged by rough surf and strong winds, officials continued.
Ferry services to and from Ocracoke Island may be suspended. Call 252-996-6000 or 6001 for current information or visit the ferry division's Twitter or Facebook.
Many off-road vehicle routes may become impassable, especially east-facing beach routes. Visit https://go.nps.gov/beachaccess for beach access updates.
Campgrounds are open but camping conditions are not expected to be favorable over the next few days, officials said. Visitors with reservations have been notified of the inclement weather.
If closures of facilities or suspensions of services become necessary, they will be announced via the seashore's social media accounts and text alert system.