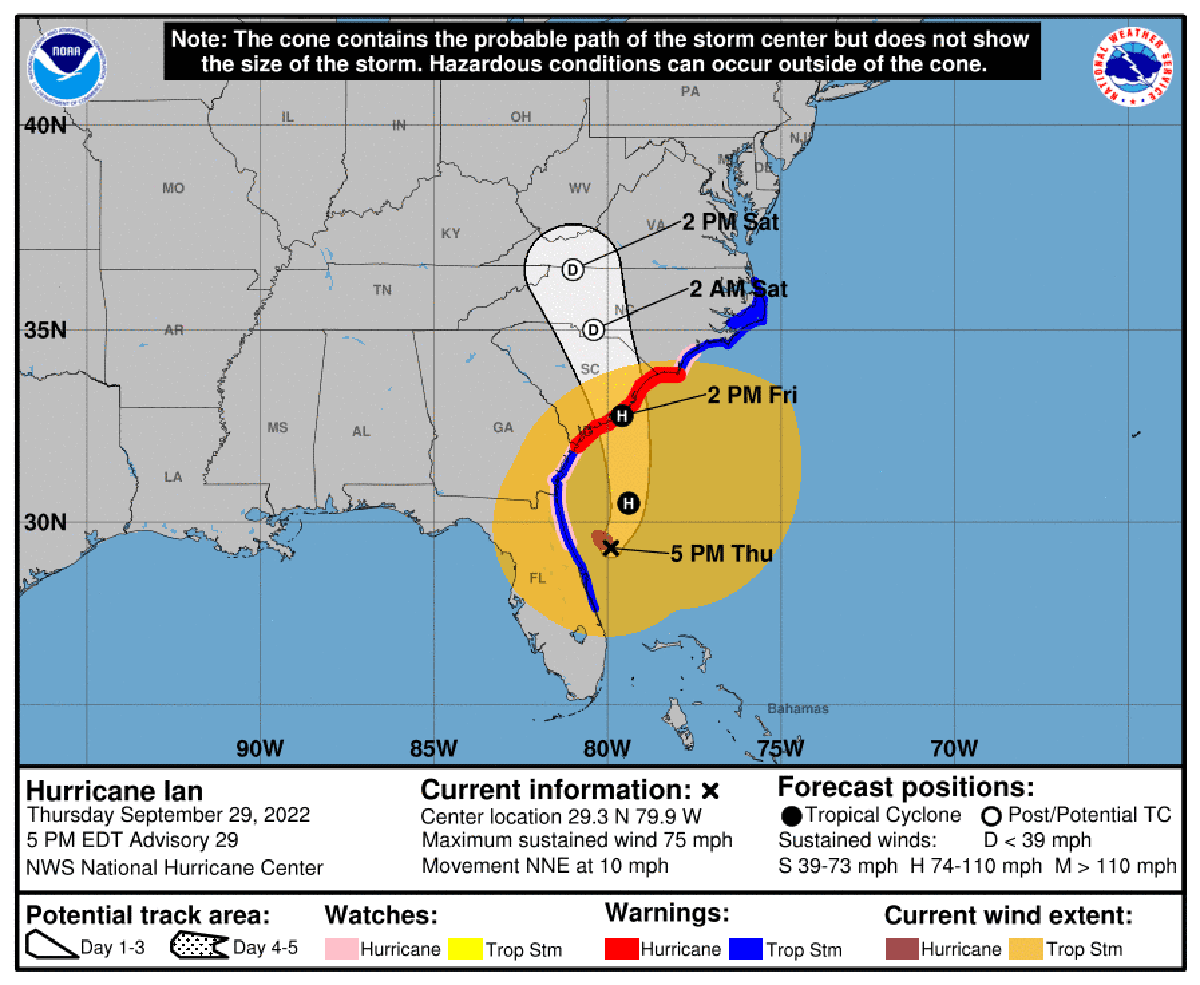 Updated 5 p.m. Thursday
A hurricane warning was in effect late Thursday from Little River to Cape Fear and a and a hurricane watch issued for east of Cape Fear to Surf City, as the storm's strength increased to 75 mph, reaching hurricane status again.
In its 5 p.m. Thursday update, the National Hurricane Center said the center of Ian was near 29.3 degrees north, 79.9 degrees west, or 335 miles south of Cape Fear and moving north-northeast at about 10 mph. The center of the storm was expected to move farther inland across the Carolinas Friday night and Saturday.
A hurricane warning and storm surge warning were in effect from Little River Inlet to Cape Fear the Neuse River in North Carolina as of 5 p.m.
A hurricane watch was issued for the North Carolina coast from east of Cape Fear to Surf City. A storm surge watch was issued for the Cape Fear River and remained in effect for north of Cape Fear to Duck, including the Pamlico River.
Hurricane-force winds extend outward up to 45 miles from the center, and tropical-storm-force winds extend outward up to 415 miles.
The National Weather Service Newport office announced Thursday that periods of heavy rain were expected as Ian moves up the southern East Coast and toward the western part of the state. Unsettled weather may continue into early next week depending on the track.
Cool, breezy, cloudy and damp conditions with light rain spreading inland through the day will give way to more widespread, heavier showers on the coast late in the day, forecasters said. Heavy rainfall is expected Friday morning through Saturday morning, especially along the coast where 1 to 2 inches could fall before sunrise.
Winds could exceed 30 mph along the central coast of North Carolina, with 40-50 mph gusts. Sustained winds of 20-30 mph are expected along the Outer Banks generated by conditions resulting from the proximity of Ian to the south and high pressure to the north.