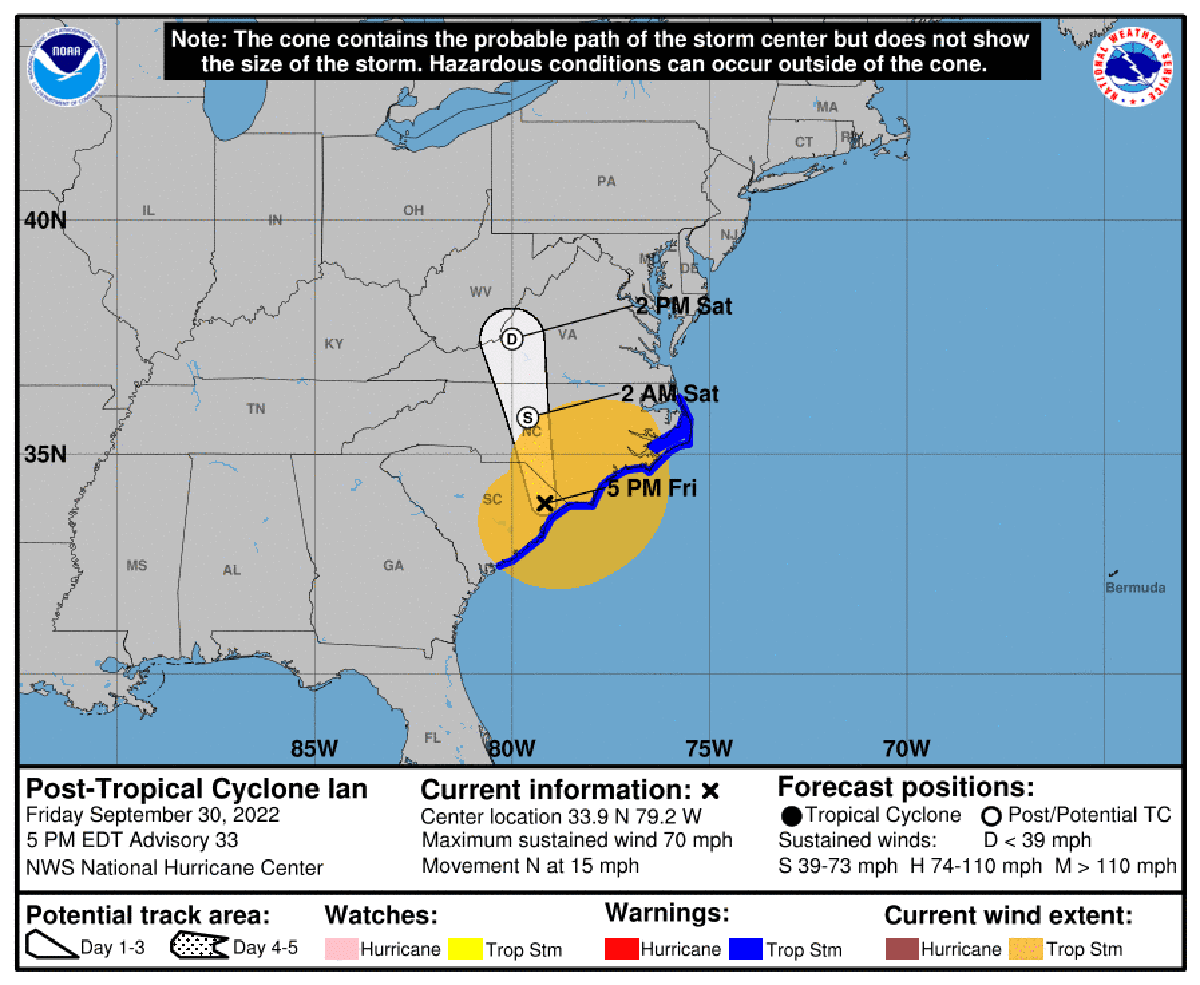 Updated 5:30 p.m.
Hurricane warning and watch areas were discontinued late Friday after Ian made landfall near Georgetown, South Carolina.
But as the storm became post-tropical, forecasters warn the threats of dangerous storm surge, flash flooding and high winds remained.
As of 5 p.m. Friday a tropical storm warning remained in effect for areas in North Carolina south of Cape Fear.
A storm surge warning remained in effect for areas south of Cape Fear and the Neuse River. A storm surge watch was in effect for north of Cape Fear to Duck, the Pamlico River and Cape Fear River.
The National Hurricane Center, in its 5 p.m. update, said that the center of the post-tropical cyclone was near latitude 33.9 degrees north, longitude 79.2 west. The
cyclone was moving toward the north at about 15 mph and was forecast to move farther inland Friday night over eastern South Carolina, move across central North Carolina early Saturday and western Virginia by early Sunday.
Maximum sustained winds had decreased to about 70 mph with higher gusts, primarily over water. Ian should continue to weaken overnight and dissipate over western
North Carolina or Virginia late Saturday.
Tropical-storm-force winds extend outward up to 205 miles from the center. A WeatherFlow station at Oak Island reported sustained winds of 54 mph with a gust to 78 mph.
The National Hurricane Center said a combination of storm surge and tide will cause normally dry areas near the coast to be flooded. This includes Little River Inlet to Cape Fear, which could see 3 to 5 feet above ground, the Cape Fear River with 2 to 4 feet of flooding, waters east of Cape Fear to Duck, including the Pamlico and Neuse rivers where 2 to 4 feet is possible, and the Albemarle Sound with 1 to 2 feet.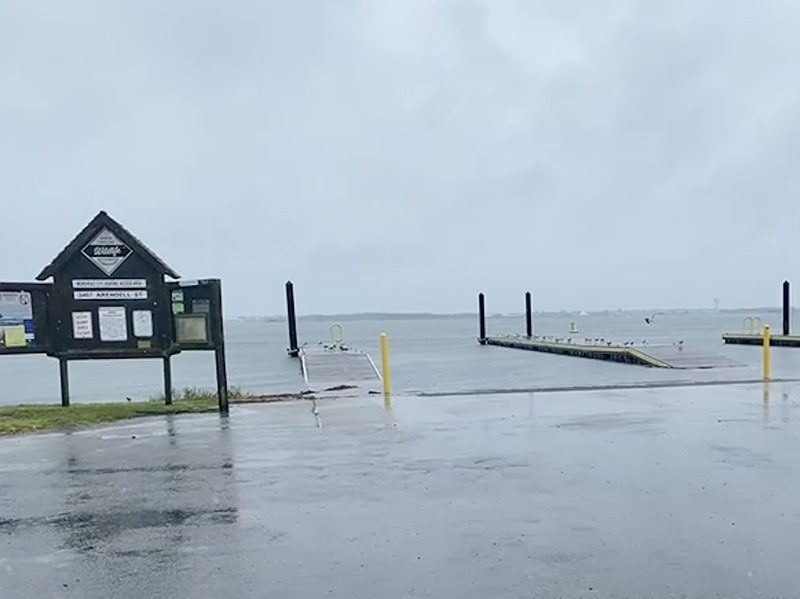 Local advisories
Brunswick County utility customers serviced by the vacuum sewer systems on Caswell Beach, including 104 to 713 Caswell Beach Road, and the island portion of Sunset Beach may experience periods of limited or no service due to potential storm surge from Hurricane Ian. County officials advise conserving water in order to limit demands on the wastewater system and to avoid sewer system backups from Friday morning through early Saturday. This means don't wash clothes, run dishwashers or take lengthy indoor showers. All customers are encouraged to ensure that they have a working backflow device in their plumbing drain system. Oak Island and Holden Beach maintain their own vacuum sewer systems separately from Brunswick County.