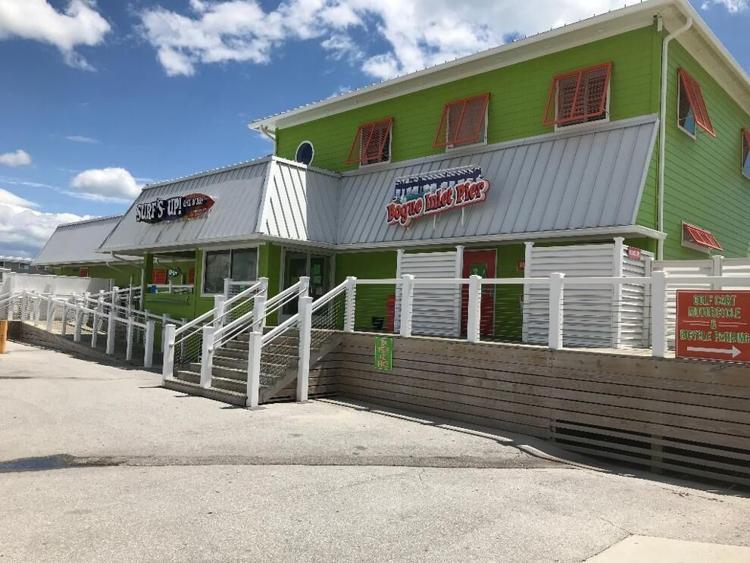 Reprinted from the Carteret County News-Times
EMERALD ISLE — Two years and slightly less than one month after it went up for sale, Bogue Inlet Fishing Pier owner Mike Stanley confirmed Tuesday that a sale is pending for his iconic property at the end of Bogue Inlet Drive in the rapidly growing resort town.
"We have an interested party," he said Tuesday afternoon. "That's all I'm going to say. We hope it goes through, and we hope they find the same value in it that we have always found."
Stanley declined to name the potential buyer. He said the word got out recently because he listed the property for sale on the Multiple Listing Service, and the status recently changed from "for sale' to "pending."
"They have the ball," he said of the potential buyer. "It's OK. We've had a lot of people kick the tires.'"
When the property first went up for sale in July 2020, Stanley said he wouldn't sell it for less than $18 million.
The sale, if concluded, will include the pier, parking lots, Surf's Up Restaurant and Beachfront RV Park.
The pier was built in the late 1950s and has been in the Stanley family for 49 years.
"It's just time to do it," he said of the sale when he first put in the market.
The pier and other businesses on the property have been all-consuming, and Stanley has been hands-on, showing up for work and talking to customers, generally enjoying every minute.
The pier has been repaired, almost rebuilt, many times after hurricanes, and Stanley said he's enjoyed keeping the whole thing running.
The business has grown with Emerald Isle, which was chartered as a town in 1957, and the Stanley family and the town have often been partners. For example, the town's Fourth of July fireworks show has been launched from the pier for years, attracting thousands of visitors on a day the pier is not open for fishing, until he finally pulled out of the event this year.
Stanley last tried to sell the pier in 2006 when a developer from Raleigh was trying to put together a mixed-use project. The town was interested in taking over the pier as part of the plan.
Then the economy crashed, Stanley said, and "we almost lost it all."
But he and his family persevered, making needed repairs, renovating the pier house and adding the restaurant. They've since greeted new generations of anglers, observers, surfers and beachgoers, who have used the parking lots and beach access ramp.
This story is provided courtesy of the Carteret County News-Times, a twice-weekly newspaper based in Morehead City. Coastal Review partners with the News-Times to provide our readers with news of the North Carolina coast.