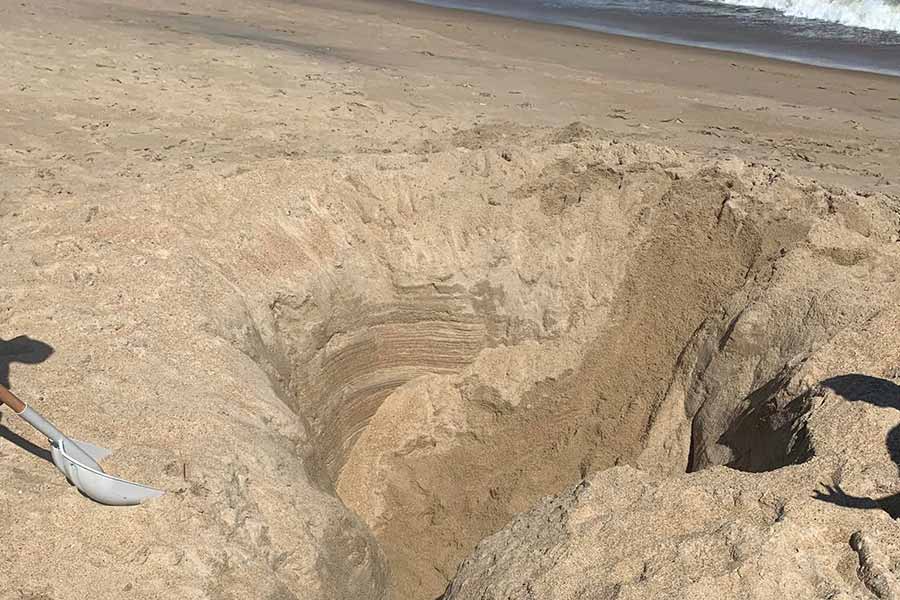 Reprinted from The Outer Banks Voice
In a continuing effort to address the dangers of holes being dug and left unfilled on the beaches, the Nags Head Board of Commissioners passed a resolution during its Aug. 3 meeting seeking state legislation that would create criminal penalties for violations.
Citing the death of an 18-year-old boy that was killed on a New Jersey beach in May after the hole he and his sister were digging collapsed on them, the resolution asserts that the issue needs to be addressed.
"In the Town of Nags Head, there have been instances of damage to Town vehicles and equipment, particularly at night, due to holes that are not easily visible," the resolution read. "Some municipalities have adopted ordinances that address this issue; however, these ordinances may not have enough power to force compliance; Legislation needs to be enacted."
Currently, each municipality enforces bans on deep holes left unfilled on the beach through a patchwork of civil penalties, however, the resolution asserts statewide legislation "could increase our capacity to address the incredibly dangerous issue of holes on the beach."
The dangers of large holes being dug and left on the beach have received significant attention locally this summer, with local ocean rescue chiefs holding a press conference in May to bring attention to the issue.
Since then, Nags Head Mayor Ben Cahoon has been in the forefront of efforts to create statewide legislation. Earlier this summer, the mayor reached out to coastal communities across the state, earning support from a number of communities in Dare County and beyond.
"I've not had a negative comment that seemed to (indicate) that we were kind of overreaching to deal with this," Cahoon told commissioners prior to the board voting on the resolution. Cahoon said town staff would now forward the resolution to other coastal communities asking that they consider adopting it.
This story is provided courtesy of the Outer Banks Voice, a digital newspaper covering the Outer Banks. Coastal Review is partnering with the Voice to provide readers with more environmental and lifestyle stories of interest about our coast.