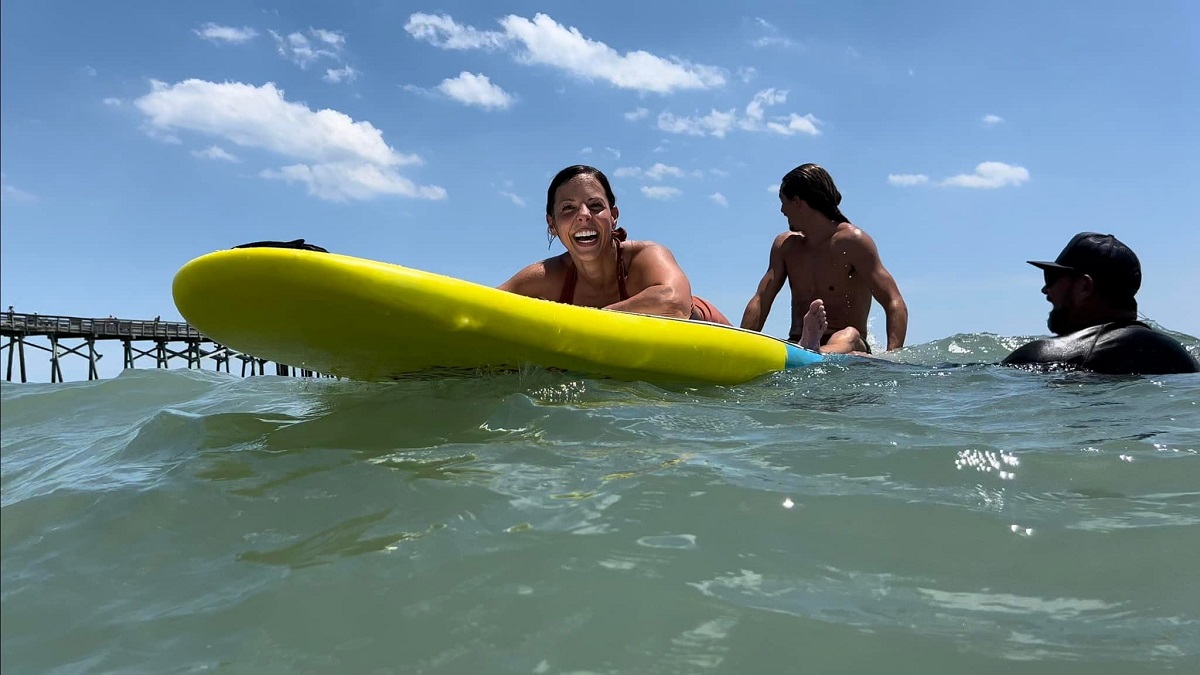 It was a beautiful sunny Saturday in mid-June at Oceanana Pier in Atlantic Beach, perfect for Adaptive Surf Project of North Carolina's first adaptive surfing day of the year.
Several blue beach access mats formed a path across the soft sand from the pier house about halfway to where the nonprofit had a few party canopies set up beside the pier. A crowd of volunteers, friends and family were finishing up a lunch donated by Panera Bread before heading back into the waves early that afternoon.
In its sixth year, the project based in Morehead City gives individuals living with any disability at any age a chance to surf. Volunteers join surfers on a modified surfboard to ride tandem or the surfer rides solo while volunteers in the water help steer the board safely to shore.
Director Christine Chadwick said in recent interview that the June event had about two dozen show up to surf, the biggest turnout they've had since she and her husband Will, along with a team of volunteers, launched the project. Chadwick is a professional photographer who resides with her family in Morehead City.
"It was amazing. There were nice waves, the weather was perfect, and the water was perfect." In addition to the 24 surfers, there were about 20 volunteers on hand, and "none of this is possible without them," Chadwick said.
Lisa Mozingo was there that Saturday, her first time with the project. "I swallowed half of Atlantic Beach bc I couldn't stop smiling per usual. Butttttt I had an amazing time … thanks to Adaptive Surf Project," Mozingo posted on Facebook June 16.
Mozingo told Coastal Review in a followup interview that the surfing event was the first time she had participated in an adaptive sport in the 13 years of being completely paralyzed from a spinal cord injury.
"I had seen friends surf before and always thought it looked like a blast. So once my wheel friend told me about the Adaptive Surf Project event, I knew this was my chance, and I had to be there," she said.
"The volunteers truly embody what it means to serve others. They do it gladly with a smile on their faces and joy in their heart. Those smiles and that joy definitely transferred to those of us that participated in the surfing event with our many different disabilities," Mozingo added. "I fully believe that we are all deserving — disabled or not — of abundant lives, and I'm so thankful that ASPNC allowed me the chance to live abundantly that day."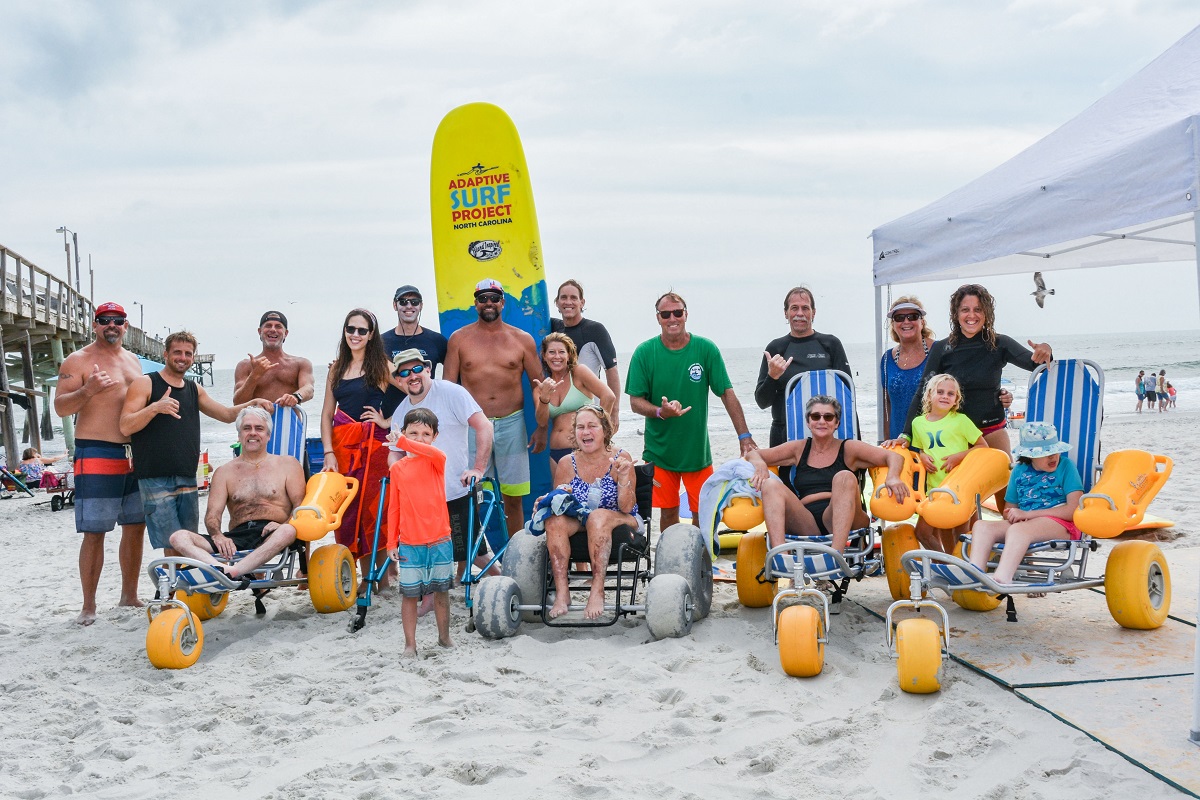 Chadwick said that many first-time adaptive surfers have a similar experience. Sometimes the surfer is unsure, but then you can see the joy on their face once they catch that first wave. "They're ear-to-ear smiles."
There will be two more adaptive surfing days this summer at Oceanana Pier. Registration is open online for the Aug. 20 surf day, which starts at 10 a.m. The last surf day of the year will be 9 a.m. to 3 p.m. Sept. 24.
The adaptive project extends to the families of participants as well, Chadwick said. Though the project volunteers aren't necessarily teaching surfing lessons, if a family member wants to join, they're welcome.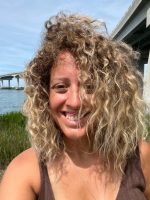 Chadwick's journey to establish the Adaptive Surf Project in North Carolina started when her older brother – she is one of four siblings — was injured at 17 in a dirt bike accident and became quadriplegic. He died 13 years after his accident on Christmas Eve. While he was alive, she said their family was heavily involved in the disability community. After his death, she said she wanted to stay involved and find a way to honor her brother.
Though her brother loved to ride dirt bikes, Chadwick said that wasn't something she did. She had heard of adaptive watersports though, and since she and her husband like to surf, she started looking for adaptive activities at the beach to volunteer. This was about 13 years ago.
She learned of an adaptive surfing event at Wrightsville Beach, and they decided to check it out to see how adaptive surfing works.
Though it was a small turnout, "I just remember I cried happy tears the whole time." There were people like her brother as well as others in completely different situations, "and it was just so cool to see."
From then on, Chadwick said they volunteered at the adaptive surfing events. During this time, she met a few Carteret County residents living with disabilities who would attend. She talked about having an adaptive surfing event on the Crystal Coast, but was unsure of how many would show up and if there were enough people in the area who would be interested. Still, she decided to move forward with the idea.
While working on establishing a nonprofit organization, Chadwick learned about a group in Myrtle Beach, South Carolina, named the Adaptive Surf Project. She contacted the South Carolina group's organizers who offered to help by making the North Carolina project a chapter.
The two programs have a similar name and work together, but the two organizations are separate entities. "We handle our finances. So the money that is donated to us goes right back out into our communities," Chadwick said.
The first surf day was held in 2016 at Fort Macon State Park. Two surfers and a handful of volunteers showed up, including volunteers from the Myrtle Beach organization who brought the special gear needed for adaptive surfing.
In the beginning, the North Carolina project relied on the Myrtle Beach organization for equipment. Now, Chadwick said, they've raised enough money to buy their own gear. A few years back they received a grant to purchase a trailer to store and transport everything.
"The first few years was a little bit slow to take off," Chadwick explained, noting that while she didn't think that there was a need in Carteret County, "ever since we started, people have been coming out of the woodwork."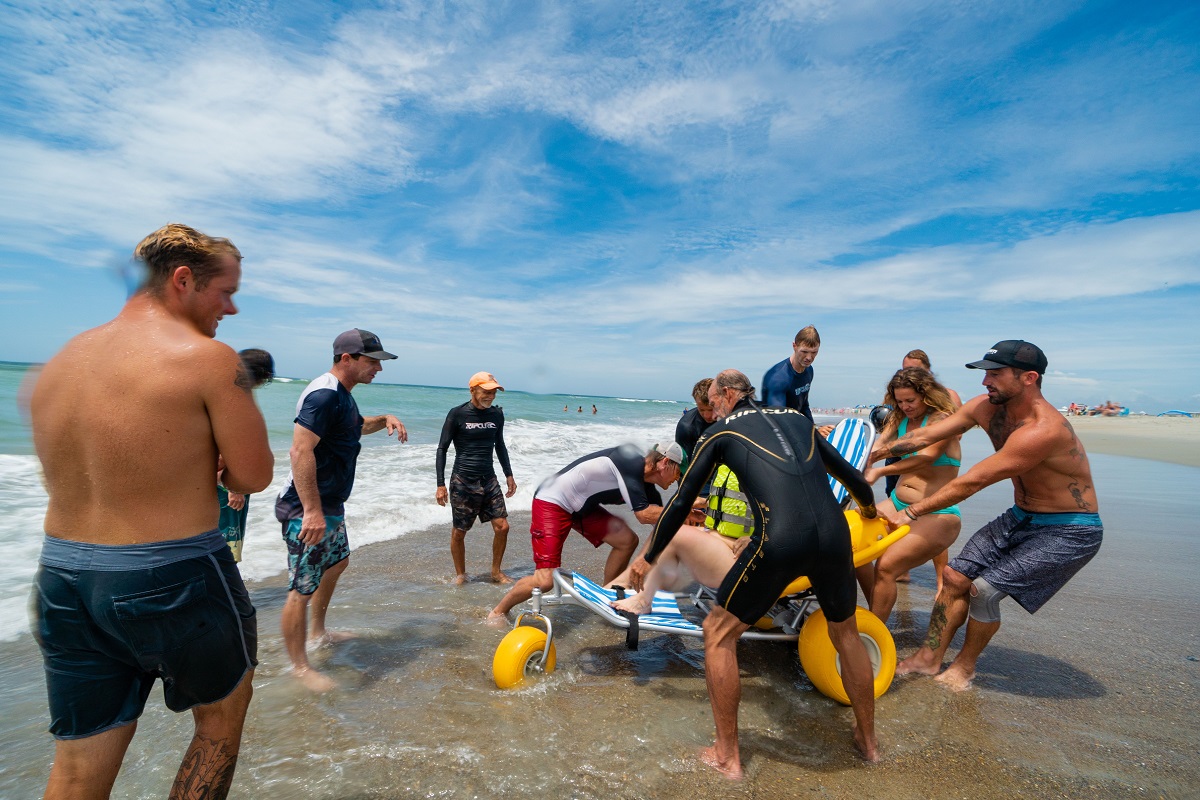 To get the surfer safely in the water, beach wheelchairs made to move roll across sand that floats in the water are used. Once in the water, volunteers help transfer the surfer onto an adaptive surfboard, which is like a modified paddleboard, and then either ride tandem and paddle the board out or help the surfer paddle out if they're riding solo. During the ride, more volunteers form lines on each side of the surfer to help keep the them safe all the way to the shore.
When people ask her about volunteering, she tells them they don't have to learn or be able to surf, "as long as you like hanging out on the beach all day, it's for you" and there's plenty to do on the sand, especially help with check-in, selling T-shirts, coordinating lunch on adaptive surf days and more generally.
As for donations, funds and equipment are welcome. People can donate extra life jackets and wetsuits, in any condition. A volunteer takes the older wetsuits to make elbow and wrist pads for surfers, to help prevent pressure wounds. Monetary donations go toward buying equipment. Right now, they're trying to raise money for more beach access mats.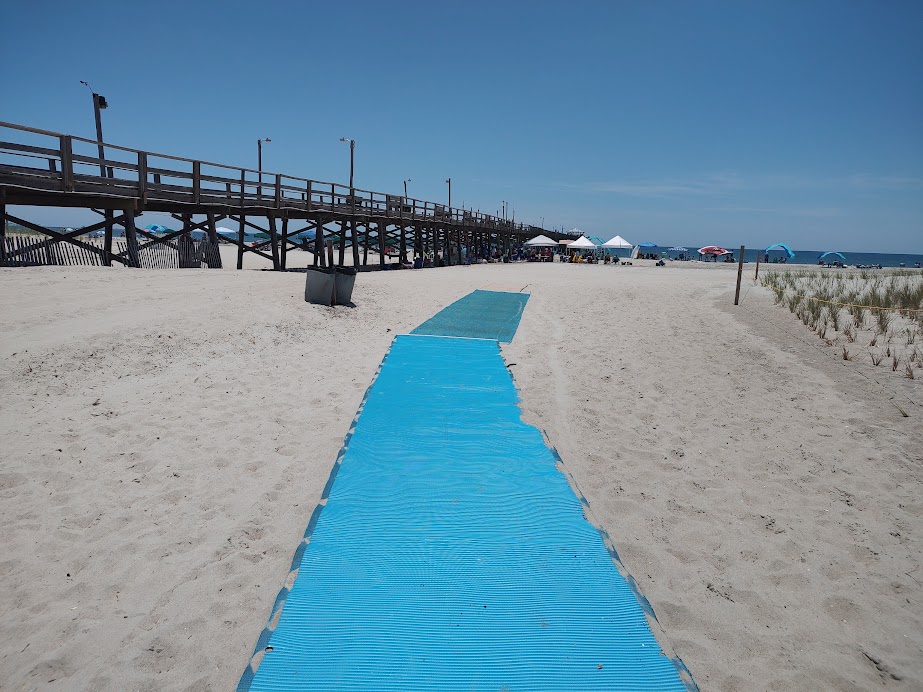 During surf days, beachgoers often drop by and ask about the program, talk to those participating and ask if their friends or family can join. They're able to learn about adaptive surfing and see that "anybody can do anything. They just might need a friend to help them out," Chadwick said.