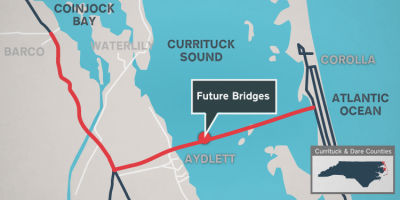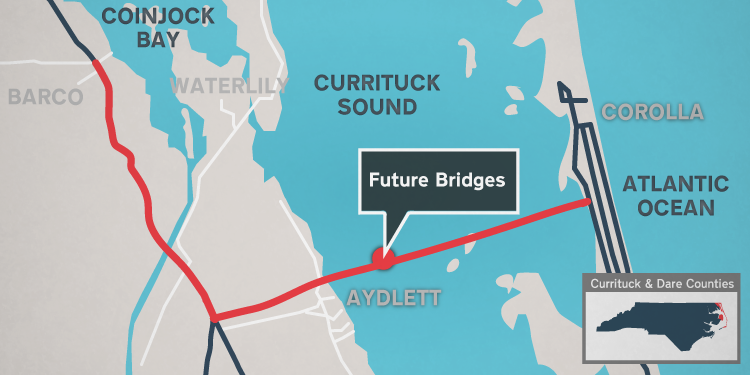 The Southern Shores Town Council and a coalition of Outer Banks towns and business interests have filed an amicus brief in the appellate case blocking construction of the proposed 7-mile mid-Currituck toll bridge.
As reported Thursday by the Outer Banks Voice, the appeal filed in January follows a ruling by Judge Louise Wood Flanagan of the U.S. District Court for the Eastern District of North Carolina in December that rejected bridge opponents' arguments regarding sea level rise vulnerability and "unfairly skewed" financial feasibility comparisons.
In a June 23 announcement on the town's website, Southern Shores officials said they had also amassed resolutions of support for their efforts to see the construction begin.
The town says the project to add a second crossing of Currituck Sound, north of the Wright Memorial Bridge, is needed to ease congestion and improve the flow of evacuation traffic in the event of a hurricane or severe storm and to provide "easier access" for Virginia and northeastern North Carolina.
"The Mid-Currituck Bridge is vital to improving the quality of life for our residents and visitors," said Southern Shores Mayor Elizabeth Morey in a press release. "We feel as though this Amicus Brief will help strengthen and further acknowledge the efforts of the Town to finally see the bridge built." 
The $500 million North Carolina Department of Transportation project would feature a two-lane bridge spanning Currituck Sound, connecting the Currituck County mainland to the Outer Banks, and a second two-lane bridge across Maple Swamp on the mainland, connecting Aydlett to U.S. 158. Opponents say the project is unnecessary, too expensive and vulnerable.
The North Carolina Wildlife Federation and concerned residents represented by the Southern Environmental Law Center in January filed an appeal in the U.S. Court of Appeals for the 4th Circuit seeking to declare invalid NCDOT's analysis prepared for the bridge. The law center called the analysis "illegal and outdated" because it doesn't consider the latest climate trends. It said "agencies failed to assess the environmental impacts associated with increased development that the bridge will cause, and failed to consider less damaging and less expensive alternatives … ."
The amicus, or friend of the court, brief was filed June 13. Joining Southern Shores as appellees are Duck, Currituck County, Dare County Tourism Board, Duck Community and Business Alliance and Currituck Chamber of Commerce.
In addition to the appellees, Southern Shores said its efforts are supported by resolutions from Dare, Chowan, Perquimans, Camden and Pasquotank counties, Kills Devil Hills, Nags Head, Kitty Hawk, the Albemarle Rural Planning Organization, the Outer Banks Association of Realtors, and the Outer Banks Homebuilders Association.