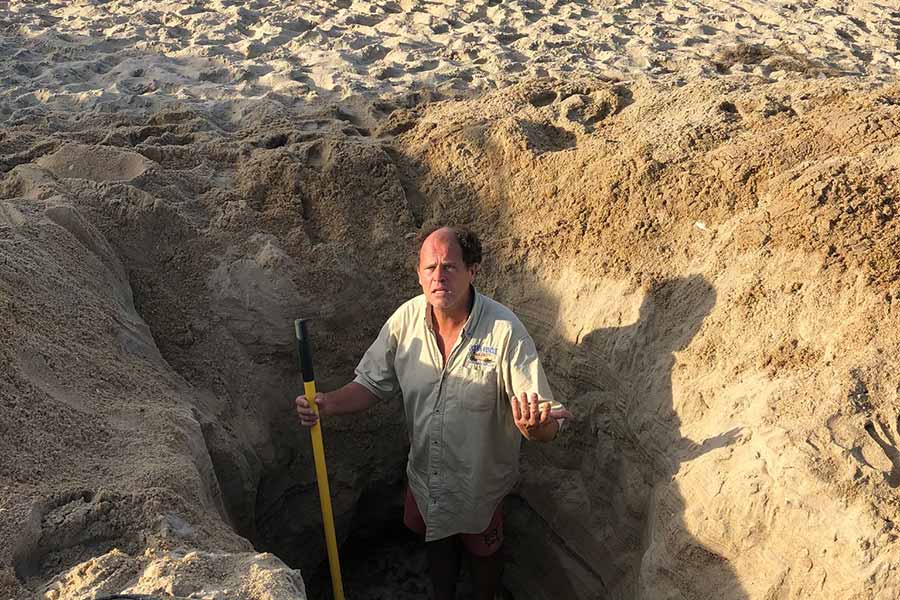 Reprinted from Outer Banks Voice
Signaling the seriousness of the problem, Dare County ocean rescue officials held Friday a joint press conference at the Ocean Bay Boulevard Beach Access to spread awareness about the dangers that digging large holes in the sand can pose to beachgoers and first responders, as well as sea turtles.
"The towns have spent a great deal of time and effort making the beaches safe for beachgoers," Kill Devil Hills Ocean Rescue Supervisor David Elder said during the briefing. "Now we are talking about beachgoers keeping the beach safe for each other and for us as well."
The press conference was held during the same week that two teens died in separate incidents when the holes they were digging collapsed on them – one on a New Jersey beach and the other at a Utah state park. It also comes at a time when area ocean rescue officials are observing an uptick in massive holes being dug on Outer Banks beaches.
Such sand holes and tunnels, ocean rescue experts said, can collapse on beachgoers. They can also pose a threat to those out walking, particularly at night, who may not see the holes. Additionally, they can pose a threat to lifeguards and other first responders who are responding to emergencies on the beach in ATVs or trucks.
All of these scenarios, they asserted, can end tragically.
"I wish that (digging of sand holes) was abnormal, but it's becoming more normalized and that's the reason we're doing this," Elder said. Just this week, his ocean rescue crew responded to two deep holes that were dug and left unfilled on the beach. Those holes were estimated to be more than 7 feet deep.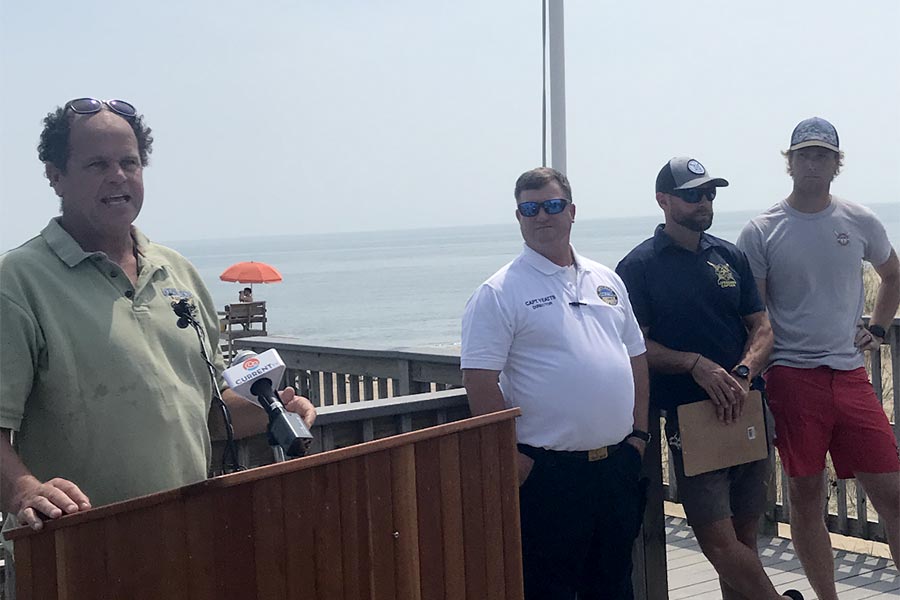 For his part, Kitty Hawk Ocean Rescue Director Cole Yeatts stressed the danger such holes create for first responders.
"For our lifeguards who are on patrol out there and the emergency responders, such holes can delay response or even make it worse …This becomes a secondary incident where we can no longer respond and have to have people come to us because we are in a wreck due to these holes," Yeatts said.
Nags Head Ocean Rescue Captain Chad Motz said that as the moisture in the sand surrounding the hole dries out, the danger increases. "It becomes more unstable and there is a greater potential for collapse."
Motz noted the threat to the five different types of sea turtles that nest on North Carolina beaches, all of which are either on the threatened or endangered species list. The turtles can fall into the holes, get trapped and potentially die.
"Just to restate," Motz concluded, "if you dig a hole, fill it back in and it shouldn't be deeper than the knees of the smallest person in your group."
Kill Devil Hills Assistant Ocean Rescue Supervisor Ben Battaile appealed to adults to supervise children and young adults when they are digging holes on the beach.
"Digging holes is okay, it's a fun pastime on America's beaches. But we want you to do it safely. No deeper than knee deep is a safe way to dig a hole and have fun," he said. "We want everyone to understand that holes are serious, and we need the public's help.
Battaile added that if you see an unsafe situation on the beach in Dare County, call Dare Central Communications at 252-473-3444. "This is if you see somebody in distress in the water, this is if you see somebody that maybe dove into the water, this is also if you see a collapse hazard…this can be life threatening."
This story is provided courtesy of the Outer Banks Voice, a digital newspaper covering the Outer Banks. Coastal Review is partnering with the Voice to provide readers with more environmental and lifestyle stories of interest about our coast.