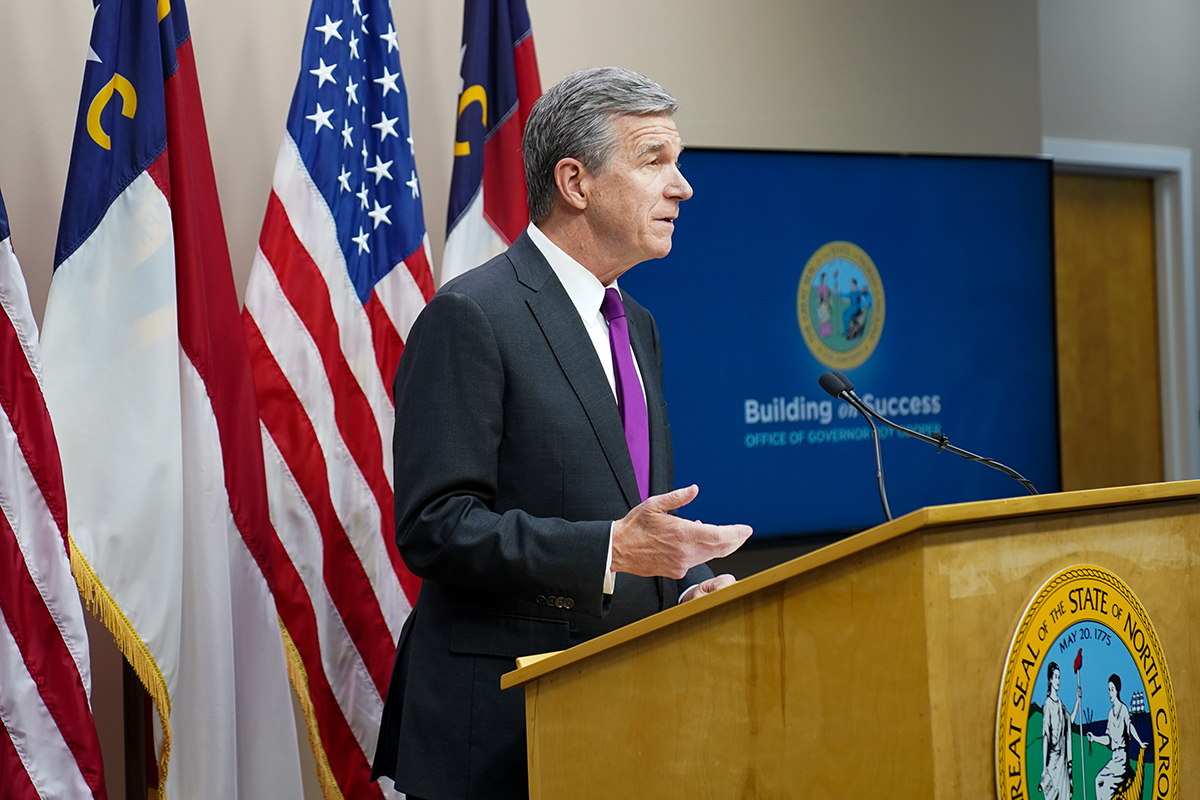 Clean energy, hog farm buyouts, forest preservation and management, and expansion of climate resiliency programs are among the key environmental features in Gov. Roy Cooper's proposed 2022-23 budget.
Cooper's $29.3 billion plan released last week allocates more than $140 million for clean energy and environmental initiatives including: $92 million for natural and working lands; $22 million for clean transportation projects; $15 million for environmental justice matters; $11 million for the expansion of clean energy access and adoption; and $1.9 million in energy efficiency enhancements.
Port infrastructure
Cooper's budget calls for a nonrecurring $20 million reserve for infrastructure at the North Carolina State Ports Authority's Radio Island property in Morehead City. The funding would be administered by the ports authority and the departments of Commerce and Transportation for "investments that best attract business tenants to the island."
The Southeastern Wind Coalition applauded the move and, citing a recent offshore wind supply chain study commissioned by the Commerce Department, said that the improvements would help position North Carolina as a national leader in the offshore wind industry because Radio Island is well suited to support staging and manufacturing of offshore turbine components.
"This port positions North Carolina to service the offshore wind industry up and down the coast, creating jobs and economic growth for years to come," Coalition President Katharine Kollins said in a statement Tuesday.
Conservation easements in the 100-year floodplain
A program designed to reduce the risk of water quality from potential pollution from hog farms within the 100-year floodplain would get $18 million under the governor's proposed plan.
That funding would be funneled to the North Carolina Department of Agriculture and Consumer Services, or DACS, to buy permanent conservation easements on hog farms within the 100-year floodplain.
If approved, the funding could potentially pay for upward of 18 to 20 easements, said David Williams, deputy director of the state Division of Soil and Water Conservation.
"It's very substantial," he said. "It's working out to be about $1 million per farm."
Buyout costs cover the animal operations owner's certification to operate a feedlot, removing the contents of hog lagoons and subsequent closure of those lagoons.
The volunteer-only swine floodplain buyout was created in November 1999 following hurricanes Floyd, Dennis and Irene, which caused catastrophic flooding that breached hog lagoons and drowned hundreds of livestock.
To date, 43 farms have been selected to participate in the program. Most of those occurred in the early to mid-2000s, Williams said.
They include more than 1,200 acres in conservation easements and the closure of more than 100 animal waste lagoons in the floodplain.
Applicants are selected for the program based on various criteria, including the elevation of lagoon dikes and production houses relative to the floodplain elevation, history of flooding on the property, and distance to a waterway classified as water supply or high-quality waters.
Farmers may use their land once it becomes part of a conservation easement for low-density agriculture, such as growing row crops or for pasture-based beef production.
Easements may not be used as spray fields for swine waste or nonagricultural development and require a soil and water conservation plan.
Williams said it's hard to say exactly how many hog farms continue to operate within the 100-year floodplain, "but I would say there's probably in the neighborhood of 40 or 50."
Most of those are in the southeastern portion of the state.
Water quality, forests and resiliency
The budget would provide $6.8 million in recurring funds and a one-time, $20 million handout to the North Carolina Department of Natural and Cultural Resources, or DNCR, to cover North Carolina Land and Water Fund grants for the protection and restoration of the state's land and water resources.
Grants would pay for the restoration of degraded streams, development and improving stormwater treatment, and preserving military buffers.
Another $10 million in nonrecurring funds is designated to the purchase and restoration of peatland and pocosins to reduce wildfire risks, cut down carbon emissions, boost flood resilience and improve water quality.
Potential acquisition sites will be determined based on the results of DNCR's Natural Heritage Program, which will inventory wetlands in the coastal plains.
The state Department of Agriculture and Consumer Services would receive a one-time $2 million sum to assist North Carolina landowners through cost-share ways to improve forest management on private lands.
The governor's plan would beef up the state's climate resiliency efforts, providing $10 million to expand the Resilient Communities Grant Program and provide grants aimed at helping local governments reduce flood risks and promote long-term resilience.
A total of $762,825 in recurring funds would also go to the program and resiliency staff.
Other provisions
Other budget recommendations include $3.7 million recurring and $20 million nonrecurring to the Parks and Recreation Trust Fund for state parks projects, development and renovation of local parks, and beach access.
Also included are $720,526 recurring and $122,500 nonrecurring funds for the North Carolina Department of Environmental Quality to create a Coastal Habitat Assessment Program to map, evaluate vegetation and observe wetland changes in coastal habitats.
Cooper's plan also includes a 5% pay raise for the state's teachers and employees, $50 million in aid for first-time homeowners including public school teachers, emergency medical services personnel, career firefighters, and law enforcement, and the addition of 600,000 uninsured North Carolinians eligible for Medicaid.