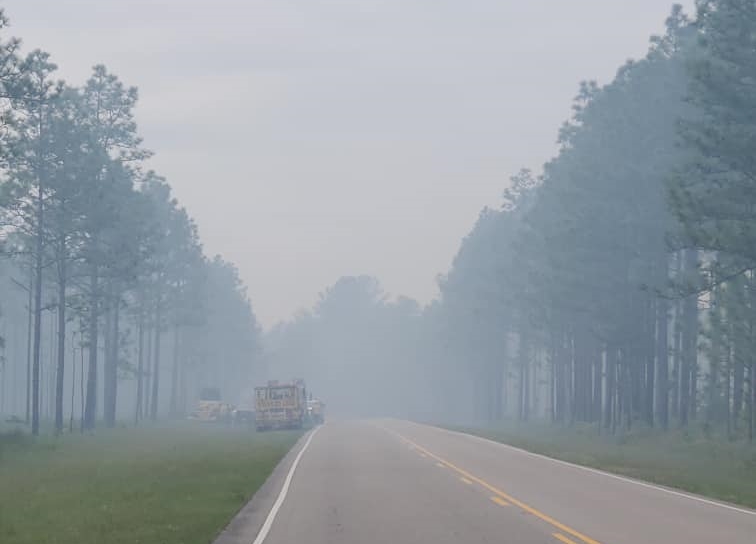 A section of N.C. 211 in Brunswick County was closed Tuesday while a brush fire at Green Swamp Nature Preserve is contained.
Officials said the closure would remain in effect until further notice.
The 568-acre Driving Creek fire started Sunday in what officials described as difficult terrain, 6 miles north of Supply along N.C. 211. Personnel from the North Carolina Forest Service and the Nature Conservancy responded to the fire, which was 20% contained as of Tuesday morning, the North Carolina Forest Service officials announced late that afternoon.
As a safety measure, North Carolina Department of Transportation officials announced at midday Tuesday that a portion of N.C. 211 from the N.C. 214 intersection in Bolton to the U.S. 17 intersection in Supply would be closed to traffic until further notice. There is a detour that travels into Columbus County, then U.S. 17, N.C. 130, U.S. 701 Business, and U.S. 74/76, to return to N.C. 211.
Officials said that containing the wildfire was challenging because of the terrain, organic soils, heavy fuels and windy conditions. No structures or homes were threatened Tuesday but area residents should expect significant smoke.
Forest Service response included a strike team, tractor plow units, four fixed-wing aircraft, a helicopter and ground crews.
While Forest Service personnel were using aerial operations, or drones, to assist with firefighting and suppression efforts, the public is reminded to keep drones away from wildfires because they are unauthorized.
"Flying a drone near or around a wildfire compromises the safety of N.C. Forest Service pilots and interferes with firefighting efforts. Individuals in violation of this law will be subject to civil penalties, fines and criminal prosecution. It's important to remember that if you fly, we can't," officials said Tuesday.
An initial investigation indicates the fire was caused by a lightning strike associated with weekend storms, officials said.
To learn more about the unauthorized use of drones, visit https://www.fs.usda.gov/managing-land/fire/uas/if-you-fly.