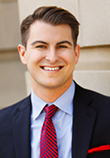 Carson Butts of Raleigh was recently named the new North Carolina director of the Raleigh-based Conservatives for Clean Energy.
As state director, Butts leads the nonprofit organization's programmatic efforts across North Carolina and its policy push in state government, the group announced Monday.
"North Carolina is leading the way on clean energy issues, and CCE is a vital part of changing the narrative among conservatives about clean energy," Butts said. "I will build upon CCE's successes and work hard to take the organization and our cause to new heights."
Butts, a graduate of Wake Forest University, has worked on state policy issues for several years. The Raleigh native is a lifelong conservative.
"We are excited to have Carson on board and look forward to continuing to build support for clean energy among conservatives in the state," Conservatives for Clean Energy President and CEO Mark B. Fleming told Coastal Review.
Conservatives for Clean Energy educates the public and decision-makers on the economic benefits of clean energy and advocates for continued investments across the Southeast. The group, which was founded in 2014 also has state organizations in Virginia, South Carolina, Georgia and Florida, conducts polls to gauge public opinion on energy issues and holds events to inform conservative decision-makers on the latest clean energy developments.