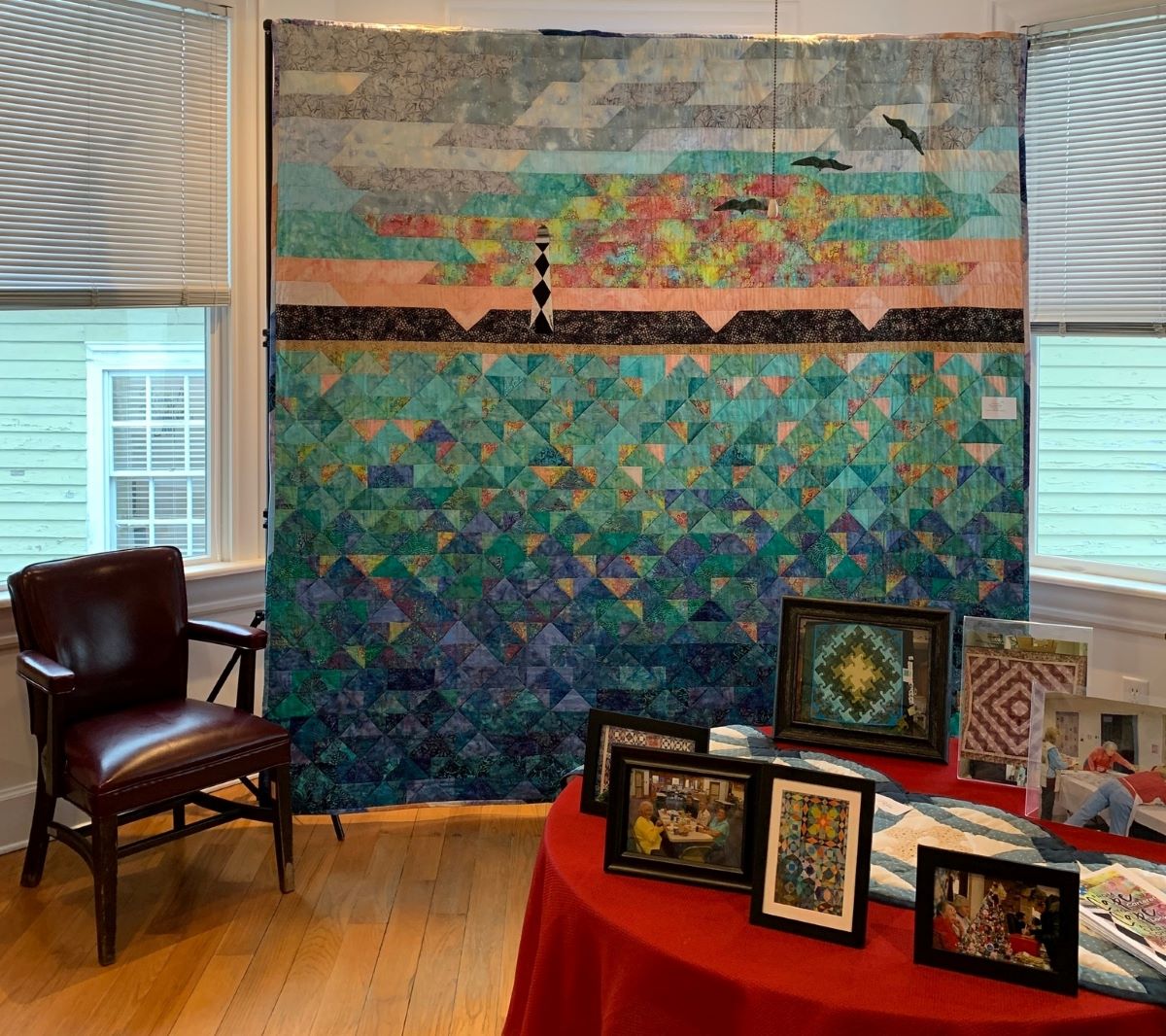 Dozens of quilts are on display this month from one end of Carteret County to the other in celebration of National Quilting Month this month.
The exhibit, "Cape Carteret to Cape Lookout: A Carteret County Quilt Ramble," is a collective effort of the Carteret County Public Library System, Core Sound Waterfowl Museum & Heritage Center, Crystal Coast Quilters' Guild and the Core Sound Quilters.
About 100 quilts ranging from traditional, hand-quilted and embroidered pieces; art quilts; modern designs and expressions of coastal beauty are on display at all county libraries, Core Sound Museum and Waterfowl Center on Harkers Island, and the Core Sound Store & Gallery located at 806 Arendell St., Morehead City.
"Crystal Coast Quilters' Guild has hung exhibits at a few libraries in the past, but we were very excited that the library system wanted to showcase quilting at all the locations," Guild member Nan Miller, who helped organize the countywide exhibit, said in a statement. "Partnering with other organizations results in so much more than what we could accomplish alone. The stunning array of quilts demonstrates the breadth of what contemporary quilters create today while honoring the traditional roots of quilting."
Museum executive director Karen Amspacher explained that the museum has a large collection of historic quilts and recently received an entire collection from the Davis family of Tusk and Marshallberg included in the quilt display at the Museum.
"Quilts are part of every family Down East, and we are honored to be the keeper of many. The quilt ramble is a great opportunity for us to partner with the libraries and the quilters' guild to celebrate the tradition of quilting," she said. "We are especially thankful for our Core Sound Quilters who have been meeting weekly for more than twenty years to stitch together."
Amspacher continued that since Hurricane Florence, the quilters have been gathering at Core Sound's Museum Store in Morehead City.
"As part of the quilt ramble, years of their work will be displayed there along with several beautiful creations by the quilters individually." The group has created many beautiful raffle quilts resulting in more than $150,000 in donations to Core Sound programs," she said.
Several of the library locations will have a theme for the exhibit.
Dorothy Howell, branch manager at the Newport branch, explained that there is a special quilt, which "is part of the permanent art displayed at the branch and are looking forward to seeing it surrounded with others, some that reflect our coastal environment. The library system has purchased more than thirty new books on quilting and sewing and we are looking forward to sharing them with our patrons."
For hours and addresses for each of the venues, visit the following websites: