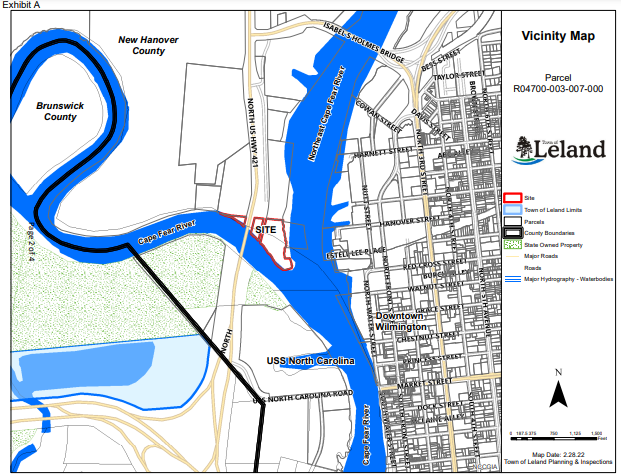 The Leland Planning Board in a split decision Tuesday voted to create a new zoning district on land that a majority of board members also recommend annexing into the Brunswick County town.
The board's 4-3 vote on both the addition of a Riverfront Urban Mixed-Use District to the town's zoning districts and annexation of the property is a step forward for a controversial proposed development on the Cape Fear River's west bank in New Hanover County.
Leland's town council last week voted to direct the town clerk to investigate a petition for voluntary annexation of a little more than 8 acres of land referred to as Point Peter, which sits at the confluence of the Cape Fear and Northeast Cape Fear rivers.
The land does not abut Leland's town lines.
Related: Leland council approves action on annexation petition
Developer KFJ Development Group LLC wants to build a complex of three high-rises that would consist of apartments, retail, commercial and hospitality space, and a luxury hotel just south of the Battleship North Carolina.
The proposed development is facing heavy opposition, including that of a coalition made up of several environmental, civil rights and historic preservation organizations.
Point Peter is in a Federal Emergency Management Agency-designated floodplain, an area that is especially vulnerable to sea level rise, opponents argue.
Sensitive river habitat rests on both sides of the property and the land has historic and cultural significance.
KFJ took its plans to Leland after New Hanover County commissioners tabled a decision in January on whether to add a new zoning district to the county's Unified Development Ordinance and rezone the property into that new district.
The property is currently zoned industrial.
New Hanover commissioners have scheduled a study session March 31 to discuss development along the Cape Fear River's west bank adjacent to downtown Wilmington, according to the Wilmington Star-News.
The proposed annexation and new zoning district will now go to the Leland Town Council for approval. A public hearing must be held by that board before it votes on the annexation request.