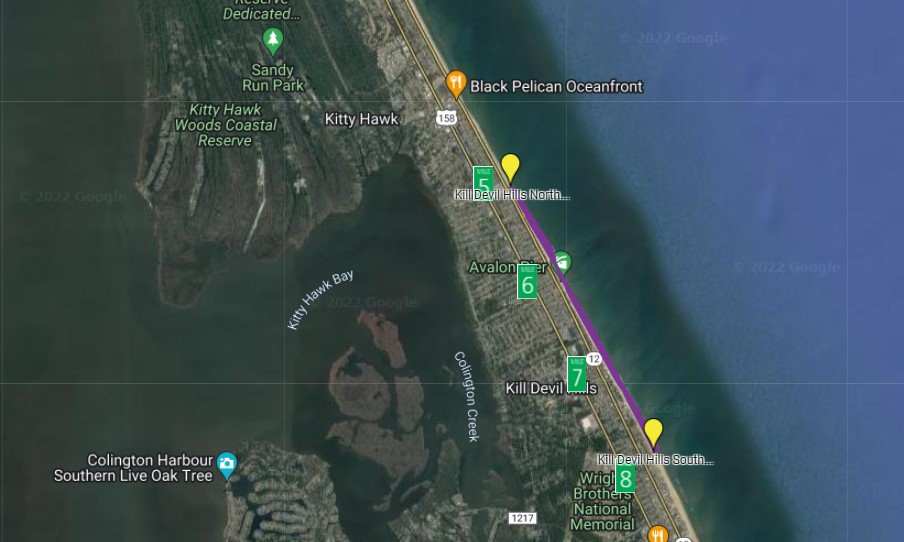 New Jersey-based Weeks Marine Inc. anticipates beginning in June the about $6.4 million beach nourishment project for Kill Devil Hills.
Town officials said the construction company expects the 2.6-mile beach nourishment project to take 25 to 35 days and wrap up in Mid-July, the town announced Friday.
The project area will be from the northern town line south to Windsong Way, tapering from Windsong Way south about 1,000 feet to Prospect Avenue. The town has a detailed project map that officials say will be updated daily when construction begins.
The estimated start date from the company is tentative and remains subject to change due to a variety of factors, including weather conditions, mechanical equipment issues and other variables, officials said.
Before work begins, the company will stage equipment. Contractors will place the distribution pipeline along the beach and put heavy equipment such as bulldozers, loaders and excavators into place.
While small sections of the beach will be closed to the public for short periods for safety reasons during construction operations, beachgoers will be able to access the ocean north or south of the project zone.
Pipelines will be placed along the beach parallel to the shoreline outside of the construction area to allow sand to be pumped from the offshore borrow source onto the active construction site. This pipeline will be visible on the beach but sand ramps will be built over the pipeline in order to provide residents and visitors with safe and easy access to the shoreline of the Atlantic Ocean,.
The contractor usually works around the clock until the project is complete, depending on weather conditions.
Updates will be posted on MoreBeachToLove.com and the Town's website. To sign up for beach nourishment project email updates from the Town of Kill Devil Hills, visit the website.