Reprinted from the Outer Banks Voice.
Two years ago, Tamara Warren took over the helm of the Surfrider Foundation Outer Banks Chapter after its long stint fighting offshore drilling under the 15-year leadership of Chair Matt Walker and Vice Chair Ivy Ingram.
The emerging COVID-19 pandemic limited what activities and outreach the newly appointed chair could do, but rather than wait for the pandemic to end, Warren focused her efforts on mobilizing solo beach cleanups.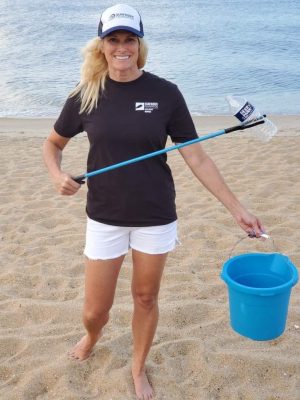 Over the course of those two years, Warren and her environmental advocacy group for beaches and oceans distributed more than 250 buckets from Pea Island to Corolla loaded with gloves, trash pickers and masks.
"That's kind of what my focus was, just keeping the beaches clean and keeping our community active and engaged," Warren said, adding that the chapter also breathed new life into its Adopt-a-Beach Access program that spans from Kitty Hawk to Nags Head — with those adopting an access making a commitment to clean it up five or six times a year.
The Surfrider Foundation has gathered data about what trash was being collected and uses it to determine where it needs to focus its efforts. That includes considering what efforts they need to make in educating in the schools and what bans they might need to fight for at the local government level, whether it be plastic bags, balloons or polystyrene foam.
"We really have been focusing the past two years on beach cleanups just because of COVID to keep everyone safe, so we are switching gears and switching into the Blue Water Task Force program," Warren said.
On March 5, the Outer Banks chapter of the Surfrider Foundation plans to hold its first community event since the pandemic began. The "Freezin' for a Reason" fundraiser will be held at the Ocean Bay Lifesaving Station in Kill Devil Hills to raise money for its Blue Water Task Force initiative. That's a citizen water quality monitoring program "aimed at raising awareness of local pollution programs and bringing together communities to implement solutions."
Warren said that the foundation hopes to raise $16,000 for water monitoring equipment. To get involved, folks can register to take a wintery plunge into the Atlantic Ocean, donate to the cause or specifically donate in support of their favorite Dare County celebrity who is participating in the plunge.
Outer Banks notables who have signed on to take the dip include Nags Head Mayor Ben Cahoon, First Flight Middle School Principal Diane Childress, Kill Devil Hills Mayor Ben Sproul, Kitty Hawk Mayor Craig Gariss, First Flight High School Principal Chuck Lansing, Kitty Hawk Elementary School Principal Greg Florence and Manteo Elementary School Principal Curtis Price.
Swag bags will be available for participants and the event will conclude with a breakfast at Jack Brown's Burger Joint at 9 a.m. Plungers can eat free, but even those who choose to stay dry and warm can come and order off the menu. Live music, courtesy of The Connection from Williamsburg, Virginia, will also be featured.
Foundation projects
Once the foundation has the monitoring equipment, it can measure fecal and bacterial levels in recreational waters so they can be compared to the water quality standards set by public health agencies.
The main focus of the testing, Warren said, will be on waterways and accesses the foundation feels are heavily trafficked. Or, she added, "if we get a call about one area having some issues, we would definitely go to that area."
Once the data is collected, the foundation would consult with local public works and health departments and come up with solutions if there are issues.
Another effort the Surfrider Foundation is working on — after seeing the amount of balloon trash on the beaches — is trying to implement a ban on releasing balloons into the air. Warren said the group plans on taking the cause to all the local municipalities, asking that a fine be imposed if someone is caught releasing a balloon.
"Essentially, it is littering and (people) are killing the turtles and other sea life by letting these balloons go," she asserted.
But as for the March 5 event, Warren expects it to be a great opportunity for the Surfrider Foundation and community to come together.
"I think it's really just going to be a fun filled day of celebration and just taking a breath – being a part of something good and celebrating each other and our friendships and our community," Warren said of the event. "We're off to a good start. We've got eleven more days to go, so hopefully we'll get some more people on board."
Event details and forms to donate or register are online.
This story is provided courtesy of the Outer Banks Voice, a digital newspaper covering the Outer Banks. Coastal Review Online is partnering with the Voice to provide readers with more environmental and lifestyle stories of interest about our coast.