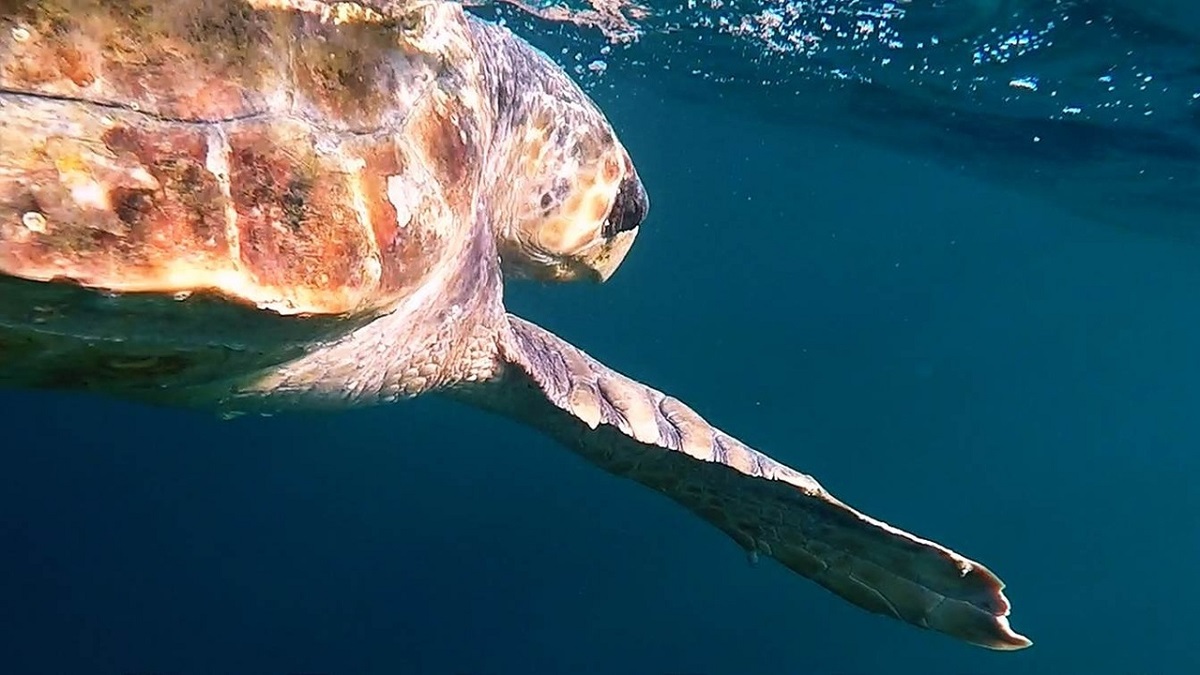 The National Marine Fisheries Service is asking the public for input on proposed measures to reduce sea turtle bycatch.
Fisheries bycatch is the primary threat to endangered and threatened sea turtles in the Greater Atlantic Region and occurs at high levels in several regional trawl fisheries, according to the service, which is a department of the National Oceanic and Atmospheric Administration and is also known as NOAA Fisheries.
NOAA Fisheries said it will host virtual webinars in the coming weeks to provide an overview of sea turtle bycatch and gear research in trawl fisheries in the greater Atlantic region, specifically in the Atlantic croaker, longfin squid and summer flounder fisheries. There will be a short presentation followed by an opportunity for attendees to provide input and comments.
The webinars, which are open to all interested parties to gather input and information to inform any future measures, are scheduled for the following days:
Croaker fisheries: 6:30-8:30 p.m. Feb. 16. Register.
Longfin squid fisheries: 6:30-8:30 p.m. March 1. Register.
Summer flounder fisheries: 6:30-8:30 p.m. March 14. Register.
Sea Turtle Recovery Coordinator Carrie Upite told Coastal Review that NOAA Fisheries is not at the proposed rule stage yet and does not have an exact geographical area, rather this is one of the items they would like feedback.
"That said, one of the fisheries under consideration for bycatch reduction measures is the Atlantic croaker fishery, which operates off North Carolina. The summer flounder and longfin squid fisheries may occur as far south as North Carolina as well," she said. "So yes, the measures under consideration include North Carolina."
Given the results of previous research, officials announced that the following are being considered: 
Requiring turtle excluder devices, or TEDs, with a large escape opening in trawls that target Atlantic croaker, weakfish, and longfin squid to reduce injury and mortality resulting from accidental capture in these fisheries.
Moving the current northern boundary of the TED requirements in the summer flounder fishery, or the Summer Flounder Fishery-Sea Turtle Protection Area, to a point farther north to more comprehensively address capture in this fishery.
Amending the TED requirements for the summer flounder fishery to require a larger escape opening to allow the release of larger hard-shelled and leatherback sea turtle.
Adding an option requiring limited tow durations, if feasible and enforceable, in lieu of TEDs in these fisheries to provide flexibility to the fisheries.
Written comments can be submitted to nmfs.gar.turtletrawl@noaa.gov by May 31 or the public can call 978- 281-9276 either from 8 a.m. to 3 p.m. March 4 or noon to 6 p.m. March 22.
NOAA Fisheries has been evaluating, researching and addressing bycatch of sea turtles in trawl gear used in the Gulf of Mexico and Atlantic Ocean since the late 1980s. The sea turtle bycatch in trawl fisheries website provides more background information, descriptions of TED designs, research reports, measures under consideration, the type of information needed from the public, and how to comment and participate in public webinars.