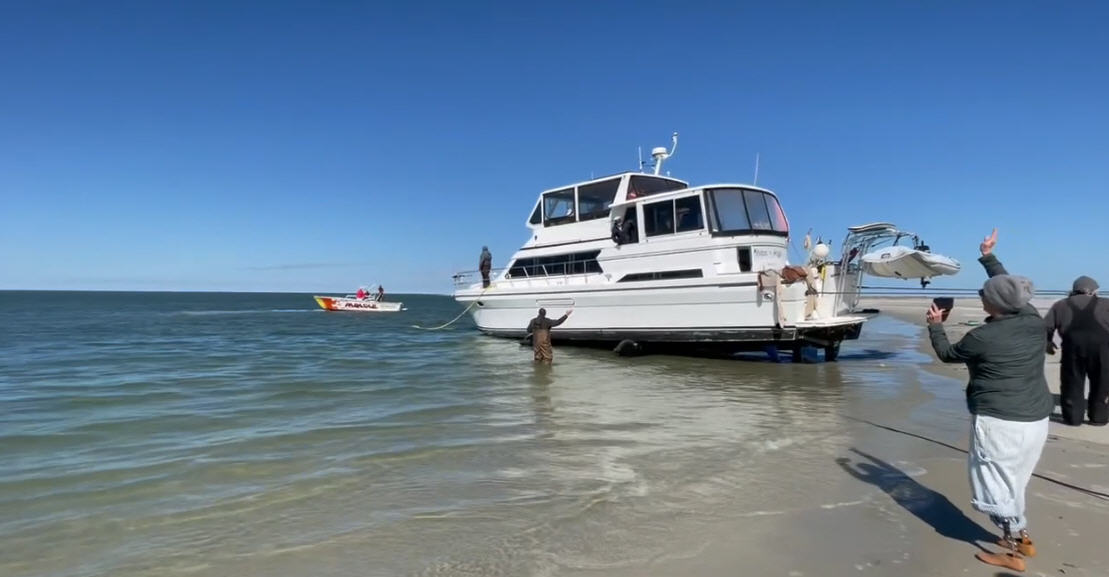 A 55-foot-long vessel stranded on the southern end of Ocracoke Island for 15 days was floated again Wednesday, the Ocracoke Observer reported.
The Vivens Aqua, which is registered in Maryland and grounded near Ocracoke Inlet Jan. 25, was underway for Ocracoke's Silver Lake Harbor, from where it was be towed to a Morehead City boatyard for repairs.
Farris O'Neal and his crew, and Barry Crum, owner of Crum Works of Buxton, freed the vessel owned by Scott Pumphrey of Salisbury, Maryland. They spent three days moving it about 1,500 feet across the sand atop pneumatic pins about 1,500 feet across the sand and toward the inlet.
Related: Park Service launches webpage to track grounded vessels
Pumphrey purchased the boat in Palm Coast, Florida, and was sailing it home via the Atlantic Intracoastal Waterway but diverted through Ocracoke Inlet on the night of Jan. 24. That's when the vessel's steering went out and the yacht grounded around 1 a.m. Jan. 25.
The vessel was one of three that grounded on beaches at the Cape Hatteras National Seashore over a two-week period. The two others, the  35-foot Reel Lucky, registered in New Jersey, and the 32-foot-long Bite Me, registered in Pennsylvania, ran aground at about the same time Feb. 2 near the north side of Oregon Inlet. Both were removed Feb. 4.
No one was injured in any of the groundings.