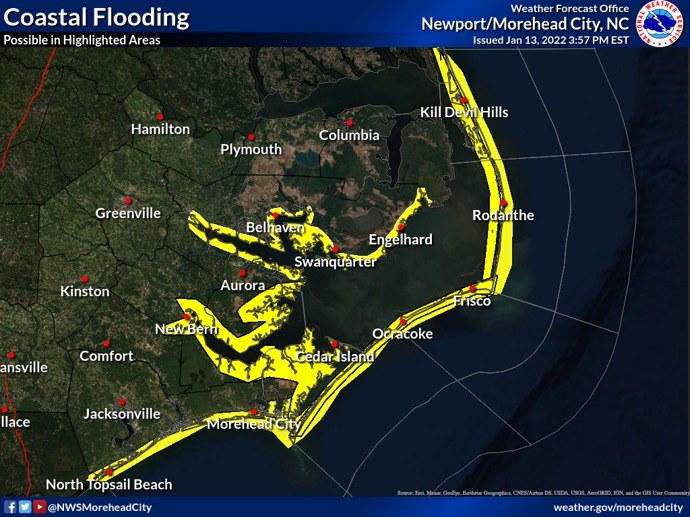 North Carolina is bracing for a winter storm that could bring heavy rain, strong winds and flooding across eastern North Carolina late this weekend.
Precipitation is expected to begin early Sunday morning, with a wintry mix of sleet, freezing rain and some snow, before transitioning to periods of heavy rain by late Sunday morning into the afternoon, the National Weather Service's Morehead City office staff predicts.
Weather service officials said that there could be some minor impacts oceanside on the Outer Banks Saturday, with more significant impacts possible Sunday into Monday for inland rivers, sounds and oceanside.
Overwash is expected on the Outer Banks north of Cape Lookout Saturday as large swell develops. Minor to locally moderate water level rises are possible for areas adjacent to the coast, Pamlico Sound, and the Neuse, Bay, Pamlico and Pungo rivers, officials said.
High surf could result in minor ocean overwash and beach erosion from Duck to Surf City. Wind gusts 40 to 50 mph along the coast are expected, including gale force winds likely late Sunday into Monday with dangerous seas in excess of 10 feet.
The National Weather Service's Wilmington office forecasters said that ice will accumulate throughout the morning hours Sunday. Small accumulations of freezing rain, less than one-quarter inch, will create hazardous travel conditions. Bridges and other elevated surfaces will be most susceptible to dangerous icing.
Conditions are expected to be much worse across parts of the western Carolinas where this will become a major winter storm, officials said.
Gov. Roy Cooper signed a state of emergency Thursday in advance of the storm's arrival, activating state resources to respond to the storm and to allow for the possibility of Federal reimbursement if the event qualifies, his office announced Friday.
"This storm will bring significant impacts from snow, sleet and freezing rain in different parts of the state, with likely power outages and travel disruptions," Cooper said in a statement. "North Carolinians should pay close attention to their local weather forecast over the next few days, and make sure they are personally prepared before Saturday afternoon."
North Carolina Department of Transportation crews and contractor resources are set to clear roads but response times will be delayed compared to previous storms because of labor shortages affecting crews statewide.
Because heavy rain and coastal flooding are possible across eastern North Carolina, it is important to never drive through flooded roadways.
Transportation officials recommend staying off the roads once travel conditions deteriorate.
"Our crews and contractors are doing all we can to get ready for this storm and we ask North Carolinians to prepare as well," said state Transportation Secretary J. Eric Boyette, in a statement. "Please make sure to plan ahead because this storm could impact travel around the state."
State Highway Patrol officials remind motorists to reduce speed, leave plenty of room between you and other vehicles and clear all ice or snow from your vehicle before traveling. If you become stranded, pull off the highway, remain in your vehicle and call for help. Do not set out on foot unless you can see a building close by where you can take shelter.
To prepare for winter weather, North Carolina Emergency Management officials recommend the following tips:
Always keep at least a three-day supply of nonperishable food and a supply of medication in your home.
Keep cell phones and mobile devices charged in case of power outages.
Keep fresh batteries on hand for weather radios and flashlights.
Dress warmly. Wear multiple layers of thin clothing instead of a single layer of thick clothing.
Properly vent kerosene heaters and ensure generators are operated outside and away from open windows or doors to prevent carbon monoxide poisoning. Never burn charcoal indoors or use a gas grill indoors.
Use a National Oceanic and Atmospheric Administration weather radio or a weather alert app on your phone to receive emergency weather alerts.
Store an emergency kit in your vehicle. Include scraper, jumper cables, tow chain, sand/salt, blankets, flashlight, first-aid kit and road map.
Make an emergency supplies kit for your pet and include medical records, leash and feeding supplies, enough food and for several days and pet travel carrier.
Do not leave pets outside for long periods of time during freezing weather.
Visit ReadyNC.gov for additional information on winter weather preparation, as well as information on power outages. Visit DriveNC.gov for current travel conditions from NCDOT.