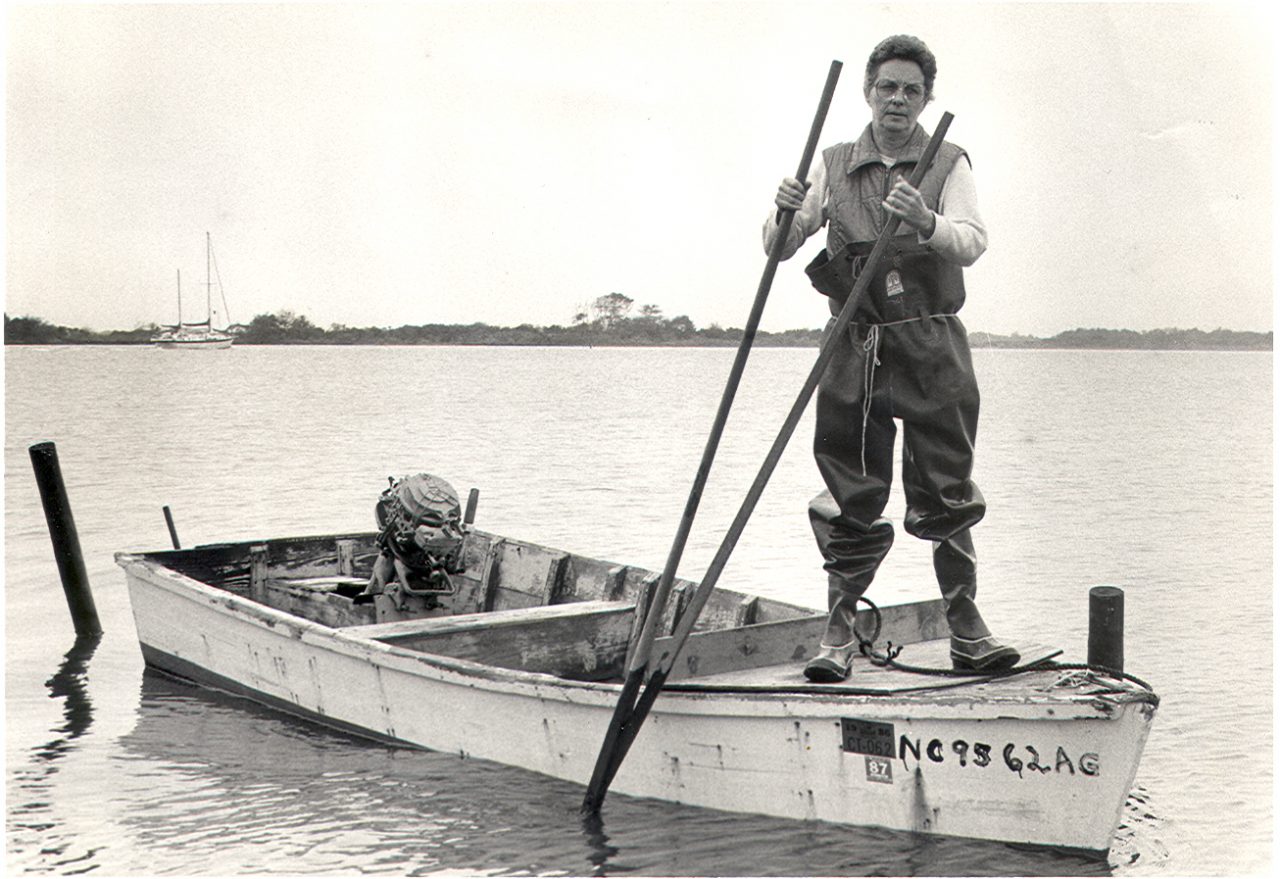 With the 40th anniversary looming for the North Carolina Coastal Federation, I considered the question, "Why have I been on the board of the federation all these years?"
The Carolina coast has a special place in my heart, full of visits with family and friends, time spent surf fishing, exploring wondrous places, listening to songs and stories, eating the best seafood, and serving on the federation board.
While I grew up in Ohio and my family visited the Outer Banks for a few days when I was young, this state — and the coast in particular — is now my home. My wife, Nancy Dole, and I moved to Chapel Hill when I entered law school and I worked for several conservation groups.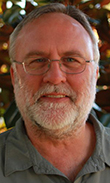 Over my legal career, most of my clients have been environmental and community groups across the state so the federation was a natural fit when it got started in 1982. Only the federation's executive director, Todd Miller, has been with the organization longer than I have. But there is no comparison, I am an enthusiastic volunteer while Todd has provided a vision, done the hard work of starting and sustaining an essential organization to protect our coasts, and shouldered the day-to-day responsibility for the organization. It's his passion, leadership and focus on the simple messages that have made the federation what it is today, a respected and guiding force for the protection and restoration of our coast.
In the 1980s, the entire coast was under threat from peat mining, oil refineries, overdevelopment, jetties, landfills, and the destruction of wetlands. Under Todd's leadership, many people came together and created the federation. From our first office in Todd's spare bedroom, we have grown to 30-plus staff working in three offices along the coast. Our top-notch scientists, policy advocates, educators, and administrators are involved in a vast array of projects, all tied together to fulfill our mission.
Nationally, the federation is revered as an example of how a committed, focused group can make major, real-word changes to ecosystems, public health, and economies. We have done this by our dedication to the coast, based on good science, education at all levels, sound public policy, and legal action if there is no other option.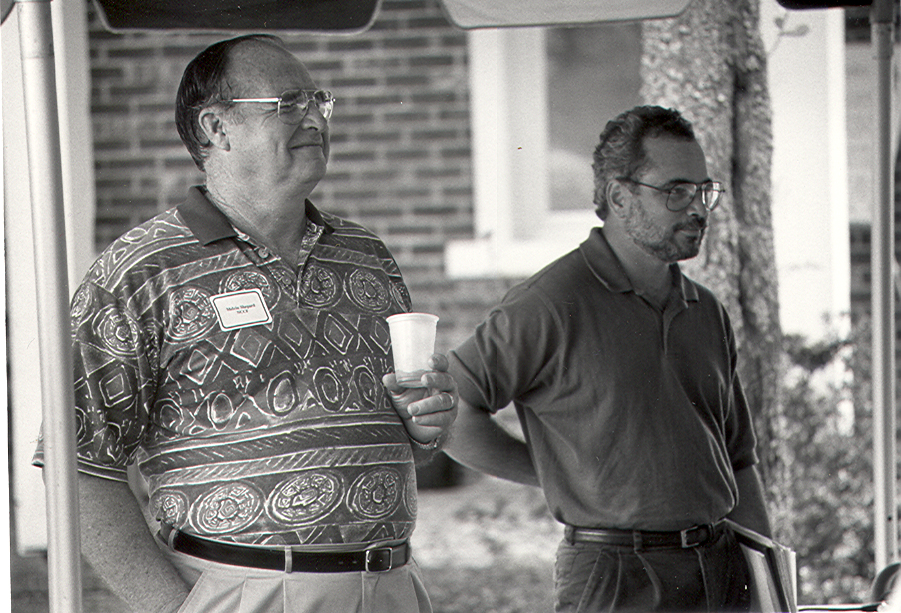 As I see it, the federation's mission can be summed up in four simple messages.
First and foremost "NO WETLANDS, NO SEAFOOD" is one of our guiding principles; we believe coastal North Carolina is more than just oceanfront property with uncluttered beaches and hot sand. It is a dynamic ecological ecosystem based on clean water, tides, marshes and wetlands, rivers, inlets, sounds, and the ocean. It provides habitat for aquatic life, a living classroom, and the continuing livelihood for generations of families.
The decades-long focus of the federation's message has centered on OYSTERS. Like so much life on the coast, oysters depend on clean water to thrive. The oyster was once prevalent in our waters but were depleted from overproduction and pollution. Oyster reefs provide habitat for fish and seafood, and as filter feeders, oysters help clean the water around them. Oysters have provided livelihoods and sustenance to folks for centuries.
Years ago, I was out on Stump Sound helping Bill Rice tend his family's oyster gardens, bottomlands obtained from King George III in pre-Revolutionary times, converted to oyster leases in the 1930s. Stopping to take a lunch break on a narrow tidal island, Bill asked me to look down at the ground. It was covered with pottery shards, clay pieces with simple designs, mixed in with the sand with oyster shells. We laughed when Bill told me the Native people came to the sound to eat oysters and drink their beer, just like so many of us do today. I later followed up with historical anthropologists at the University of North Carolina and that's exactly what happened. Hundreds of years ago, the men and older boys of the Pee Dee tribe would walk in the autumn from Town Creek in the center of North Carolina to Stump Sound, carrying corn mash in clay pots. The mash fermented as they walked and happy times ensued while oysters were eaten.
The heritage of oysters prevails today. Families up and down the coast make their living harvesting wild oysters. New oyster reefs have been created at Morris Landing in the Stump Sound to continue the tradition there. At Harkers Island, Ryan Bethea, a federation board member, is owner of one of the mariculture operations, an example of using new techniques to make a living off the sounds' bounty and producing delicious oysters for many to enjoy.
The federation's Northeast office, under the direction of its regional manager, Erin Fleckenstein, has recreated oyster reefs in Pamlico Sound using shells collected from restaurants around the state. The project uses state and federal dollars to collect and then offload the shells, giving jobs to the fishing community off-season.
Under the leadership of retired businessman and federation board member Tom Looney, the federation has helped North Carolina Sea Grant develop the North Carolina Oyster Trail, connecting oyster growers, markets, seafood restaurants, and oyster lovers (the "slurpers"). Oysters have become a tourism draw as well as an economic boon for the coastal economy. And returning to the early discussion, oysters are a biological indicator for clean water and beneficial habitat that all can enjoy.
Because of the positive impacts of a viable oyster economy, oyster restoration is a nonpartisan issue. Over the years, lobbyists for the federation, Jim Kennedy, Jim Stephenson and Rob Lamme, worked across both sides of the aisle, basing our arguments on economics, good science, and providing the legislators with a tasty oyster roast. There's nothing like to ensure they understand the importance of this industry and the need to protect it. It helps to have Rep. Pricey Harrison, Democrat from Guilford County and former federation vice president, and Rep. Pat McElraft, Republican from Carteret County, in the North Carolina General Assembly to champion clean water bills and funding for oyster restoration.
Coastal ecology and coastal economy are two ways to look at the same thing, each supporting the other: No Wetlands, No Seafood.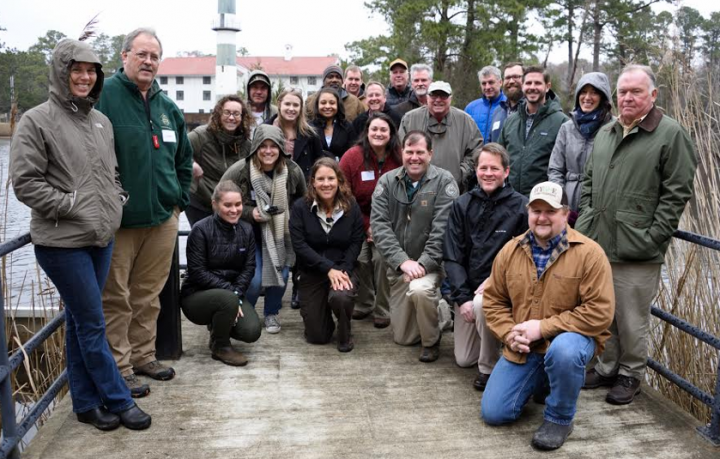 The second message has become almost a cliché, but "THINK GLOBALLY, ACT LOCALLY" is a fundamental part of the federation's mission. Acting locally includes backyard activism, major projects, and everything between, some with global impacts.
One of the earliest battles fought by the federation was the proposed mining of 120,000 acres of pocosin wetlands on the Albemarle-Pamlico Peninsula using a half billion dollars in federal subsidies. The scheme was to drain the tracts, mine the peat, dry it out, and convert it to methane as a fuel source. The freshwater drainage alone would have had drastic impacts on the saline sounds and fish life, but when the high levels of mercury in the peat was included, the long-term result would have been catastrophic. The federation and the local fishing community joined forces to stop the project. The company did not get their permits and eventually through a partnership between federal agencies, national conservation groups, and private foundations, most of the mining tracts now form the Alligator River as well as the Pungo Lake National Wildlife Refuges.
Today, the federation's Northeast office, with guidance from Mac Gibbs, retired extension agent and federation board member, works with farming interests to manage drainage from large farming tracts near Lake Mattamuskeet. This eliminates a significant amount of runoff into wetlands and shellfish habitat and reduces the need for major drain pumps, saving the farmers considerable money each year on electricity.
Similarly, the federation obtained the 6,000-acre North River Farm in Down East Carteret County with funding from the North Carolina Clean Water Management Trust Fund (CWMTF) in partnership with John Preyer and George Howard of Restoration Systems. Our long-term goal is to convert the farm fields back to wetlands and forests. This project is one of the largest in the eastern United States and has been closely monitored by scientists and government agencies to determine if changes in drainage patterns on a grand scale can reopen shellfish waters in the receiving waters. So far, the restoration operations are working as the land reverts to a more natural state. The restored wetlands have also proven to be a good way to sequester carbon to help with climate warming. Another side benefit is the more than 250 bird species now found on the site and thanks to the persistence of John Fussell, who wrote the book on coastal Carolina birds, North River Farm is now part of the North Carolina Birding Trail.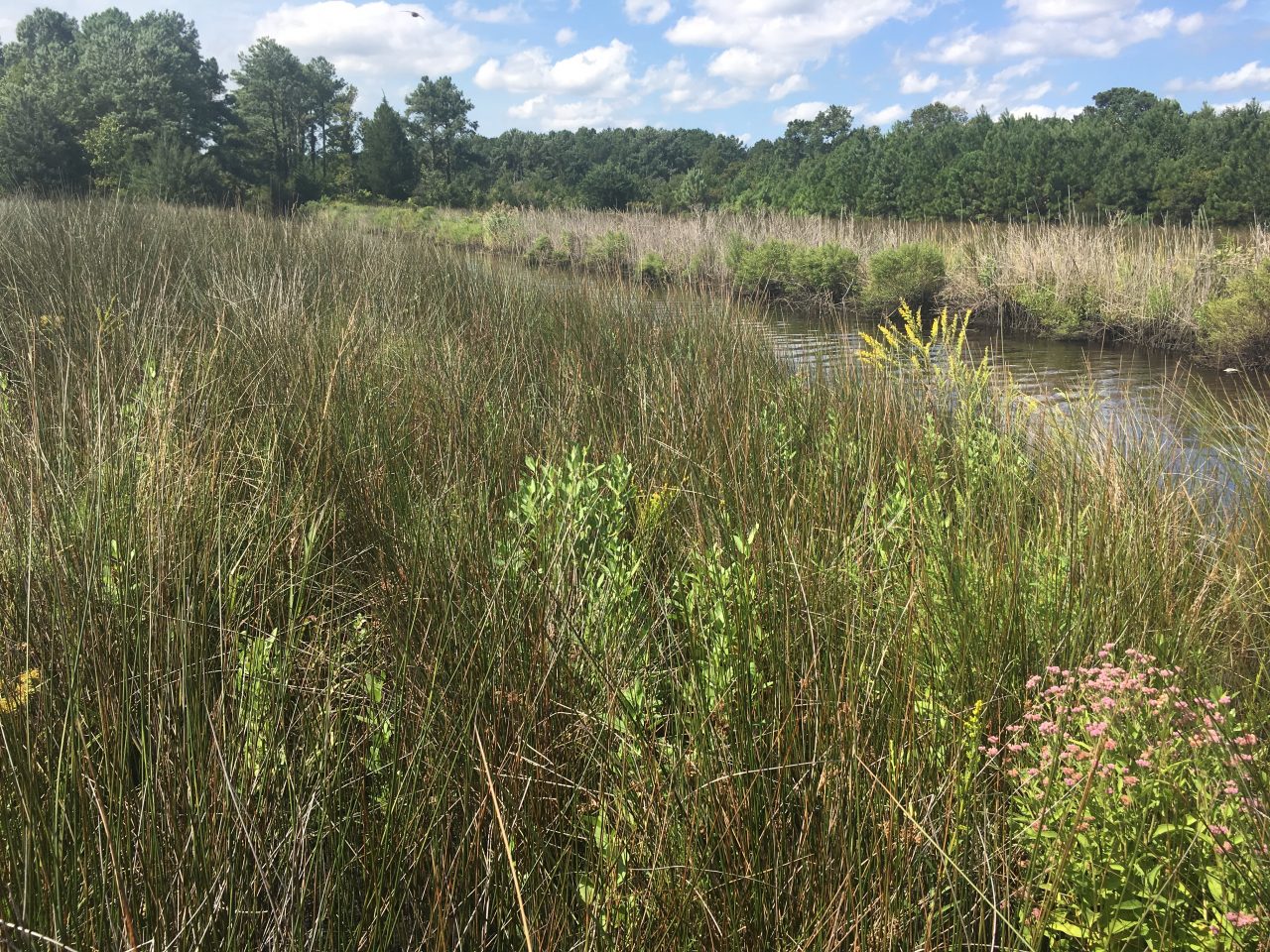 Acting locally also has been the focus of several of the federation's longstanding projects. Low impact development (LID), promoted by Lauren Kolodij, the federation's deputy director, uses simple building practices, such as wetland gardens and vegetated buffer zones, to reduce polluted runoff into streams, wetlands, the sound, and the ocean. Builder and developers have been trained in the LID techniques, and some have become fervent advocates of the practices. Growing this awareness and practices is key to preserving our waters.
Living shorelines, developed and promoted by federation coastal scientists Lexia Weaver and Tracy Skrabal, use natural elements to protect shorelines from erosion. As an environmentally sensitive and cost-effective alternative to bulkheads, living shorelines provide a buffer of marsh grasses and oyster beds as can be seen behind the Crystal Coast Convention Center in Carteret County.
These projects are supported by the federation's educational and volunteer efforts. Taking students and teachers out of the classroom, getting them wet and muddy, planting marsh grasses and hauling oyster sacks, demonstrates how local actions can solve real problems. Several years ago, I worked with fifth graders at the White Oak Elementary School to build a rain garden and the kids learned a lot by working directly on the project. At a follow-up visit, the students showed off their "Rain Gardens Rock!" T-shirts.
How does this all add to thinking globally? The environmental crisis over the next 40 years on our coast will be CLIMATE CHANGE. It will result in sea level rise, shifting barrier islands, fiercer and more frequent storms, and longer droughts. We are already seeing fair weather flooding in Wilmington and increased erosion of barrier islands. Most of the local governments are revising their policies to make their communities more resilient. The federation is taking the lead in some of these activities, but we will have to do more and more in the future to meet this challenge.
Climate change and overdevelopment will also impact those less able to bear the economic burden. Dirty air from industrial operations and hog farms, runoff from mining operations and urban areas, and flooding from sea level rise necessitates the federation's involvement in ENVIRONMENTAL JUSTICE. All North Carolinians should have clean air and clean water. 
Veronica Carter, federation board member and member of the Leland Town Council, sits on the North Carolina Environmental Justice and Equity Board. She'll tell you how crucial it is for diverse voices to be heard as we develop policies for our coast. There is a clear disparity in income levels across the coast; many Black and Hispanic families have limited access to health care and a healthy environment. Drinking water wells are often contaminated. Waters polluted with arsenic, mercury, or per- and polyfluoroalkyl substances, or PFAS, make fish unsafe to eat and many coastal families rely on subsistence fishing for food.
Simply put, the common good is defined by each of our impacts on the environment, from water and air to wetlands and shorelines. Local actions add up, but we need to keep in mind how those actions impact our coast, all of its people, and our future world.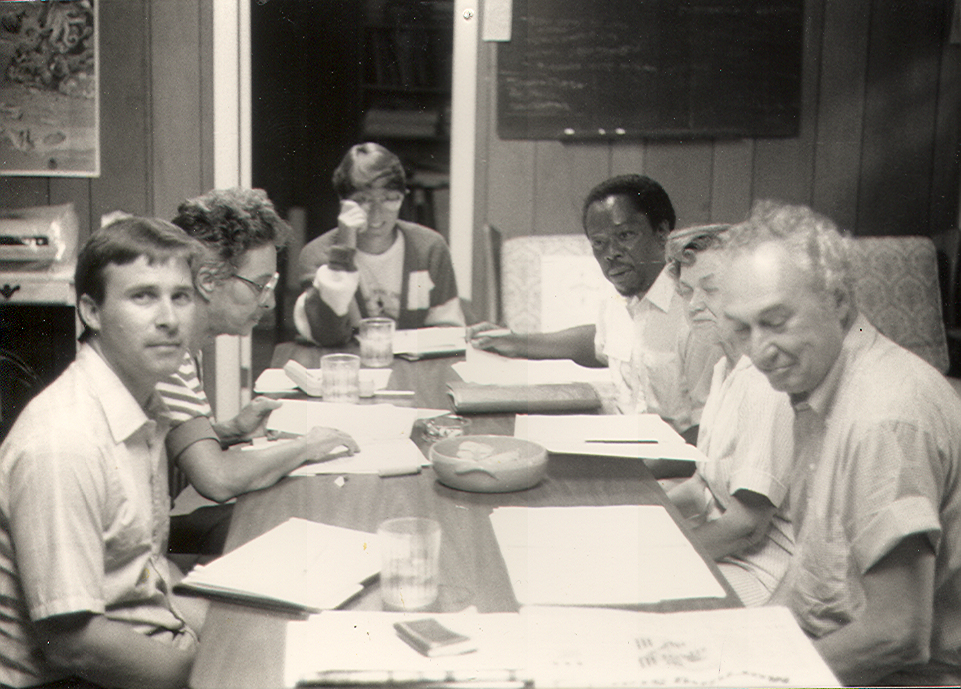 The third simple message is one of PROFESSIONALISM. The federation staff is dedicated to be the best they can be as individuals and to support each other to make our organization the best it can be. Over the years, we have carefully hired highly exemplary folks who have brought a wide variety of talents and skills to the federation, and through example and training, have made professionalism the corporate norm.
Members of the board take pride in our staff and how they carry out our mission. We have always strived to have an active board with a diversity of talents and interests to invest in our programs and provide support for the staff. We have been fortunate to have had impressive leadership from our board presidents: Don Ensley, Lena Ritter, Ann Carter, Melvin Shepard, Dick Bierly, and Joe Ramus.
One of the federation's strengths has been its ability to work with partners, local communities, other environmental and civic organizations, and governments at all levels. Our staff is respected by our partners because of their dedication, knowledge, and clear vision.
Many of the major projects undertaken by the federation have been in partnership with government agencies. The CWMTF provided funds for many of our land purchases and restoration projects. For example, the acquisition of Jones and Huggins islands by the federation with CWMTF dollars, and subsequent inclusion of the islands into Hammocks Beach State Park, has led to joint educational activities between the federation and the park that have levered both of our public programs.
The Bird Island Coastal Reserve in Brunswick County, overseen by the North Carolina Division of Coastal Management, would not have happened without a strong local presence, support by the federation, and public and private funding. One of the remaining undeveloped barrier islands, Bird Island, provides habitat and nesting areas for rare species turtles, birds, and plants.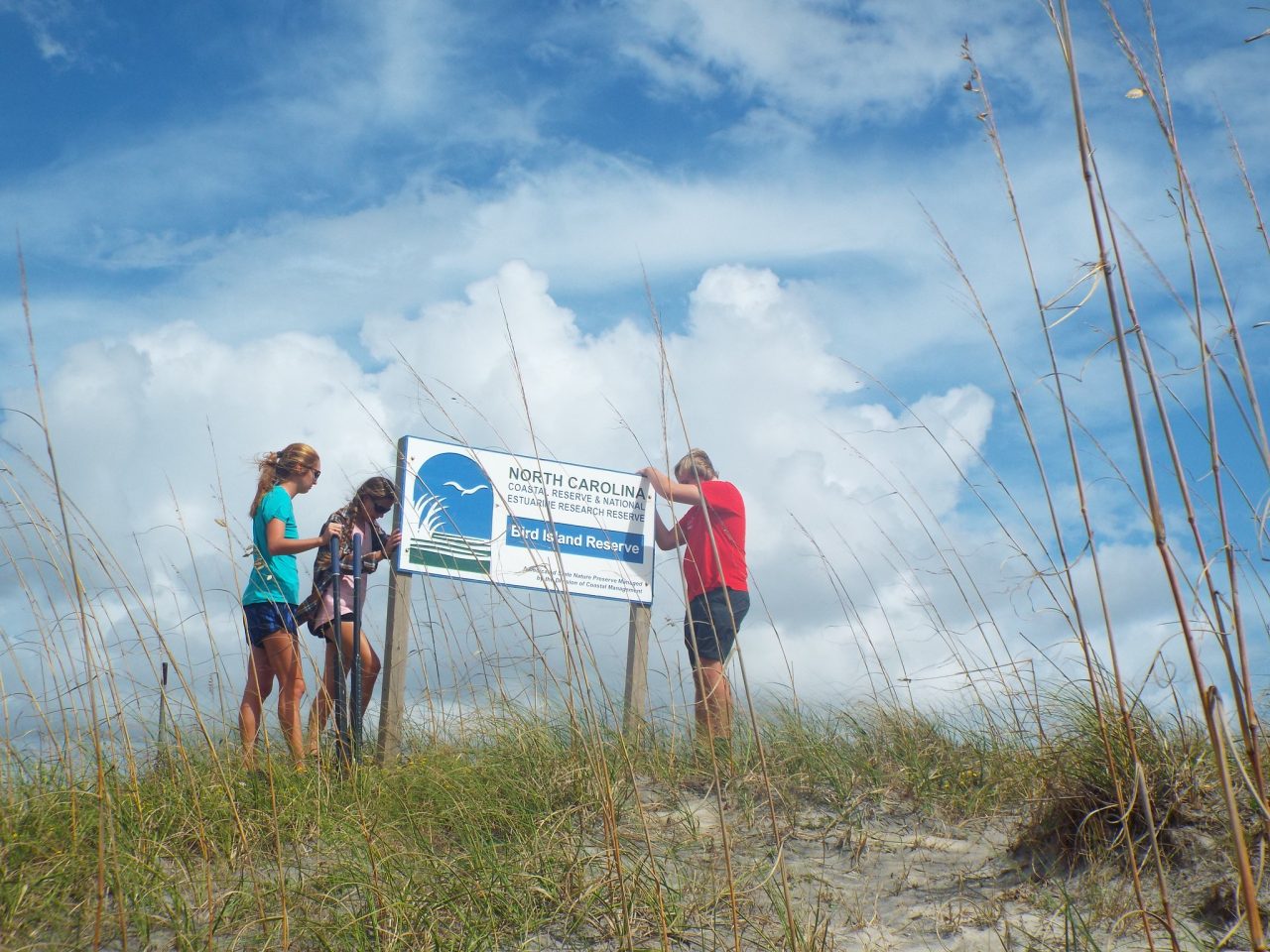 Recently, in establishing the new Center for Coastal Protection and Restoration, the federation worked closely with the Navy, Carteret County, North Carolina Department of Cultural Resources, and the state legislature to acquire the necessary land on the Bogue Sound (see more about this below).
We've never been afraid to bring legal action if that is the only way to resolve an issue, but if there is a better way of finding a solution, that's the preferred route. Our relationship with the Southern Environmental Law Center, one of the nation's premier public interest legal teams, has proved itself repeatedly. Without SELC's resources and talent, much of the coast would be quite different, major tracts of land would have been drained and mined, habitat forever lost, and most shellfish areas permanently closed.
By extension, the staff and board members have had the help of an extensive crew of volunteers as demonstrated by the awardees at the annual Pelican Awards that recognizes volunteers and organizations. Often the volunteers simply go about their jobs of helping out, not for recognition, just because something needs to be done. For years, longtime board member Lewis Piner put in a huge number of hours to enlist scores of volunteers to staff the federation booth at the North Carolina State Fair.
The federation's programs are enhanced by CoastalReview.org, our daily news service providing a wide range of articles, from current happenings in the legislature, historic fishing communities, seafood recipes, federation projects, and highlighting the wide variety of folks who make up the federation and the coastal community.
In keeping with the message of professionalism, the federation has made good fiscal management one of its priorities; it is after all other people's money that allows us to carry out our work. Raising funds and increasing membership depends on using money wisely on projects that have positive impacts on the coastal environment and community.
Sally Steele, the federation's longtime development director, now retired, made it a point to say there are few limits to an organization that is dedicated to its mission. She pushed the rest of us to think beyond a small staff in a small office to an organization with multimillion dollar annual budgets and 30-plus staff. When a project shows demonstrable impacts with broad application, funds become available.
I would be remiss if I did not acknowledge the generous support of the Stanback family and the Z. Smith Reynolds Foundation over the years, and all the other foundations and individuals who have given us the funds we needed to carry out our mission. Likewise, past board member Olivia Holding and current board member Charles Meeker have pulled together successful statewide capital campaigns to expand our offices and increased our ability to hire staff.
The next step in the federation's growth is the Center for Coastal Protection and Restoration, a public resource for coastal education and events on Bogue Sound. It will be the home if the federation's future headquarters and be a showcase for sustainable design and LID practices.
It is not an easy lift to increase budgets and membership over 40 years, but it's been possible with our dedicated staff, supportive board, and enthusiastic volunteers, and strong financial supporters.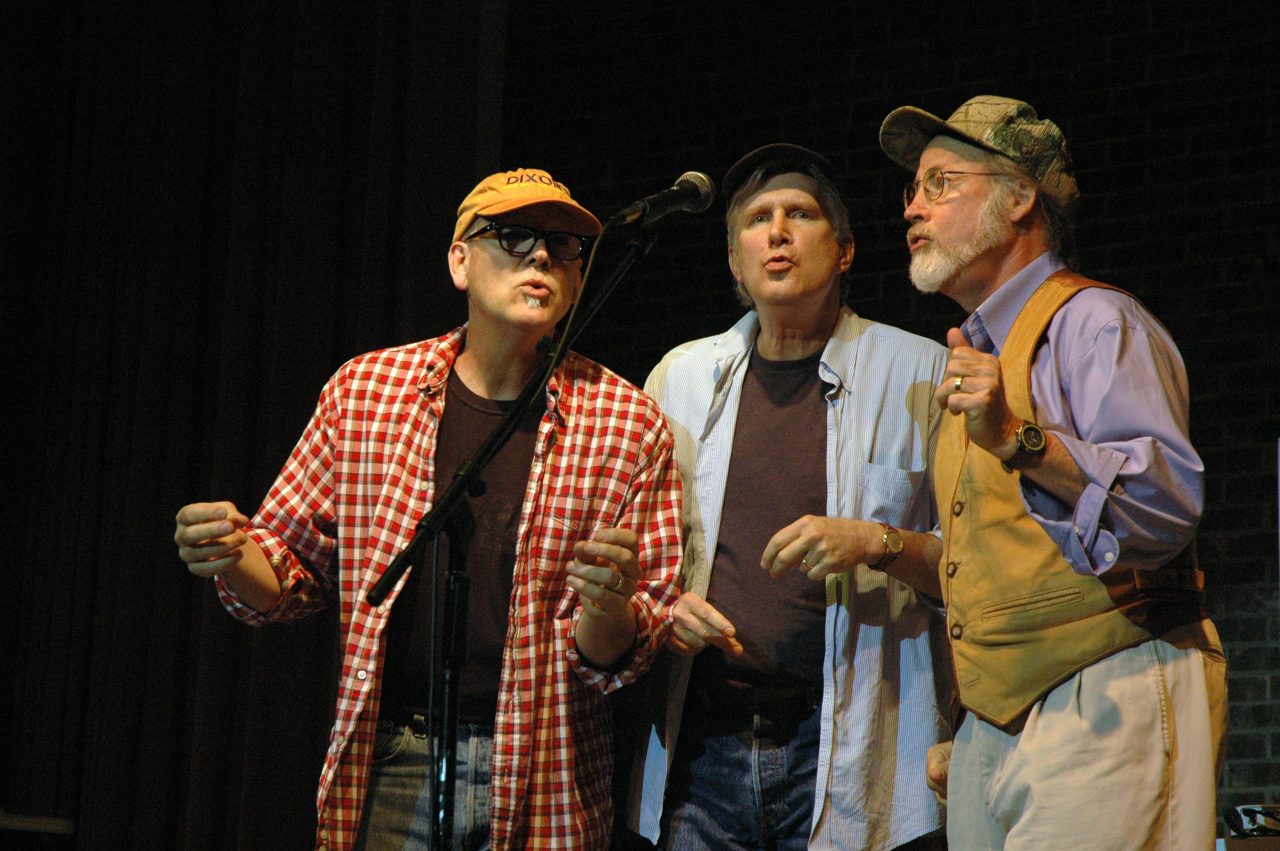 The last of the simple messages is that each one of us should strive to be a part of the COASTAL COHORT. In their "King Mackerel and the Blues are Running" lyrics, the Coastal Cohorts — Bland Simpson, Don Dixon and Jim Wann — share their love of the coast and the stories that connect them to it. They want us to enjoy the fishing, the dancing, the beaches, the joys and mysteries, and the soundside life that makes up coastal North Carolina.
My favorite experiences on the coast, beyond spending time with family, come in listening to the storytellers and song writers. Tom Earnhardt tells of his explorations on the coast and his open-eyed wonder when the first flock of whistling swans land. Connie Mason sings the old songs, including one of my personal favorites, the "Booze Yacht," evoking times gone by and the traditions we still retain. The late James Barry Gaskill of Ocracoke, with his "Hoi Toider" brogue, brought tears to my eyes with laughter with his story of taking a cooler of oysters to Las Vegas so he and his coastal buddies would have something good to eat. Jan DeBlieu, one-time federation staff in the Northeast, wrote poignantly of her family's tragedy and the healing she found on the Outer Banks.
We all have different stories to tell about what the coast means to us. The mission of the federation, as expressed through its simple messages, is to bring the awareness of the coast, its beauty, its ecosystems and its economies, to everyone who will listen.
Because of my 40 years of support for the federation, indulge me and take my advice – enjoy the coast, catch a bluefish, watch the sun rise over the ocean, paddle a kayak to a barrier island, listen to the local stores, take a stand, get educated, make a difference, and become a COASTAL COHORT for life.