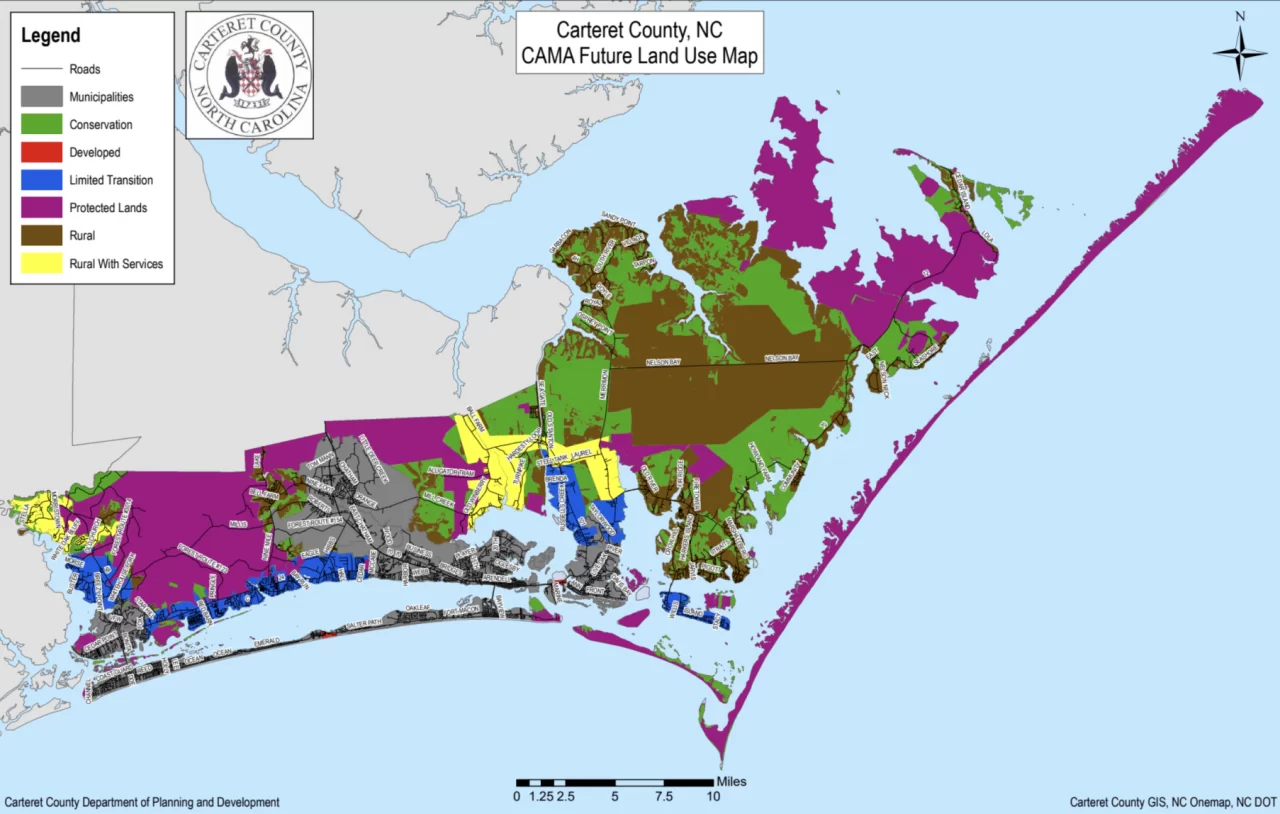 From a Carteret County News-Times report
BEAUFORT — More than two-and-a-half years of effort to update the county's Coastal Area Management Act land-use plan will culminate Monday during its regular meeting when the Carteret County Board of Commissioners will hold a public hearing and possibly vote to adopt the plan.
The meeting begins at 6 p.m. in the commissioners' boardroom, 302 Court House Square, Beaufort. The public is invited to attend and review the nearly 200-page document meant to guide growth and development in the area.
According to a news release from the county advertising the public hearing, once adopted by commissioners, the plan will be submitted to the director of the state Division of Coastal Management for certification. Submit written comments up to 30 calendar days after adoption by mailing the DCM district planner, Rachel Love-Adrick, at 400 Commerce Ave., Morehead City, NC 28557.
The CAMA land-use plan is "intended to provide a framework that will guide local government officials and private citizens as they make day-to-day and long-term decisions affecting development," according to the document. "The (LUP) serves as an overall 'blueprint' for the development of Carteret County that when implemented, results in the most suitable and appropriate use of the land and protection of the county's natural resources."
The plan is used by local, state and federal agencies in CAMA permitting decisions and project funding and development.
The 2021 version is an update to the previous land-use plan adopted by commissioners April 20, 2009, and certified by the Coastal Resources Commission Dec. 20, 2010.
Development of the new plan began several years ago in accordance with CAMA and Coastal Resources Commission requirements. A series of public outreach meetings were held in March, June and December 2019, during which residents could review maps and draft policies and interact with the County Planning Commission, which prepared the 2021 update. The planning commission recommended adoption of the plan during its November meeting.
The draft 2021 CAMA land-use plan update is available online at carteretcountync.gov/DocumentCenter/View/9859/CAMA-LUP-Cart-Co-Sept-15_2021-Draft-3-1, Carteret County courthouse and the County Planning and Development Department at 402 Broad St., Beaufort.
Reporters Mike Shutak and Brad Rich contributed to this report.
This story is provided courtesy of the Carteret County News-Times, a twice weekly newspaper published in Morehead City. Coastal Review Online partners with the News-Times to provide our readers with news of the North Carolina coast.