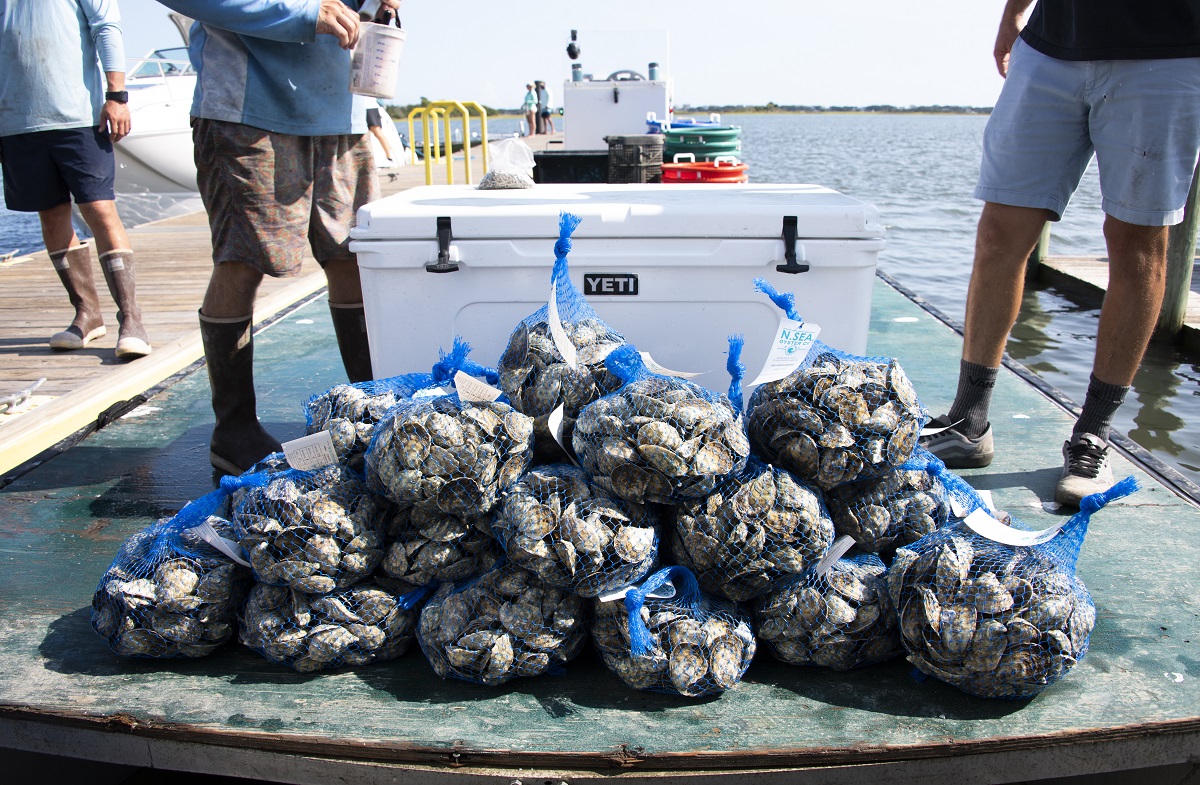 A new initiative to put Wilmington and southeastern North Carolina on the map as a leader in the blue economy – trades and industry dependent on marine resources — makes its public debut during All Blue Week, Nov. 2-6.
The Alliance for the Blue Economy, also called "All Blue," based its mission on the World Bank's definition of blue economy, "the sustainable use of ocean resources for economic growth, improved livelihoods and jobs, while preserving the health of the ocean ecosystem."
The University of North Carolina Wilmington's Center for Innovation and Entrepreneurship launched Sept. 28 All Blue, which is made up of an advisory board of science and business leaders who focus on attracting, advising and launching businesses in the blue economy, according to the website.
During All Blue Week, more than a dozen sessions, seminars, recreational opportunities and tours are planned around Wilmington and on UNCW's main and marine science campuses, including the Nov. 6 Hack for a Blue Economy, or Hackathon, co-sponsored with Cape Fear Collective. There's no charge to attend most events, but organizers recommend registering in advance.
All Blue Advisor Kim Nelson told Coastal Review that the All Blue team has worked for years to identify areas of the blue economy relevant to southeastern North Carolina. Those identified include coastal resilience, hospitality, recreation, tourism, sustainable aquaculture and fisheries, biotechnology, and engineering and robotics.
Related: UNCW Center kicks off ocean-focused economic initiative
"We are hosting the All Blue Week and All Blue Hackathon to bring people together to learn more and think about how they might get involved," she said.
Deborah Westphal, author of the new book, "Convergence: Technology, Business and the Human-Centric Future," kicks off All Blue Week Nov. 2 with an opening address, and the week closes with the all-day Hackathon on Nov. 6. As its name implies, the Hackathon is geared toward techy types of all skillsets and covers how data can inform the sustainable use of ocean resources for economic growth while preserving the ocean ecosystem. Register online to attend the Hackathon in Wilmington or join virtually.
Nelson and fellow Hackathon organizer Nick Pylypiw, who is director of data science at Cape Fear Collective, explained in an email response to Coastal Review that the goal for the Hackathon is twofold.
First, they hope to educate the local technology and scientific community on some of the challenges and data sources around the blue economy. "By raising awareness of these local economic challenges, we hope to foster increased focus on data collection and analysis, as well as policy and recommendations," they wrote.
Second, the output from the Hackathon, such as code, visualizations, recommendations and data can help to build a foundation of community resources for future work within the blue economy.
"This sort of event can be a catalyst for change, sparking the imagination of the community and creating momentum to build sustainable economic outcomes," they wrote.
Nelson and Pylypiw said they want Hackathon attendees to leave with a better understanding of the blue economy and why it's crucial for the region. They want it to spark interest for future events and collaborations.
The Hackathon team spent years working on a strategy and a consistent message about the blue economy.
"We have been looking for ways to engage a larger audience and to start to map currently available datasets specific to the blue economy," Pylypiw and Nelson wrote in the email.
One member of the All Blue team brought up the idea after a hackathon held by the Cape Fear Collective in April that was specific to affordable housing. All Blue then reached out to Cape Fear Collective about collaborating.
"Fortunately for us, they had an interest in coastal resilience and the partnership was born," Nelson said.
Cape Fear Collective, founded in 2019, brought together corporate, nonprofit and municipal entities in the aftermath of Hurricane Florence and two main themes emerged as gaps in the nonprofit world.
"The first need was data. Organizations needed it to be hyper local, timely, and easier to action to better distribute resources based on its insights. The second need in the nonprofit community was more funding," they wrote, noting that revenues for the region's nonprofits had historically lagged peer regions in the state on a per capita basis, "often amid a more dire need and frequent natural disasters."
The collective created a localized nonprofit investment platform that allows for private capital to drive social causes from affordable housing to workforce development, small business and transportation sectors, they said.
All Blue Week Schedule
Inside Cape Fear Community College's Marine Technology and Boat Building Programs: 4-5 p.m. Nov. 1, at 407 North Water St. Wilmington or by zoom. During this free event, learn about the college's 57-year history of training students for employment in industries specific to scientific work on the water, current projects and ways students contribute to the blue economy after graduation. Parking is available at college's visitor parking lots on Water Street or on the corner of Walnut and Second streets. Register online.
Opening session with keynote by Deborah Westphal: 8-11:30 a.m. Nov. 2, UNCW Lumina Theatre, 615 Hamilton Drive, Wilmington and via Zoom. Rear Adm. Laura M. Dickey, operational commander for U.S. Coast Guard missions from the North Carolina and South Carolina border to New Jersey, will speak before keynote speaker, Westphal. John Waterston with Defense Advanced Research Projects Agency, or DARPA, an agency of the U.S. Department of Defense also will present. Register online.
Blue Economy Workshop with Deborah Westphal: 2 p.m. Nov. 2, UNCW Marbionic Building, 5598 Marvin K. Moss Lane, Wilmington. This free workshop with Westphal will discuss what the blue economy is and what it means for southeastern North Carolina. The conference table is limited to 32 people, with additional seating for up to 18 observers. Register online.
Blue Tech/New Tech Panel Discussion: 3:45 p.m. Nov. 2, UNCW Marbionic Building, 5598 Marvin K. Moss Lane, Wilmington or online via Zoom. During this free panel discussion, attendees can learn what's new in Blue technology. Registration is preferred, but not required. Register online.
Planet Ocean Seminar: 6:30 p.m. Nov. 2, via Zoom. The UNCW Center for Marine Science will host the free, virtual seminar with speaker Monica Jain, founder and executive director of Fish 2.0 and Manta Consulting Inc. Registration is required for the virtual event. For further information, please call the UNCW Center for Marine Science at 910-962-2301. Use this link to register for the virtual event: Zoom link. To attend in-person, email helmsc@uncw.edu or call CMS at 910-962-2301.
What's Brewing in Science?: 6 p.m. Nov. 2, Waterline Brewery, 721 Surry St., Wilmington. Join Cape Fear Museum and All Blue for the interactive session to explore the social, economic, and environmental impacts of building a sustainable future for our ocean and river economy. Registration is optional, but recommended.
Sea Change – Sparking Sustainable Innovation in an Old-School Industry: 9 a.m. Nov. 3,CMS Auditorium, 5600 Marvin K. Moss Lane, Wilmington and via zoom. Monica Jain will speak during this free seminar. In 2013, she founded Fish 2.0 to drive investor interest in new innovations and technologies supporting aquaculture and sustainable seafood. Register online.
Panel Discussion: Follow the Money – Opportunities and Challenges of Investing in Food: 10 a.m. Nov. 3, CMS Auditorium, 5600 Marvin K. Moss Lane, Wilmington and via Zoom. Join Jain and investors in this free panel discussion about investing in food-based businesses facing challenges to find growth capital. Register online.
Living Shorelines 101: 9-11 a.m. Nov. 3, Fort Caswell, 100 Caswell Beach Road, Oak Island. Cost is $5 per person. Learn about the town's living shoreline restoration project its 170-foot oyster reef. The presentation will begin indoors and then head outdoors for a site visit to the salt marsh and restoration area. Masks required when in close proximity to others and indoors. Contact bpace@fortcaswell.com or call 910-278-9501 to register.
NC Entrepreneurs Pitch Innovative Blue Economy Ventures: 3 p.m. Nov. 3, Blockade Runner Resort, 275 Waynick Blvd., Wrightsville Beach. Cost is $35 per person. Join Jain, Ben Redding and investors from VentureSouth, WALE, and Seahawk Innovation to look at state-based startups representing a broad range of blue economy sectors from marine robotics, marine biotechnology, sustainable seafood, water quality, and more. Register online.
A Blue Tourism Experience Aboard the Blockade Runner's Carolina Runner: 5 p.m. Nov. 3, Blockade Runner Resort and Marina, 275 Waynick Blvd., Wrightsville Beach. Cost is $50, with a cash bar on board. The Blockade Runner's sunset cruise on the Carolina Runner will depart from the dock across from the hotel's property. There will be a presentation on the sustainability practices that has earned the Blockade Runner designations as an Ocean Friendly Establishment and recognition by the North Carolina GreenTravel Initiative. Register online.
The North Carolina Beach, Inlet and Waterway Association's Annual Conference: 7:30 a.m.-5:45 p.m. Nov. 4 and 7:30 a.m.-3:30 p.m. Nov. 5, Aloft Wilmington at Coastline Center, 501 Nutt St., Wilmington. Cost is $200 for both days. There will be legislative and policy updates, offshore wind energy panel discussion, mapping the effects of sea level rise on coastal habitats, NC Resilient Coastal Communities Program update, Top 10 restoration plants for coastal and marsh restoration, and Olivine Sand: A Cost-Effective Carbon-Negative Alternative for Beach Renourishment. Register online.
Tracking Great Sharks in NC Waters Using Innovative and Data-Centric Technologies: 10 a.m. to noon Nov. 4, via zoom. Cost is $10. A SEA and Coffee presentation by Dr. Bob Hueter, chief scientist with OCEARCH, a data-centric organization instituted to help scientists collect previously unobtainable data about great white sharks in their ocean environment. Register online.
UNCW Global Marine Science Mini-Summit — Virtual Symposia and Panel Discussion: 2-4 p.m. Nov. 4, Hybrid of prerecorded presentations and virtual panel discussion via Zoom. International experts from China, Colombia, Bangladesh, Malaysia and others will join UNCW marine science faculty in a panel discussion focused on research, trends and developments in marine biotech/pharmaceuticals, coastal resiliency, tourism and aquaculture. More information and registration details are online.
North Carolina Coastal Federation's Oyster Blueprint Update with Ted Wilgis: 2-3:30 p.m. Nov. 4, via Zoom. Ted Wilgis, coastal scientist with the federation, will discuss during this free event the link between the economic and ecological benefits of using oysters for farming, wild harvest, ecosystem services and shoreline resiliency. Learn more at nccoast.org and register online.
CMS Saturday: 10:30 a.m. Nov. 6, UNCW Center for Marine Science, 5600 Marvin K. Moss Lane. Free, one-hour tours of UNCW's College of Marine Science's shellfish research hatcheries and portions of the CMS and Marbionic facilities. Tours begin at 10:30 a.m. and will be offered every half hour until the final tour at 1 p.m. Tour groups will be limited to 20 and must be 12 years old or older. Registering online before the event is necessary.