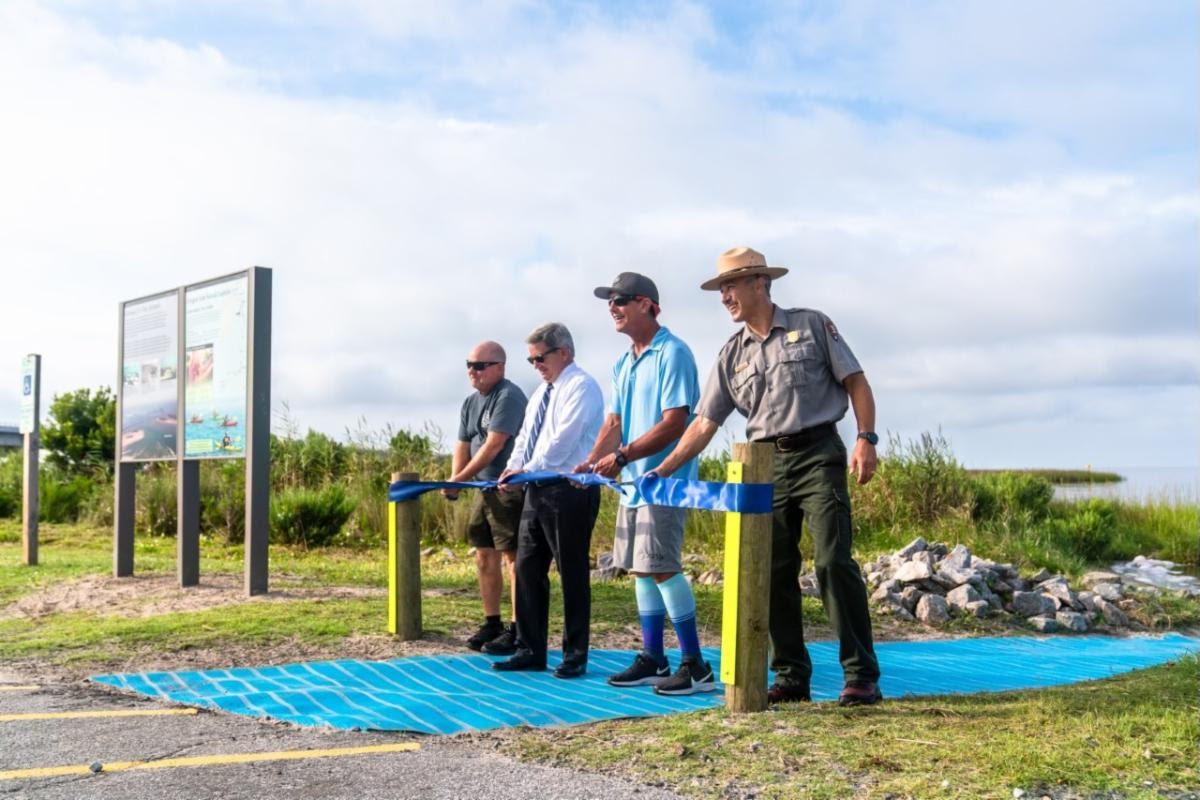 The Oregon Inlet Kayak Launch at the south end of the Oregon Inlet Marina on Bodie Island officially open Monday to the public following a ribbon-cutting ceremony.
The nonprofit arm of the three Outer Banks national parks, Outer Banks Forever, helped fund what officials called the first designated kayak launch at Cape Hatteras National Seashore. TowneBank, Ocean Atlantic Rentals and Bass Pro Shops also supported the project.
The ribbon-cutting ceremony Monday morning included comments from David Hallac, superintendent of the National Parks of Eastern North Carolina; Trip Forman, co-founder of REAL Watersports and president of the Outer Banks Forever Board of Directors; and Jessica Barnes Green, director of Outer Banks Forever.
"Our park staff and the community had the vision for this kayak launch in 2016 during the Centennial of the National Park Service and we are thankful that our nonprofit partner, Outer Banks Forever, could help us make this project a reality." Hallac said.
Though there are several informal sites at Cape Hatteras National Seashore to launch nonmotorized watercraft, this is the first maintained, mobility friendly kayak launch promoted by the National Park Service in the Outer Banks, according to the nonprofit organization.
Improvements to the kayak launch site include a new loading zone, additional handicap and kayak trailer parking spaces, mobility friendly access mat, clean up of rubble and debris, and new educational signage.
"This kayak launch will encourage locals and visitors to explore the coastal environment and provide a safe way for nonmotorized water sport enthusiasts to experience the beautiful Pamlico Sound," Green said.
Visitors and local businesses are already taking advantage of the improvements at the kayak launch, according to the organization.
"The new rubber launch mat and loading zone make my daily fly-fishing guide trips much simpler and efficient. I am also grateful for the extra-long parking spaces for my trailer. The improvements have brought organization and ease for myself and other local and visiting kayakers," said Harry Meraklis with OBX on the Fly in a statement.
In addition to Cape Hatteras National Seashore, Outer Banks Forever supports Fort Raleigh National Historic Site and Wright Brothers National Memorial.