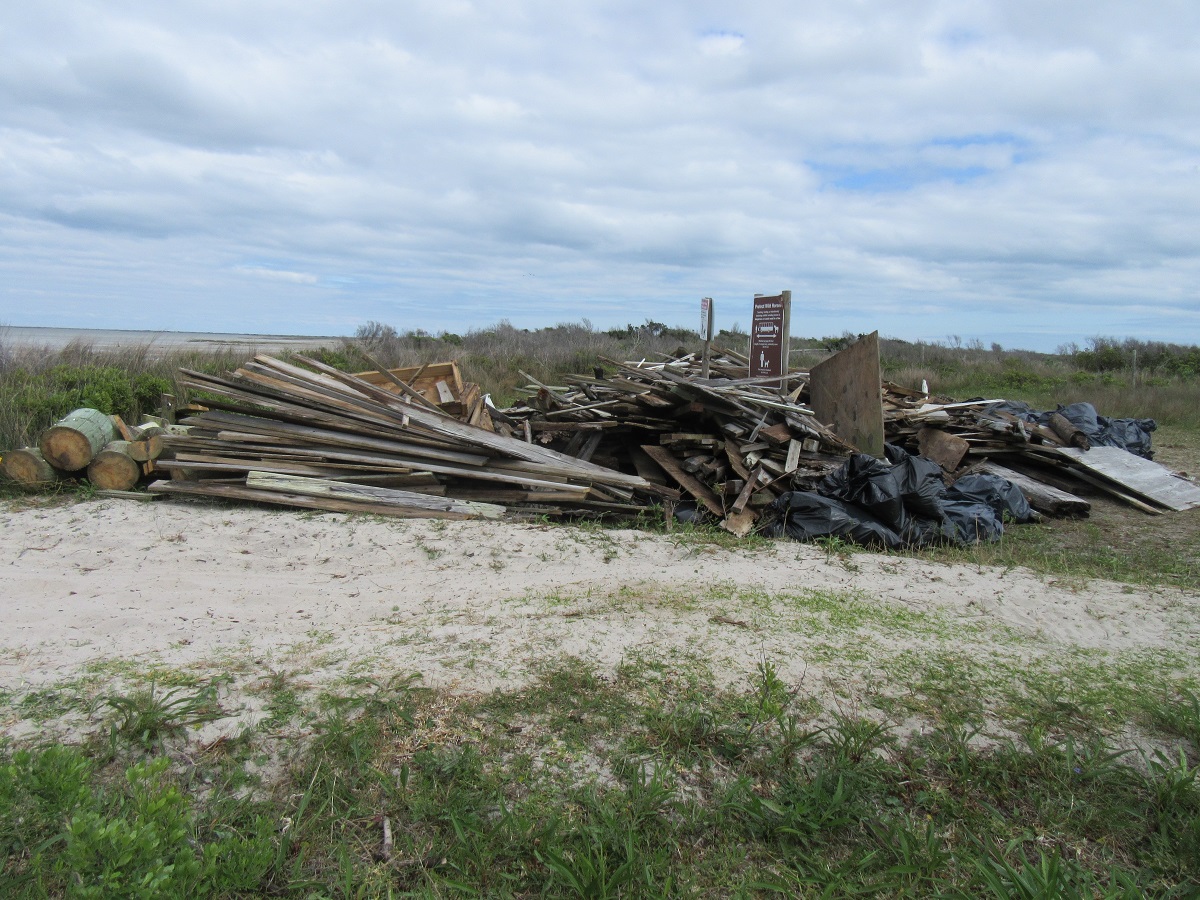 HARKERS ISLAND — Eight organizations helped Cape Lookout National Seashore from February to June remove 33 tons of storm-related debris from Shackleford Banks.
The project focused on debris that had washed into the middle of Shackleford Banks and through the marshes and shrubs from Back Sound.
"Storm debris is an ever-present part of life on the banks. As fast as we can get it removed, it seems like it is there again," said Cape Lookout National Seashore Superintendent Jeff West.
"On Shackleford Banks, it is a critical problem not only for people, but also for our horses. Horses picking their way through debris have been injured — some severely," West added. "Several organizations formed groups of volunteers to support our regular park volunteers and park employees to gather up, load and remove this material – I cannot thank them enough. It was truly a great project that came off under tough conditions." 
The challenge of the cleanup effort was the physical labor. Workers had to pull wood of all shapes and sizes, riddled with protruding nails and screws, from where it had come to rest on the interior of the island, according to the release.
Other types of debris were also removed. Smaller pieces of were bagged while larger pieces were moved by hand, until all the debris was deposited into dumpsters and onto the deck of the park's landing craft for transport to the mainland for disposal. 
Cape Lookout National Seashore extended their gratitude to America's Boating Club of the Crystal Coast Fort Macon Sail and Power Squadron, the Navy Medicine Readiness and Training Command, Coastal Carolina Riverwatch, Boy Scout Troop 252 based in Davis, and Troop 462 in Chesapeake, Virginia, North Carolina State University Marine Science Club, Carteret County Wildlife Club and Carteret County Democratic Women.
Wildlife biologist Dr. Sue Stuska led the project, coordinated logistics and guided the additional contributions of 12 park staff and 16 Volunteers-In-Parks, or VIPs, that helped get the debris off the island.