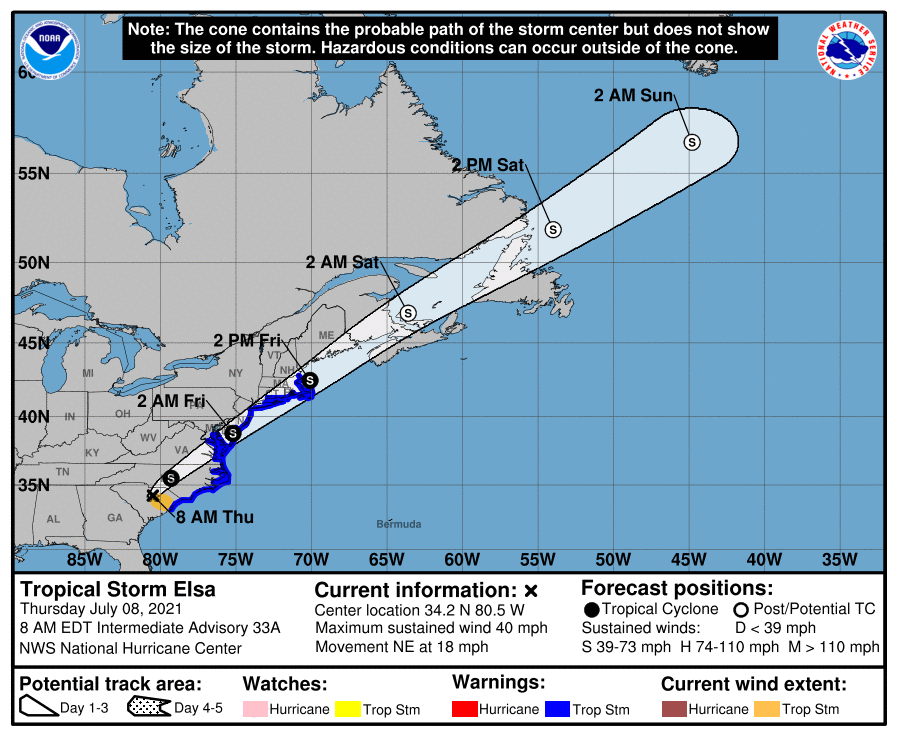 As Tropical Storm Elsa moves into the state, tropical storm warnings now are in effect for eastern North Carolina, including the coastal waters and Albemarle and Pamlico sounds, and a tornado watch has been issued for the area until 3 p.m. Thursday.
The National Hurricane Center's 8 a.m. Thursday update has Elsa forecast to move over South Carolina and North Carolina Thursday, pass near the eastern mid-Atlantic states by Thursday night, and move near or over the northeastern United States Friday and Friday night. The system should move over Atlantic Canada by Friday night and Saturday.
The threat for minor impacts in the form of heavy rain, localized flooding, gusty winds, minor soundside flooding and isolated tornadoes continues for eastern North Carolina, according to the 7 a.m. briefing from the National Weather Service office in Carteret County.
It's possible central and eastern North Carolina into southeastern Virginia and from the Mid-Atlantic into New England could get 2 to 4 inches of rain with isolated totals up to 6 inches on Thursday through Friday, which could result in limited-to-considerable flash and urban flooding, as well as isolated minor river flooding.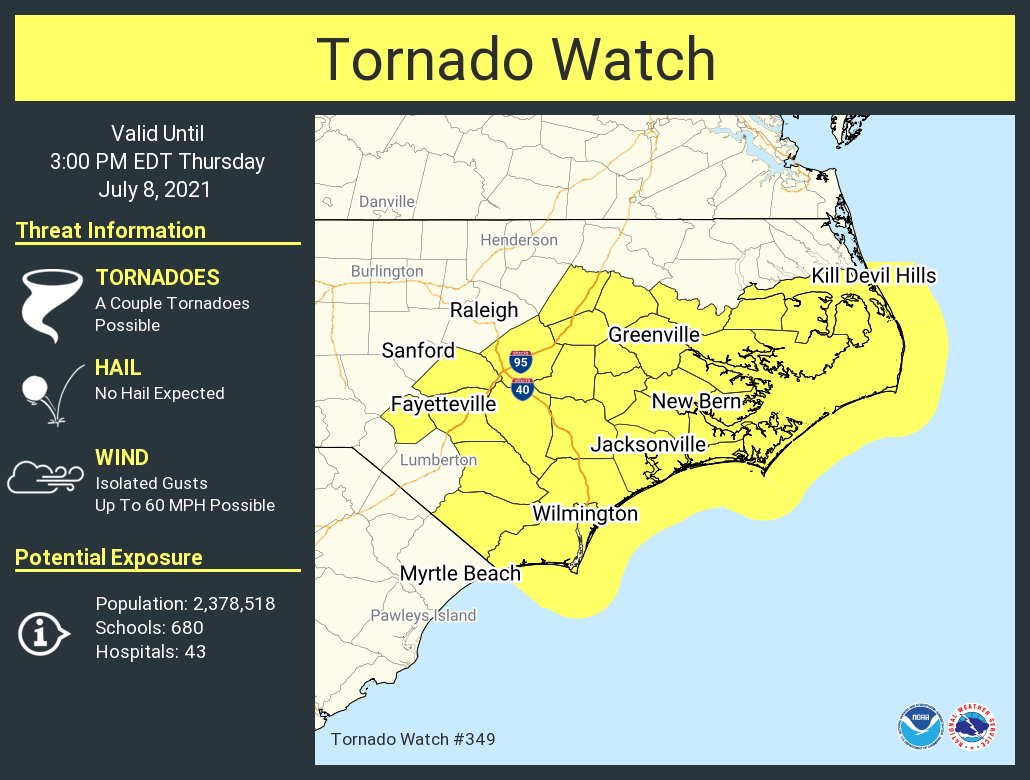 The storm was about 150 miles southwest of Raleigh, moving northeast at 18 mph, per the 8 a.m. briefing from the National Weather Service. The storm may strengthen Thursday night and Friday as the system moves north. Elsa is forecast to become a post-tropical cyclone Friday night or Saturday.
Maximum wind gusts of 45-55 mph are possible with this system, with the greatest likelihood of tropical storm force wind gusts along and east of U.S. 17. Through Thursday evening there is the potential for minor impacts from gusty winds that could scatter outdoor furniture and blow down tree limbs. Isolated power outages are possible.
There is potential for heavy rain that could lead to isolated flash flooding mainly from training showers within rain bands in eastern North Carolina through Thursday evening.
For soundside portions of the Outer Banks, mainly north of Cape Hatteras, there is the potential for minor water level rises up to 2 feet above ground Thursday afternoon into Friday morning. No significant surge impacts expected at this time.

Strong winds and large seas will create hazardous marine conditions in all coastal waters and sounds Thursday into Friday.