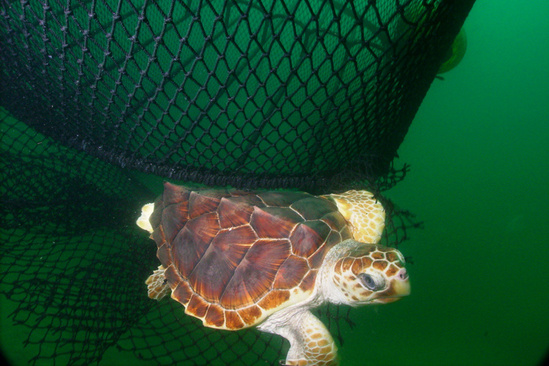 A new turtle excluder device, or TED, requirement will go into effect next month for larger skimmer trawl vessels.
The federal rule change will require that a device be installed beginning Aug. 1 in any net rigged for fishing on skimmer trawl vessels that are 40 feet or greater in length. The rule change is for the entire Southeastern United States shrimp fishery, including North Carolina waters, Division of Marine Fisheries announced Thursday.
A skimmer trawl is a type of shrimp trawl net that is fished from booms on the side of the vessel, allowing fishers to more quickly cull their catch than with traditional otter trawls that are dragged behind the boat.
A turtle excluder device is a grid of bars fitted into the neck of a shrimp trawl that allows small marine animals, such as shrimp, to pass through, but keeps larger animals, like sea turtles from capture.
While National Oceanic and Atmospheric Administration Fisheries has required the use of the devices in all otter trawl nets since 1992, it has not required their use in skimmer trawl nets. The new rule is meant to further protect sea turtles under the Endangered Species Act.
For more information, see the NOAA Fishery Bulletin or contact Kevin Brown, N.C. Division of Marine Fisheries gear biologist, at Kevin.H.Brown@ncdenr.gov or Chris Stewart, the division's shrimp biologist, at Chris.Stewart@ncdenr.gov.