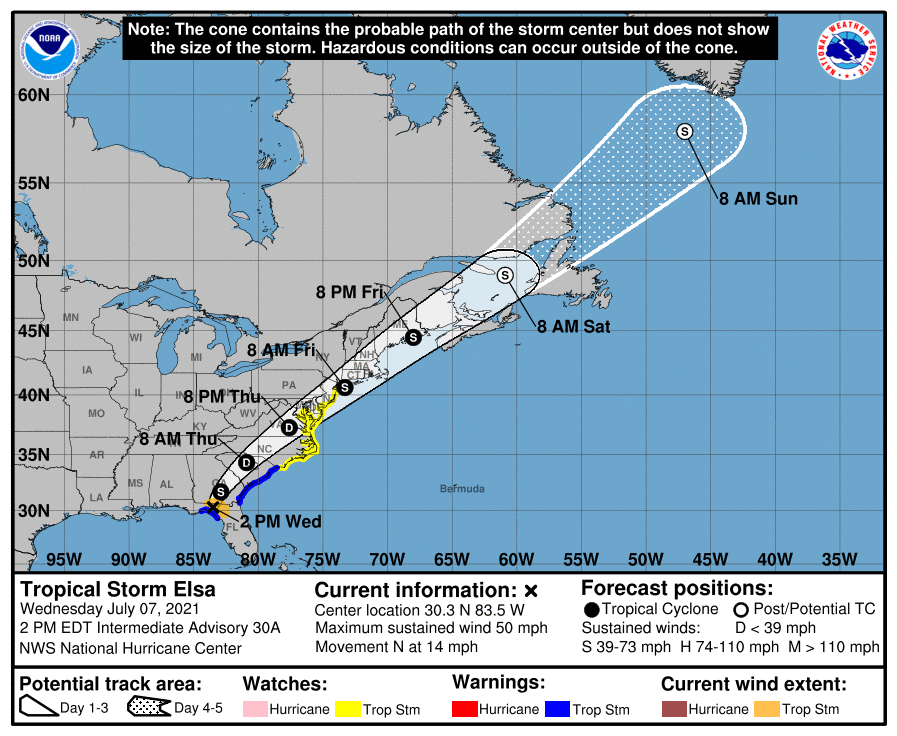 2 p.m. Wednesday update:
Tropical storm Elsa is weakening over northern Florida, according to the 2 p.m. Wednesday update.
Maximum sustained winds have decreased from 65 to near 50 miles per hour with higher gusts. Elsa is expected to continue weakening through Thursday as the storm moves over land.
The center of Tropical Storm Elsa was near latitude 30.3 north, longitude 83.5 west, or about 105 miles west of Jacksonville, Florida, at 2 p.m. Wednesday. Tropical-storm-force winds extend outward up to 70 miles from the center.
Elsa is moving toward the north at around 14 miles per hour. A turn toward the north-northeast is expected Wednesday evening, followed by a faster northeastward motion by late Thursday. 
Elsa is expected to move over Georgia Wednesday night, over South Carolina early on Thursday, then North Carolina later that day, and move near or over the mid-Atlantic coast on Friday.
Tropical storm conditions are possible in the watch area in the mid-Atlantic and northeastern states by Thursday night and Friday.
Original post 10:30 a.m. Wednesday:
Tropical Storm Elsa is forecast to approach eastern North Carolina late Wednesday night and move through the central and eastern parts of the state on Thursday, according to an early Wednesday briefing from the National Weather Service Newport office.
Heavy rain with localized flash flooding and up to several inches of rain in heavier downpours are possible. Isolated severe thunderstorms including a few tornadoes are possible, and gusty winds to tropical storm force may occur as well.
Strong winds may lead to water levels to rise up to 2 feet above ground for soundside portions of the Outer Banks, mainly north of Cape Hatteras.
High surf with a high risk for dangerous rip currents are expected Thursday, possibly lingering into Friday.
A tropical storm watch is in effect for north of Little River Inlet, South Carolina, to Chincoteague, Virginia, including the Pamlico and Albemarle sounds, according to the National Hurricane Center's 8 a.m. Wednesday advisory.
Elsa, which regained hurricane strength for several hours Tuesday, was approaching the northern Florida Gulf Coast and was about 115 miles northwest of Tampa, Florida, per the 8 a.m. Wednesday advisory. The storm's maximum sustained winds were 65 mph and it is moving north at 14 mph.
Elsa is forecast to make landfall along the north Florida Gulf coast by Wednesday afternoon. The storm is expected to then move across the southeastern and mid-Atlantic United States through Thursday. Little change in strength is likely until landfall but the storm is expected to weaken after moving inland inland later Wednesday.
Elsa was expected to produce across coastal portions of North Carolina into southeastern Virginia 1 to 3 inches of rainfall with isolated totals up to 5 inches Wednesday night through Thursday night, which could lead to isolated flash and urban flooding.
The threat of tornados is expected to continue through Wednesday night across southeast Georgia and eastern South Carolina. The tornado threat should shift to eastern South Carolina and North Carolina and southeast Virginia Thursday.