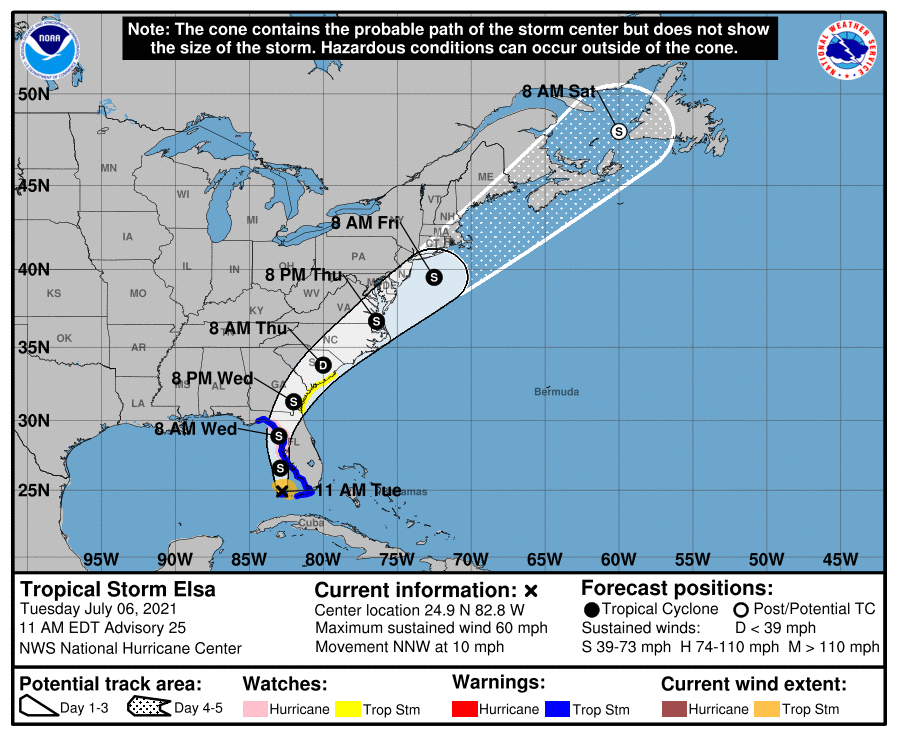 Tropical Storm Elsa is expected to weaken to a depression Thursday when it approaches and moves across central and eastern North Carolina, according to a 6 a.m. briefing from the National Weather Service office in Morehead City.
Despite weakening, impacts are expected to be felt across the eastern part of the state Thursday into Thursday evening. No warnings or watches are in effect for North Carolina but that may change soon, according to the National Weather Service.
Gov. Roy Cooper and state emergency management officials alerted the public Tuesday morning that Tropical Storm Elsa is being monitored and advises residents in eastern and central North Carolina to be prepared for significant rains and possible flooding.
"Residents and visitors to North Carolina should keep a close watch on the forecast for this storm," said Cooper in a statement. "It's important that everyone be aware and prepared for rains, and it's also important to avoid driving through floodwaters."
Tropical Storm Elsa is about 65 miles west-northwest of Key West, Florida, and about 215 miles south of Tampa, Florida. Maximum sustained winds are 60 miles per hour and is moving north-northwest at 10 miles per hour, according to the National Hurricane Center's 11 a.m. Tuesday update.
Elsa is expected to move northward Tuesday and Tuesday night, with a turn toward the north-northeast Wednesday, followed by a faster northeastward by late Thursday. On the forecast track, Elsa will continue to pass near the Florida Keys Tuesday morning, and move near or over portions of the west coast of Florida later Tuesday through Tuesday night. On Wednesday morning, Elsa is forecast to make landfall along the north Florida Gulf coast and then move across the southeastern United States through Thursday.
The State Emergency Operations Center in Raleigh activated Thursday to monitor the storm.
"Small changes in the forecast track of a tropical system can mean big changes in storm impacts and rainfall amounts," said state Emergency Management Director Mike Sprayberry. "That's why close attention to the forecast for your area is important."
There could be 1 to 3 inches of rain, with isolated totals up to 5 inches across the eastern half of the state Wednesday evening through Thursday night that can lead to areas of flash flooding. Elsa is expected to quickly progress through the state at around 20 mph, which should limit the threat of prolonged heavy rainfall, according to Cooper's office.
Gusty winds and isolated tornadoes will be possible Wednesday night through Thursday night. While Elsa is currently forecast to be a strong tropical depression with sustained winds of 35 mph as it tracks across North Carolina, a risk of tropical storm conditions remains across the eastern half of the state late Wednesday night through Thursday evening, especially along the coast.
Strong winds could also lead to large seas, dangerous rip currents, and hazardous marine conditions late Wednesday through Thursday night. While significant storm surge is not expected, minor coastal flooding will be possible depending on the exact track and intensity of Elsa, according to Cooper's office.
The staff of the National Weather Service office in Morehead City warns residents and visitors that heavy rain with localized flash flooding, gusty winds up to tropical storm strength, isolated severe storms including tornadoes, and high surf and strong rip currents are all threats.
The NWS also urges those in the path of the storm to be sure their information is from reputable sources such as the National Weather Service, state and local government officials, and local broadcast media.
The Cooper administration urges North Carolina residents to:
Have multiple ways to receive weather information from reliable sources.
Review your personal emergency plan and know your evacuation routes.
Check your emergency supply kit, which should contain food, water, prescription medicines, charging cords, batteries and other essentials to support your family for several days.
Be sure to plan for elderly relatives and pets.
Make sure your insurance is up-to-date.
For more information on how to ensure your family is disaster ready, go to ReadyNC.org, which features traffic, power outage and shelter information. Also, check to see if your local community offers an emergency alert service for its residents.