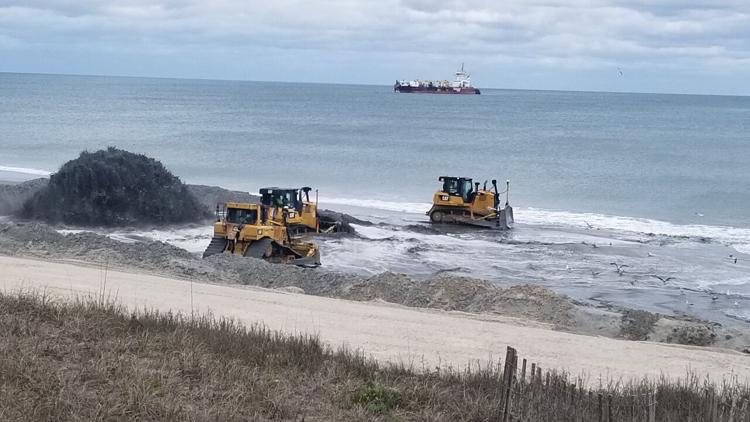 Reprinted from the Carteret County News-Times
EMERALD ISLE ­— The Carteret County Beach Commission unanimously agreed Monday to let beach engineering firm Moffatt & Nichol develop a fee estimate and proposed contract for a study to look for additional sand that could be used in future nourishment projects on Bogue Banks.
The board's action came during a meeting in the Emerald Isle commissioners' meeting room and on Zoom. The board will likely consider the contract and proposed fees at its next meeting, which most likely will be in August.
Greg Rudolph, manager of the Carteret County Shore Protection Office, proposed the move. It will be what he called an "initial reconnaissance/desktop-level examination" of existing literature about where significant deposits of high quality sand are located close to the island, other than at the long-used dredge disposal "borrow" site in the ocean just off Atlantic Beach.
Once the study has determined where those significant deposits are, it could be followed by an effort to take core samples to verify amounts.
The goal is to find enough sand to supply beach nourishment needs for the 47 remaining years in the county's 50-year beach nourishment master plan.
There's not an immediate need for sand to augment the existing site, Rudolph said, but it would be good to identify cost-effective deposits of sand to ensure there will be enough for years to come.
It's estimated there are 12 million cubic yards or more of sand left on the borrow site, and it grows a bit whenever the U.S. Army Corps of Engineers deposits sand there, so in a sense it's a renewable resource. However, Rudolph said to the commission, the county has put close to 5 million cubic yards of sand on Bogue Banks beaches in the past three years, and no one knows what future needs will be. Strong hurricanes have increased in number in recent years.
Strong hurricanes, such as Florence in September 2018, can strip hundreds of thousands to millions of cubic yards of sand off the island in a single event, and much of it moves out of the "natural" cycle that returns sand to the beaches on prevailing southwest winds in the summer.
Basically, Rudolph said, "We need a plan B."
In addition, he said, it takes time to do the research, and to work with state and federal agencies to get permits to "harvest" sand.
For example, it's known there is a lot of high-quality sand in the ocean south of Cape Lookout, as a result of erosion there over many years. However, in addition to the state, the county would have to work with the National Park Service to be able to use it for beach nourishment.
It's also believed there is a lot of sand in the ocean near the mouths of rivers, such as the White Oak and possibly the New, both in Onslow County.
Another possible source is nearshore ocean berms at various locations off the island. Again, though, plenty of study and permits would be required to change the profiles of those berms.
"We need to work with Moffatt & Nichol and go through the process … and narrow out … what to target," said Chris Freeman of Geodynamics, the county's Newport-based beach monitoring and sand surveying firm.
He added Moffatt & Nichol and the county, after the initial study, could rank potential sand sources to target for field work with core samples.
Rudolph said the county can use accumulated funds in the beach nourishment fund, which receives half the revenue from the county's occupancy tax, to pay for studies. He added that the nourishment fund is flourishing from record levels of tourism in the county over the past 10 months.
However, he added, "We  will  also look  to  augment  the  funding  pool  with  state  and/or federal   grants   and   other   funding streams. We had some very good preliminary conversations with BOEM (the federal Bureau of Ocean Energy Management) in this regard already and feel positive about future opportunities."
Beach commission members Larry Baldwin, Mike Luther and commission chairman Jim Normile said they all think the effort is worthwhile.
"It's all worth looking at," Baldwin said of the various sources of potential sand.
This story is provided courtesy of the Carteret County News-Times, a twice-weekly newspaper published in Morehead City. Coastal Review partners with the News-Times to provide our readers with news of the North Carolina coast.