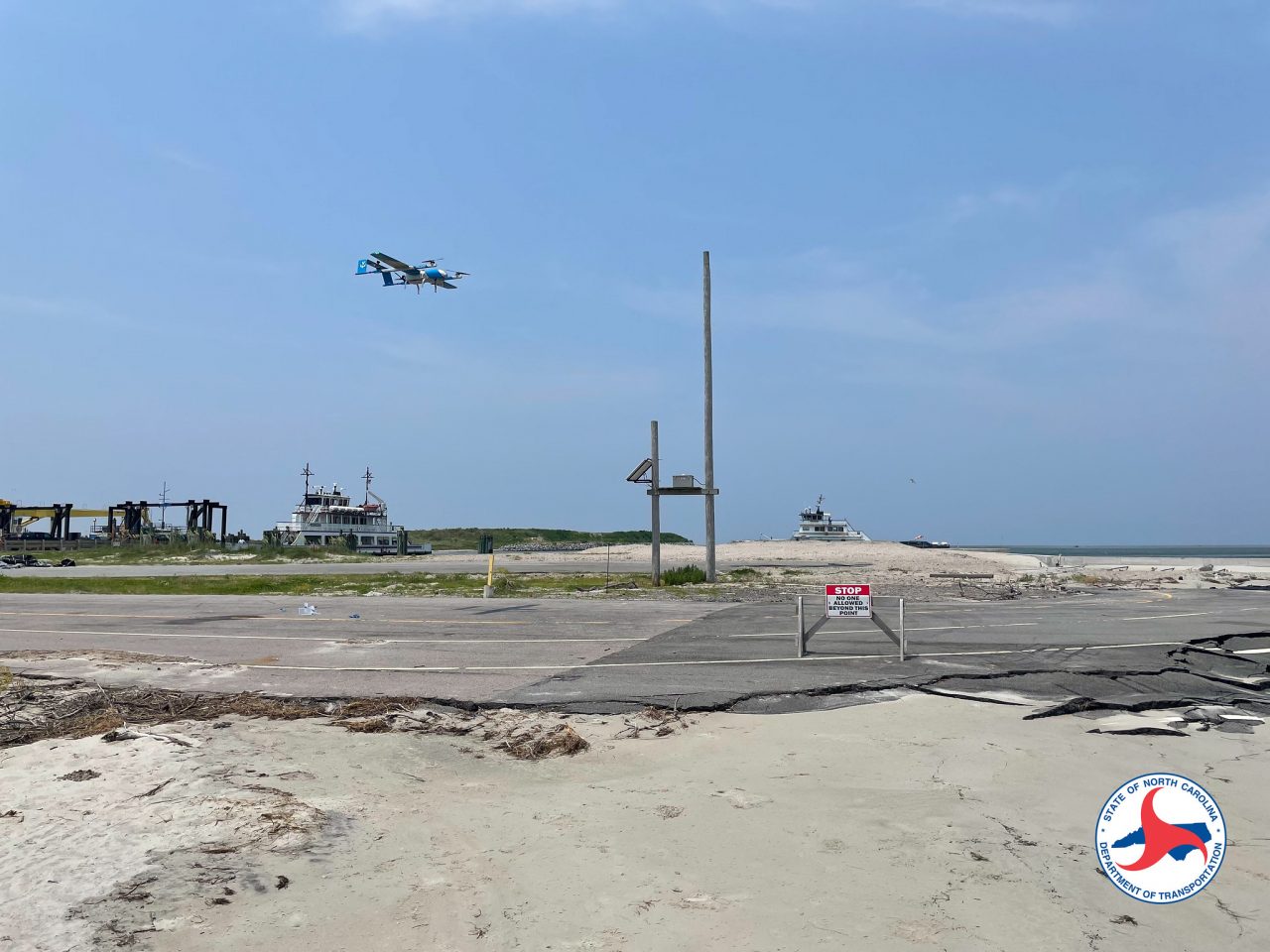 The North Carolina Department of Transportation's Division of Aviation and Ferry Division and drone logistics company Volansi say they have successfully completed two trial drone delivery flights to Ocracoke Island.
Historically, getting supplies to island residents after weather emergencies has been difficult.
"This is a tremendous first step in better connecting Ocracoke Island to potentially life-saving supplies and equipment," said Secretary of Transportation Eric Boyette in a release. "Ocracoke Island is accessible only by plane or by boat. What we're working on here is an entirely new, third method of serving the needs of Ocracoke's people."
For the test flights, the drone left Hatteras Village ferry dock and landed at the South Dock on the north end of Ocracoke Island. The 8-mile round trip flights averaged 18 minutes. To simulate a real post-storm emergency delivery operation, both flights carried small payloads. The first run delivered a small survival kit, space blankets and a chocolate muffin, while the second delivered bottles of water.
"This was just a small trial, but we hope to continue scaling this up to larger payloads and longer flights," said NCDOT Unmanned Aerial Systems Program Manager Ben Spain. "Long term, we could see deliveries coming to Ocracoke all the way from the mainland."
The next test will involve flying a drone from Hatteras to Ocracoke village. That trial date has not been set.
The flights were conducted under NCDOT supervision by a team from Volansi, which also provided the aircraft. The Volansi C-10 Gemini is capable of vertical takeoff and landing and fixed-wing horizontal flight, and can carry a payload up to 5 pounds.
The same aircraft could be outfitted with a camera to monitor shoaling in the ferry channels and reduce the strain on the ferries as a way to get important items quickly to the island.
The operation was possible by a waiver for beyond-visual-line-of-sight flight granted under the Federal Aviation Administration's BEYOND program, enabling some state and local agencies to conduct drone operations that test the future capabilities of the technology.