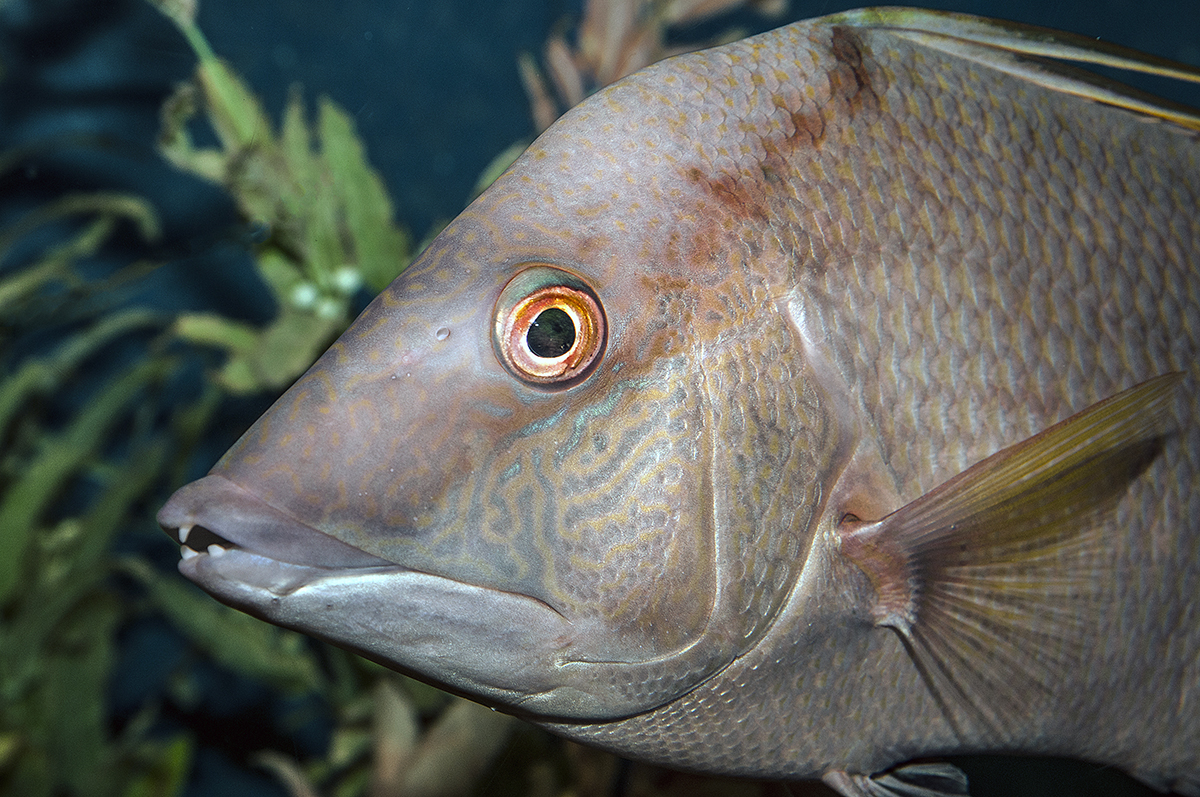 Hogfish are strange-looking members of the wrasse family.
Their first three dorsal spines are long and trailing, extending several inches off their dorsal fin.
This species is more laterally compressed, or flattened from side to side, and more oval shaped when compared to other marine fish in the wrasse family. They have cool, red irises in the center of their eyes and a color pattern that constantly changes throughout their lives.
"The color of this species is highly variable and depends upon the age, sex, and habitat where the fish are found," said North Carolina Division of Marine Fisheries biologist McLean Seward.
"They usually range from pearl white to mottled, mixed-in with a brownish-red coloration, with a single black spot located at the back, bottom part of its dorsal fin and is paler underneath. Males are usually more vividly colored than females. Youngsters and females are more typically pale green, reddish brown, or a gray-brown color. Their pectoral fins are usually yellow in color," he said.
Hogfish in North Carolina can grow as large as 3 feet in length, and weight up to 24 pounds. They can live up to 21 years of age.
"The young fish are usually seen in and around estuaries, and seagrass beds, and shallow reef habitats. Predators of the hogfish include larger fishes, as well as several species of shark," Seward said.
These fish can be found throughout the western Atlantic, from Bermuda and North Carolina, south to Brazil, the Caribbean Sea and the Gulf of Mexico. In the United States, hogfish are managed through the South Atlantic Fishery Management Council representing North Carolina, South Carolina, Georgia and the east coast of Florida.
North Carolina boasts the all-tackle world record for hogfish, with a 24-pound, 5-ounce fish speared at Frying Pan Shoals by diver Derek Williams. The largest fish taken on hook and line was a 21-pound, 15-ounce specimen.
The SouthEast Data, Assessment and Review, or SEDAR, 37 report states that the oldest observed age was 21 years from the Georgia-North Carolina stock and 23 years from the West Florida stock on the Gulf coast, Seward noted.
Hogfish are usually large, bottom-feeding predators that eat during the daytime using powerful jaws and large canine teeth that stick out from the front of their mouths to crush hard-shelled food species including mollusks and crabs. Young hogfish will feed primarily on starfish, sand dollars, mollusks and crustaceans.
"They get their name because of how they hunt for food on the sea floor — they will move in and around the sand with their pointed snout searching for mollusks and crustaceans to eat, quite similar to that of a farm or wild hog," Seward said.
This species is usually found over open sandy bottoms, and in and around coral reefs. It may be found between 10 to more than 100 feet of water. Hogfish like to hang around where there a lot of gorgonians, also known as a sea fan or sea whip, which are types of soft coral found throughout the oceans of the world, especially in the warmer subtropics and tropics.
"You can find higher numbers of hogfish along the edges of the reef near the sand/reef confluence. They really like habitat with hard sand, and rock bottoms adjacent to shallow reefs right next to the inshore and offshore portions of the reef system. Larger hogfish can be found in and around the main reef are, while smaller individuals prefer the reef patches to hide from predators," said Seward.
Hogfish are protogynous hermaphrodites, which means they are all born female and change sex to male at a certain size and age.
"A single male holds together a harem of between five to 15 females during an extended spawning season that lasts for months. Sex change can take several months. Research has shown if a dominant male is removed, it has the potential to negatively impact a harem's stability and may reduce full reproductive potential," said Seward.
Peak spawning activity for hogfish has been documented numerous times as taking place during the winter and spring months. These studies have shown that spawning activity occurs primarily during the months of December through April. Schools are made up of females and larger, dominant males in his harem. The male will guard his harem, and will only spawn with the females in that harem. Spawning takes place during late afternoon hours, and into the early evening.
"The behaviors exhibited by hogfish as they mate are very interesting," Seward said. "The male will first court the female, then they rush toward the surface. The male and female will simultaneously release their eggs, and milt into the open ocean where fertilization will take place. The fertilized, free-floating eggs will quickly develop into larvae, hatching approximately 24 hours after spawning takes place. They will stay in the larval stage for several weeks until they grow into juveniles and settle down out of the water down into their preferred habitat."
Seward explained that life history studies on hogfish in Florida waters estimate that 50% of females reach sexual maturity by the time they are about 1 to 1.5 years old, and about 7 inches in length while 50% of males are estimated to be mature by 6 or 7, and around 17 inches in length.
"There is a lack of available life history information on hogfish off Georgia and North Carolina, but preliminary data suggests that hogfish belonging to this stock mature at larger sizes than off the east coast of Florida, and sexual transition from female to male occurs at approximately 24 inches fork length," he said.
Steve Poland is the North Carolina Division of Marine Fisheries' executive assistant for councils and vice chair of the South Atlantic Fisheries Management Council. He explained that recreational fishermen can legally pursue hogfish year-round.
"This species is managed by an annual catch limit. If the numbers of fish caught meet or exceed this limit, the fishery would be closed at that time," Poland said.
There is a limit of two fish per day, per person for recreational fishermen, with a minimum size of 17 inches, fork length.
A federal commercial snapper grouper permit is needed to commercially harvest hogfish in North Carolina waters, and commercial fishermen are also required to report their catch.
"The minimum size for commercial fishermen is also 17 inches fork length. The commercial trip limit in North Carolina waters is 500 pounds whole weight," said Poland.
North Carolina Marine Fisheries Proclamation FF-10-2021 states that for a vessel with both a valid federal south Atlantic charter/head-boat permit for snapper grouper and a valid federal commercial south Atlantic snapper grouper permit, it is unlawful to exceed the recreational bag limits for snapper grouper species when fishing with more than four persons, including the captain and their mate on board or when carrying paying customers.
Additionally, for a vessel with both permits, it is unlawful to sell or offer for sale any species of the snapper grouper complex harvested when fishing with more than four persons, including the captain and their mate on board or when carrying paying customers.
For scuba divers, hogfish are a fascinating species to watch and photograph. They hang right on the bottom, so divers do not have to chase them through the middle of the water column, and it is cool to observe them dig through the sand bottom with their snouts while looking for food.
I get the feeling when seeing this behavior that I am really on dry land, at a local farm, watching their land-based namesakes doing the same thing.