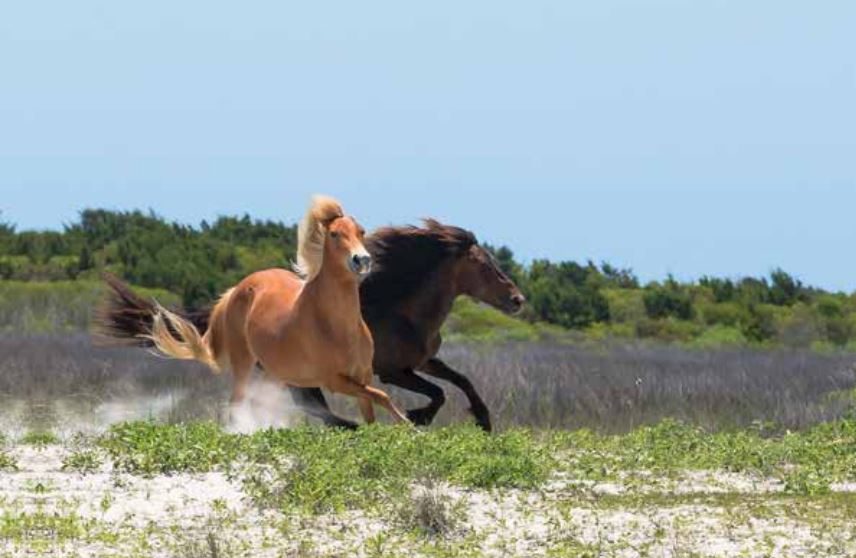 The Core Sound Waterfowl Museum and Heritage Center on Harkers Island is honoring the 25th anniversary of the Foundation for Shackleford Horses with a photo contest and exhibition.
The foundation was organized in 1996 by area residents concerned about plans by the National Park Service to thin the herd of wild horses on Shackleford Banks to numbers they said would be detrimental to them.
The exhibition is Aug. 8 through Oct. 31. Opening reception is 3:30-5:30 p.m. Aug. 8. Museum hours are 10 a.m. to 5 p.m. Monday through Saturday and 2 to 5 p.m. Sunday.
Visitors to the museum on Harkers Island will be voting from Aug. 8 to Oct. 25 on photographs that must feature Shackleford horses and be taken on or offshore of Shackleford Banks.
The competition is for photographers of all ages. Entry fee is $10 per photo with a limit of three photos per person. Fee will be collected at time of registration. Photos must be registered between July 31 to Aug. 6.
First place will receive $300, second will recieve $200 and third will be awarded $100. People's Choice Award will be given $100 gift certificate to the Core Sound Museum Store and a bronze museum membership. The winners of the photography competition and People's Choice Award will be contacted individually and announced online via the museum website and its social media accounts.
Mail-in submissions must be received by Aug. 6. Call Pam Morris at 252.728.1500, extension 104, or email pamdmorris@coresound.com for registration forms for mail-in entries.
All photographs must be framed and wired for hanging. Minimum size is 8-inches by 10-inches and maximum size for is 36 inches by 48 inches. All accepted exhibited entries must remain on display for the duration of the show. Return postage or pickup is the responsibility of the artist. Artwork can be collected Nov. 1-5.
Photographers are responsible for insuring their own photography.
The sale of photography is permitted. Commission on all work sold from the opening to
the closing of the show will be set at 35%. Please factor the commission into your sale
price at submission. Entries that are sold will be delivered to the purchaser at the end of the show by the museum. Entries do not have to be for sale and should be noted at registration.