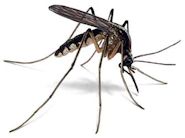 This week is National Mosquito Awareness Week and New Hanover County public health officials remind residents they play an important role in controlling mosquitoes at home.
"Mosquitoes only need one tablespoon of water and a week to breed, and they're more than a nuisance – they pose a health risk because they can carry diseases like West Nile Virus," said New Hanover County Public Health Director David Howard in a statement. "But taking simple steps around your own home can help control the mosquito population and protect your household and your neighbors."
The New Hanover County Health and Human Services' Public Health mosquito control section monitors mosquito activity using traps to analyze mosquito species and population to identify areas with increased activity and determine how to treat them effectively, the county said.
A variety of mosquito population control methods are used by the county, including mosquito prevention education, larvicide to target larvae and breeding sites, mosquito larvae-eating fish, habitat mitigation for source reduction and ultra-low volume mosquito spraying with EPA-registered pesticide.
Spraying usually takes place in the late spring through early fall at 29 spray zones in the county. Residents can view a mosquito spray zone map and sign up to get alerts when spraying is scheduled at Health.NHCgov.com.
Those who have previously subscribed to mosquito spraying alerts can visit Health.NHCgov.com to change alert preferences to a phone call, text message, or both.
Next week, subscribers will receive a message from New Hanover County Public Health announcing updates to spraying alerts with prompts to change your notification preferences to text alerts or to unsubscribe. No action is required to remain on the notification list and continue to receive mosquito spraying alerts for your area.
The county provided the following mosquito protections that all residents can take at home:
Dump water from all containers and store them inside or with a cover. For large containers or non or low-flowing ditches, Public Health has free larvicide kits called ZKits available at the Government Center, 230 Government Center Drive, Suite 140, and the Health and Human Services building, 1650 Greenfield St., while supplies last. ZKits should not be used in ponds as they are typically too deep for mosquito breeding or contain natural predators.
Tip and toss twice a week. Clean out items like flowerpot saucers, children's toys, bird baths, boats, buckets, container lids, tarps and tires.
Clear roof gutters of debris.
Plug tree holes.
Reduce time spent outdoors, particularly in early morning and evening hours when mosquitoes are most active.
Use screened windows and doors and make sure screens fit tightly and are not torn.
Wear light-weight and long-sleeved shirts and pants.
Apply mosquito repellent containing active ingredients such as DEET, oil of lemon eucalyptus, picaridin, or IR3535 to exposed skin areas following the label directions.
Learn more about the work of mosquito control, find a weekly spray map and schedule, and sign up to receive alerts when mosquito spraying is planned in neighborhoods at Health.NHCgov.com.