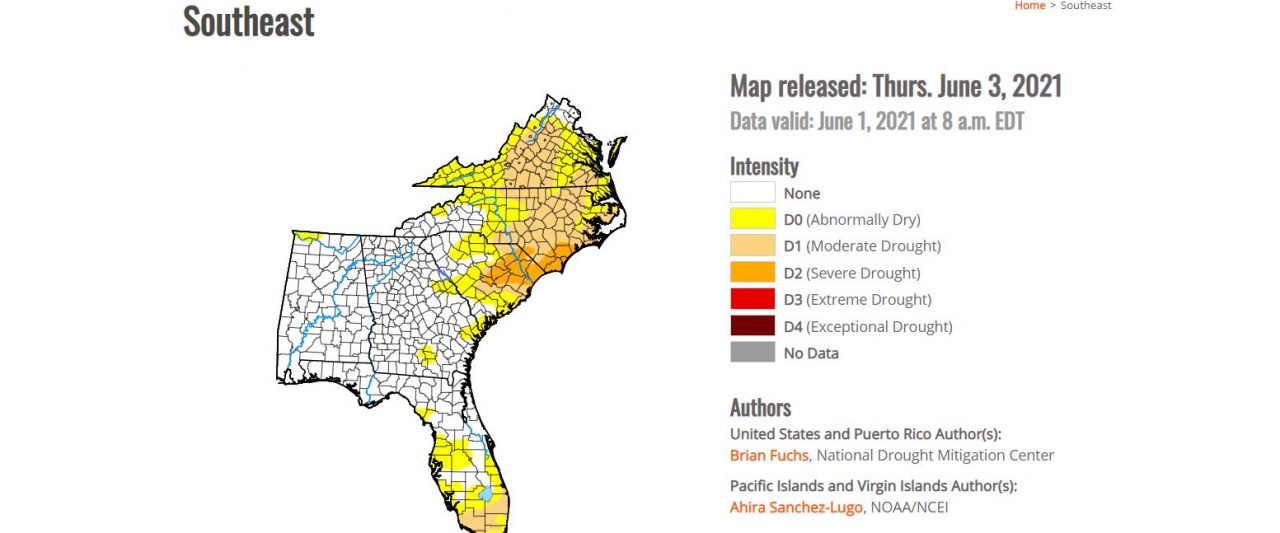 Despite several inches of rain Thursday night and Friday morning, four coastal counties — Brunswick, New Hanover, Onslow and Pender — were elevated Thursday from moderate to severe drought conditions following months of below-average rainfall.
Severe drought is the second category of the four drought classifications based on the U.S. Drought Monitor, the North Carolina Drought Management Advisory Council said Thursday. The last time severe drought occurred in any part of the state was Oct. 22, 2019.
On Friday, Klaus Albertin, council chairman, told Coastal Review that the panel expects to see widespread improvement in conditions along the coast and in the Piedmont, with many areas seeing an improvement to category 1, or moderate drought.
He added that some areas have received more than 4 inches of rain, so there may be short-term problems with too much water. Interestingly, he continued, there's a band in the coastal plain that got between a half and three-quarters of an inch this week, which is definitely good for agriculture and yards but probably not enough the change the category in those areas.
The council staff meets every Tuesday to review conditions from the previous seven days to determine drought status. Counties are reclassified based on that data though forecasts are not included in the equation. There is no specific rainfall threshold to determine changes in drought status, since normal rainfall amounts vary by season and location in the state. Each Tuesday, the drought team evaluates rainfall totals and how they affect the metrics of streamflow, groundwater levels, fire hazard and crop conditions.
"The map should look quite different next week," Albertin said.
Columbus and Robeson counties also were elevated Thursday. Dry conditions extended westward, prompting the council to add three counties to the 46 already experiencing moderate drought — the least severe of the four drought categories — from Robeson to Dare counties.
"Our hit-or-miss precipitation pattern is helping rainfall deficits increase and drought expand as we enter the summer. We've now wrapped up the state's ninth-driest spring on record. Locally, sites such as Wilmington and Lumberton had their second-driest spring, which has driven the emergence of severe drought conditions in these parts of the southern Coastal Plain." said Corey Davis of the North Carolina State Climate Office.
Portions of 29 counties in eastern and central North Carolina are currently experiencing abnormally dry conditions. The area of abnormally dry conditions extends from Madison to Currituck counties along the Virginia border and westward to Mecklenburg County along the South Carolina border.
"We are not seeing water supply issues in our reservoirs and rivers yet, but we encourage residents to follow the water restrictions put in place by their local water systems. Water restrictions help reduce the risk of water shortages if current weather conditions continue," said Albertin.
DMAC's drought map is updated every Thursday morning.
To learn more, visit https://www.ncdrought.org/education.