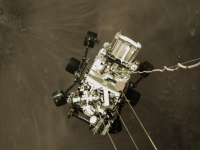 Carteret County native and NASA engineer David Way will tell the story of how he and his team landed in February the Perseverance rover on Mars.
Carteret Community College is hosting the virtual discussion at 3 p.m. May 25. Register online to join the discussion.
Way and his team on Feb. 18 were in the NASA control room at Langley Research Center, anxiously awaiting the return of data from more than 100 million miles away. Experience the years of planning, and the "seven minutes of terror" through his story.
From Beaufort, Way is a NASA engineer on the team that recently landed the Perseverance rover on Mars.
Way is a graduate of East Carteret High School, the U.S. Naval Academy, and has a doctorate in aerospace engineering from Georgia Tech. Before graduate school, he served in the Navy as an officer aboard a nuclear-powered submarine. Way lives with his wife and their four children in Yorktown, Virginia, where he has been working for NASA for the past 20 years.