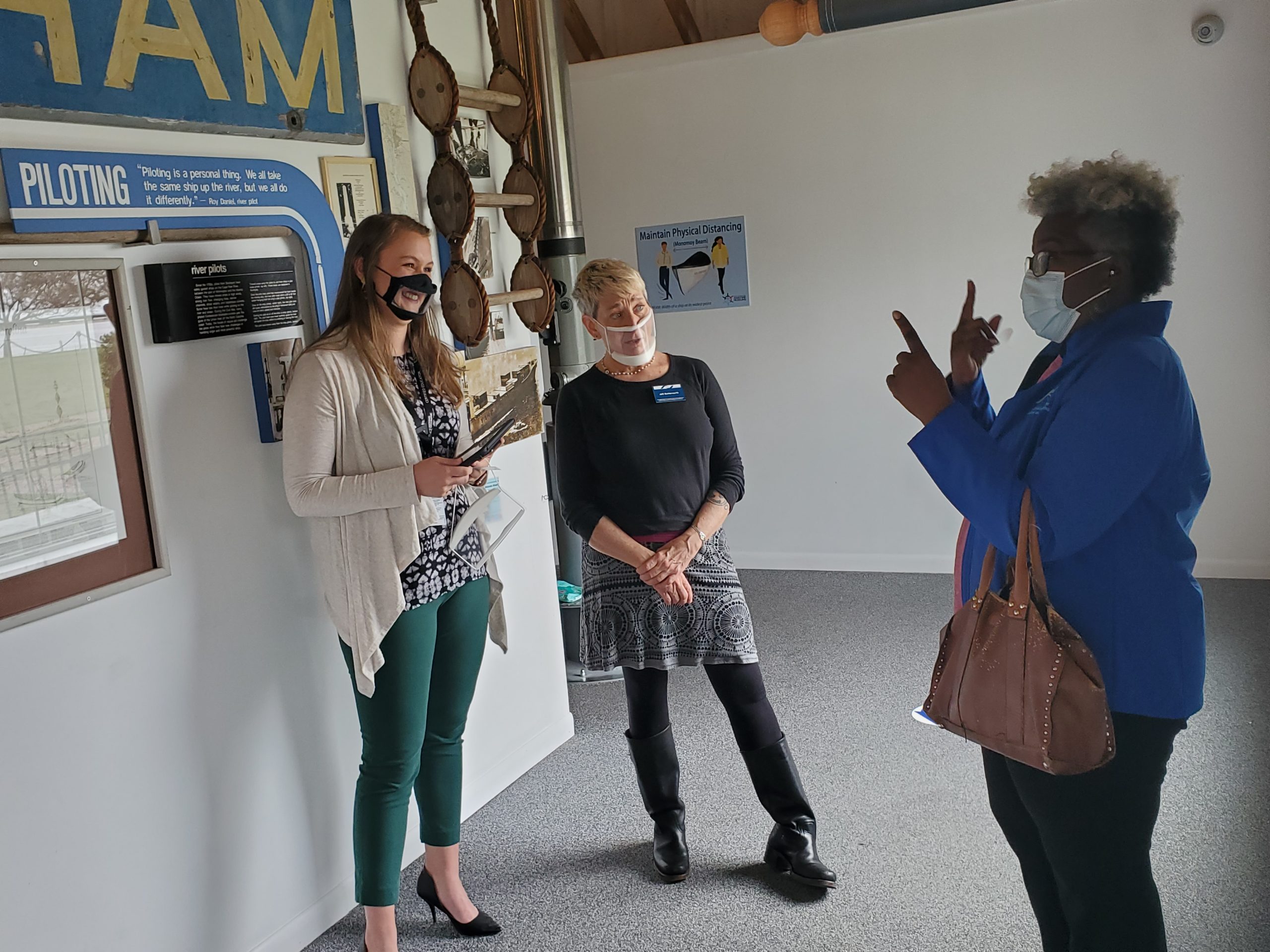 Submitted by North Carolina Maritime Museums
Staff with the North Carolina Division of Services for the Deaf and Hard of Hearing spent Wednesday at the North Carolina Maritime Museum in Southport taking the newly offered American Sign Language tour. 
Museum Education Curator Katy Menne said she was overwhelmed by the level of enthusiasm and excitement among the four taking the tour.
"That reaction was the hope when we put this into action," Menne said. "But to see it firsthand, it made me quite emotional."
The museum at 204 E. Moore St. in downtown Southport recently released the new semi-guided video tour that includes spoken English, closed captions and American Sign Language to replace the in-person tours previously offered but currently suspended due to COVID-19.
Visitors using one of the tablets available for loan, their own smart phone or other device can scan a QR code that takes them to the video on YouTube. Guests are asked to bring and use headphones if they plan to follow the audio portion of the 23-minute tour, which spends just a minute or two on the major permanent exhibits.
Menne said the idea for the tour started when a family of three who were hearing impaired toured the museum gallery.
"I didn't feel we effectively communicated and shared the history with them," she said. "Since then, it's been in the back of my head, 'How can we do better?'"
From that, a video was recorded and posted in November. This week's visit was to help her refine the tour.
"These are the people educating and helping the deaf community adapt and be successful," Menne said. "It was important to hear their insights."
Some of the suggestions included offering a hands-free holder, adding artifact images to the video along with marks on the floor or exhibit indicating the subject under discussion and clearer prompts when it's time to switch exhibits. But the consensus was that it was already an important and successful offering.
"This is great," Deaf Services Specialist Daisy Rivenbark told Menne. Rivenbark's comments were relayed by Interpreter Services Specialist Jett Butterworth. "I'm excited about this."
Division Telecommunications Consultant Gideon Friant also expressed his approval of the tour.
"I've gone through pretty good," Friant, via Butterworth, said. "I am impressed with what you have done. It's really great to have an interpreter-led tour."
Menne said the tour is just one way of making the museum more accessible and welcoming to all. Other efforts include programs and sensory backpacks designed for sensory sensitive patrons, directional signage in both English and Spanish, volunteer and staff training to assist neurodiverse populations and an upcoming art show featuring artists who identify in the LGBTQIA+ community.
"Now that we're able to have more interaction, our inclusion efforts have definitely had an impact," Menne said. "It is something that is clearly a passion of this branch of the museums."
For more information, call 910-477-5151 or visit ncmaritimemuseumsouthport.com.