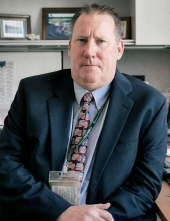 Donald "Don" Reuter, who served more than 20 years with the North Carolina Department of Environment and Natural Resources and the state parks system, died after a brief illness Tuesday, March 2, in Raleigh. He was 58.
A mass for family and close friends was held Saturday at St. Francis of Assisi in Raleigh. His obituary is available on Bryan-Lee Funeral Home of Raleigh's website.
He was serving as Sanford's parks administrator at the time of his death, according to the Sanford Harold.
Reuter retired from North Carolina state government in 2019 after working for 13 years as the assistant director for North Carolina State Parks and Recreation. Before that, he led DENR's public affairs office for nearly nine years.
"We lost a great one," said Lewis Ledford, former director of North Carolina State Parks and Recreation, in a statement. "Don was a wonderful communicator, a respected leader, and a man who took great pride in serving others and protecting North Carolina's natural resources."
As head of DENR's public affairs office, Reuter served as chief spokesman during DENR's response to harmful algal blooms, overflowing hog lagoons, and Hurricane Floyd. "He believed in public officials being forthright and accountable. And he always counseled his staff if you have bad news to report, it's better to get it all out immediately rather than let it drip out slowly day after day," the obituary states.
Reuter taught communications and public speaking to graduate students in public administration at North Carolina State University, where he also earned an master's degree in public administration in 1994. Before working in state government, Reuter was a reporter for The Daily Reflector in Greenville and the Associated Press.
Reuter is survived by his daughter Anna, the assistant athletic trainer for Virginia Commonwealth University's baseball team; father, Don Sr.; two siblings, Karen and Scott; and Doberman pinschers, Bella and Elle.