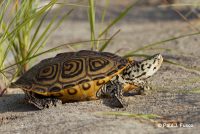 Put on hold in 2020 because of COVID-19 restrictions, organizers are now readying for the seventh year of the Terrapin Tally project, a citizen-science activity to help learn more about the diamondback terrapin population on the state's coast.
The Terrapin Tally project, when kayakers survey certain areas at designated times, is an effort by the North Carolina Coastal Reserve and National Estuarine Research Reserve and the North Carolina Wildlife Resources Commission to address questions about the overall population status and condition of the diamondback terrapin. The terrapin is listed as a species of special concern within the state and a species of greatest conservation need in the North Carolina Wildlife Action Plan.
Because of these designations, the reserve and commission staff set out to fill in information and data gaps, which resulted in the pilot Terrapin Tally in 2014 at Masonboro Island Reserve.
Data collection sessions for 2021 will be in two-hour blocks between 8 a.m. and 2 p.m., depending on the tide, April 28-30, May 1-2 and May 12-16.
Kayakers can choose routes at Cape Lookout National Seashore, Rachel Carson Reserve, Calico Creek, Hammocks Beach State Park, Lea Hutaff Island, Masonboro Island Reserve, Carolina Beach State Park, Fort Fisher State Recreation Area, Zeke's Island Reserve, Bald Head Island and Bird Island Reserve.
Training is required to participate. Volunteers must attend one of the two virtual training dates set for 6-7:30 p.m. April 8 or 10-11:30 a.m. April 10.
All federal, state, and local guidelines regarding the COVID-19 pandemic are to be adhered to during the event. Guidelines include social distancing when appropriate, wearing masks when you are unable to social distance, and avoiding the sharing of equipment, except for those from the same household. Volunteers are recommended to participate with someone from their household to reduce the risk of transmission. Do not participate if you have any symptoms or have been recently exposed to COVID-19.