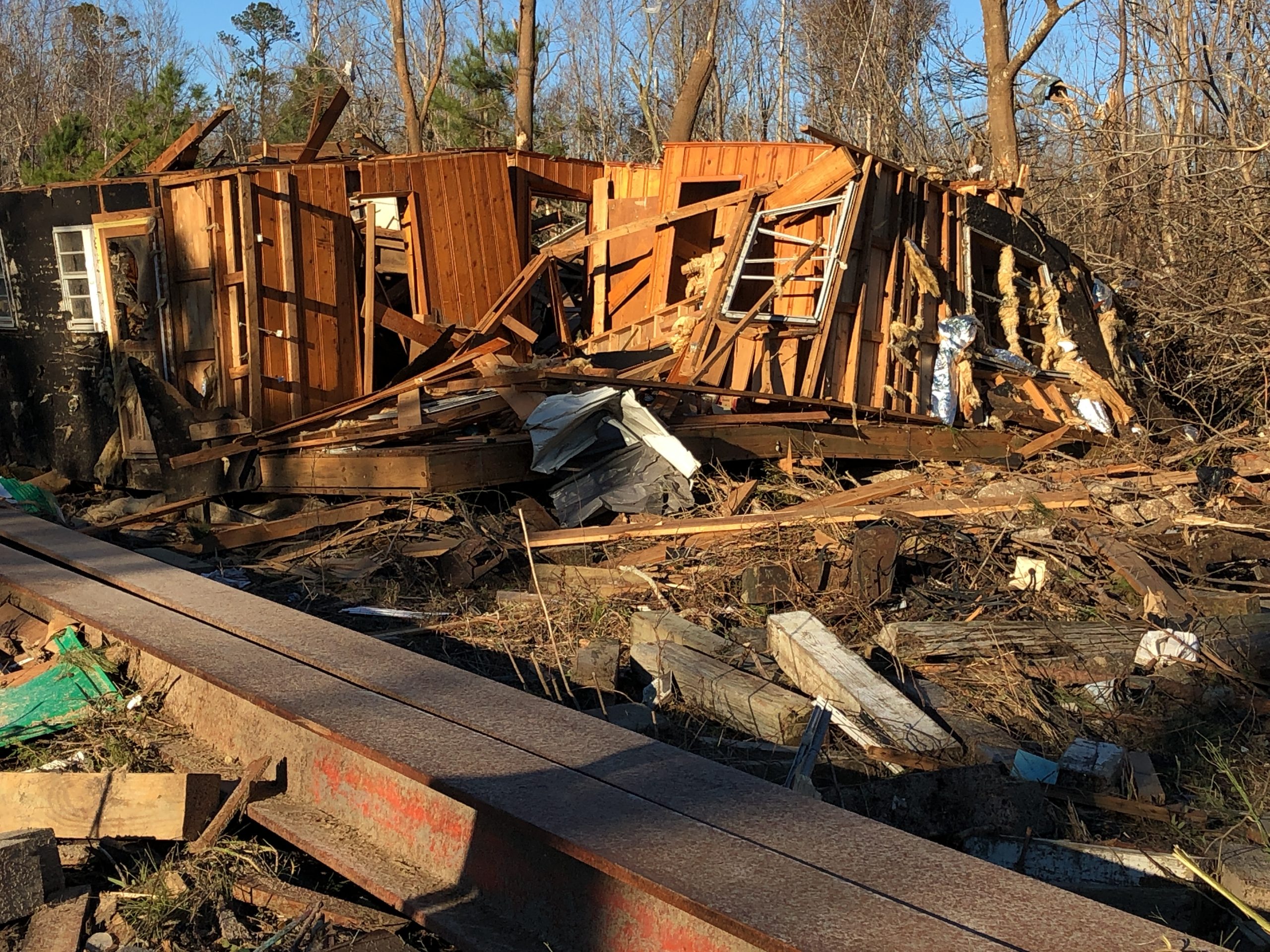 Damage from the severe tornado that struck southwestern Brunswick County late Monday is consistent with wind speeds of up to 160 mph, according to a report from the National Weather Service's Wilmington office.
Brunswick County Emergency Management reported three fatalities and 10 injuries associated with the storm and at least 60 properties sustained various damage.
The National Weather Service storm survey that cataloged the damage consistent with wind speeds of up to 160 mph is ongoing and NWS will provide additional information as it becomes available.
State emergency management and the Highway Patrol have been on the scene since Monday night and continue to assess damage to determine what resources may be available to assist in recovery efforts, according to the county.
Brunswick County Chairman Randy Thompson declared a state of emergency effective noon Wednesday in response to the loss of life, injuries and properties damaged by the tornado that impacted the Ocean Isle Beach area early Tuesday morning.
Gov. Roy Cooper visited the county Wednesday to survey damage and speak with emergency management officials and homeowners beginning to recover from the tornado.
"People in Brunswick County were hit hard by this ferocious tornado and we want to make state resources available as much as possible," said Cooper in a statement.
This is the deadliest tornado in southeastern North Carolina since the Riegelwood tornado in Columbus County in November 2006, the NWS said.
The NWS Wilmington office provided a detailed account of the tornado's path from when the tornado touched down and damaged a number of trees near Kingsmill Court in the Sea Trail Golf Resort near Sunset Beach, with wind speeds estimated to have reached 80 mph. The tornado moved northwestward and crossed a swampy area north of N.C. 179, or Old Georgetown Road.
When the tornado reached N.C. 904, or Seaside Road, it destroyed a large metal building and overturned a number of RVs. The National Weather Service estimates that wind speeds were estimated to have reached 115 mph.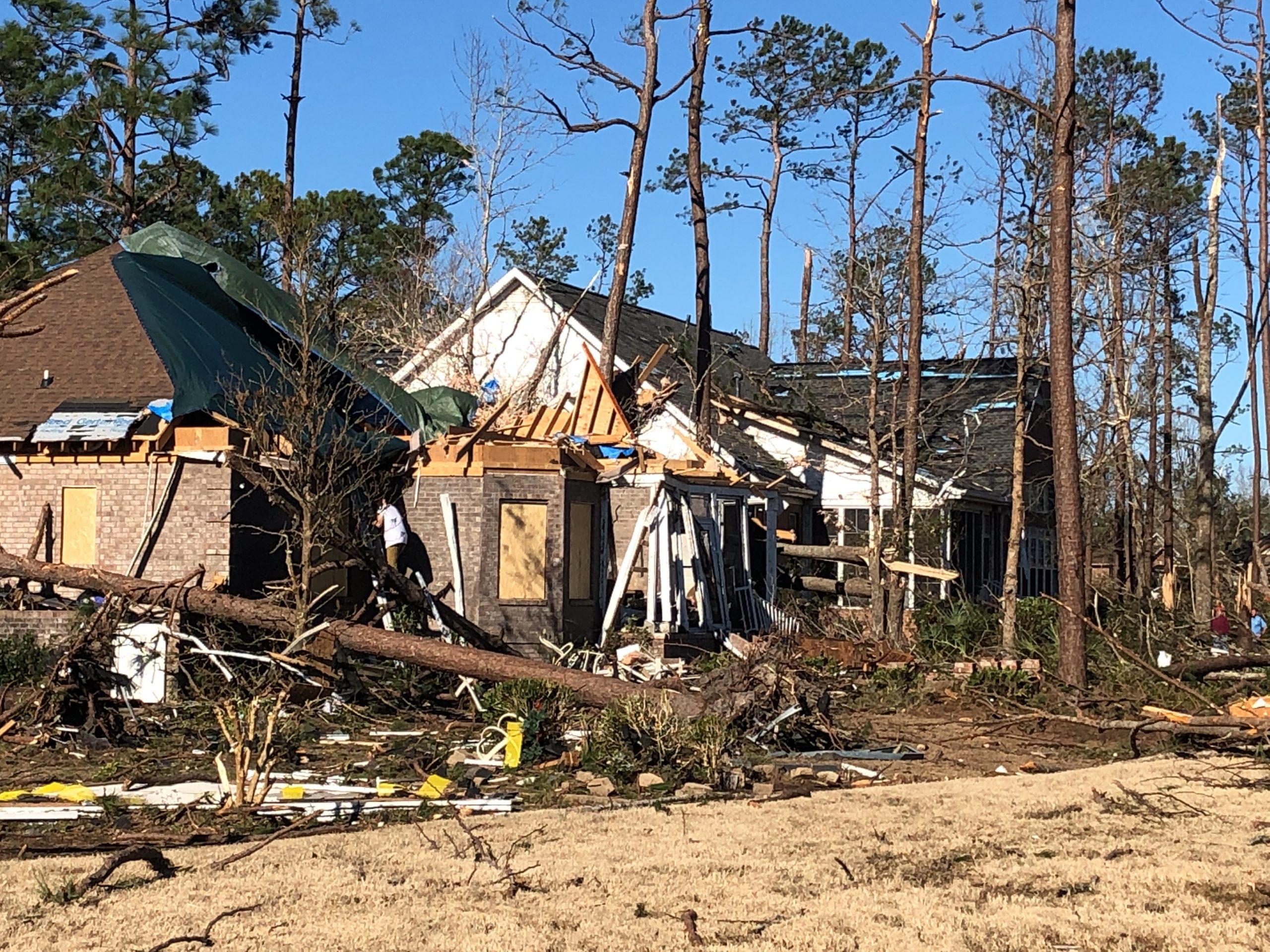 The tornado continued to track northeastward, crossed Saw Pit Swamp and entered the Ocean Ridge Plantation community, where the tornado became exceptionally powerful and damaged or destroyed a large number of well-built brick homes.
Wind speeds of at least 165 mph were thought to have happened because several homes suffered complete destruction of all walls. Debris from one home was swept completely clear of the foundation.
The tornado crossed U.S. 17 near the entrance to Ocean Ridge Plantation. A double-wide mobile home on the north side of U.S. 17 was rolled over and destroyed by wind speeds estimated near 110 mph. The tornado continued moving northeastward through the woods and approached Green Bay Road NW. Wind speeds of at least 115 mph were needed to create this degree of damage, the NWS said.
Gov. Roy Cooper speaks Wednesday during his visit to Ocean Isle Beach following the late Monday, early Tuesday morning tornado.