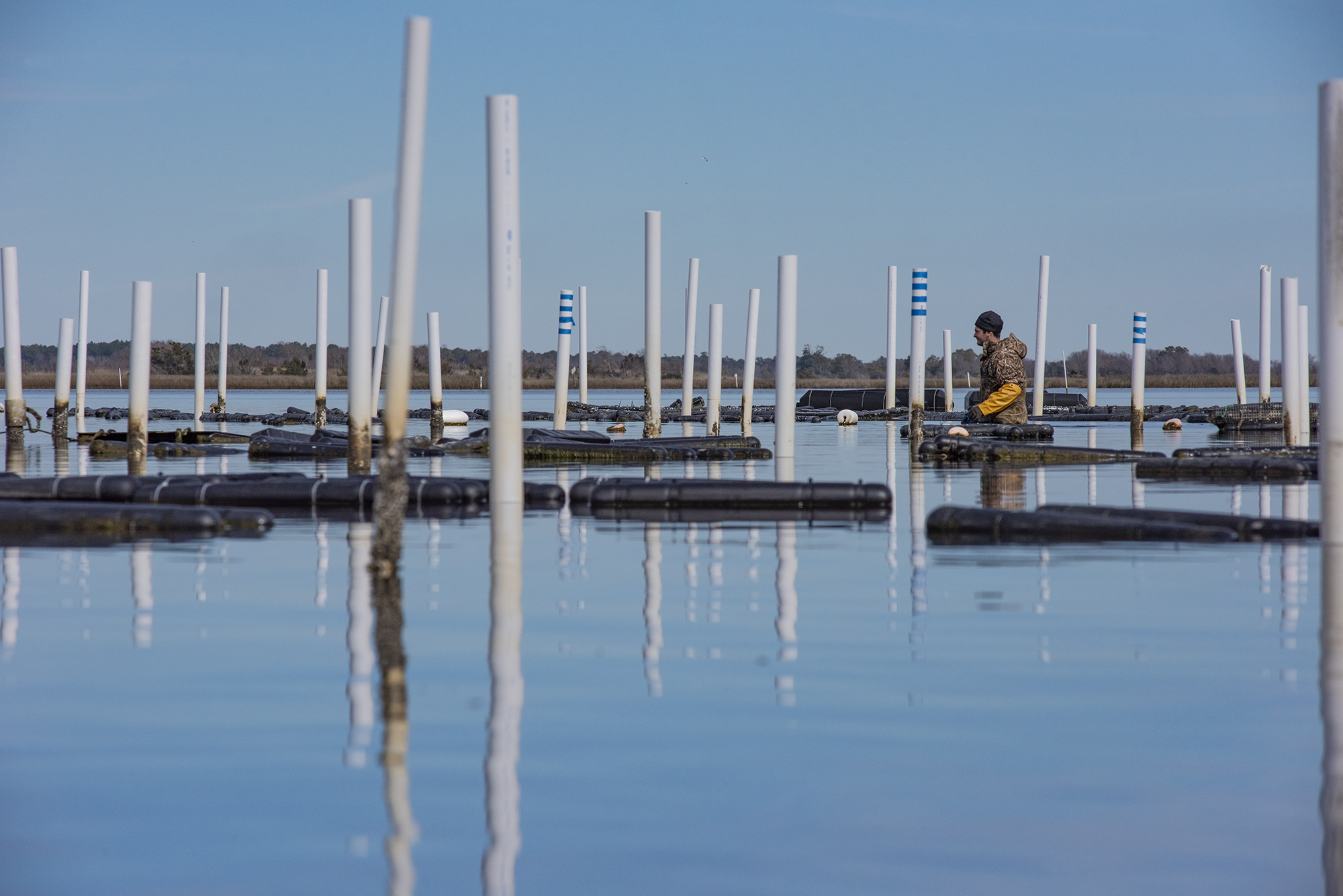 Ryan Gadow is the owner of Three Little Spats Oyster Co., a 55-acre shellfish farm in Stump Sound. Founded in 2018, Gadow chose Stump Sound in Onslow County as the location of his farm because of its renowned shellfishing waters. In North Carolina and beyond, they are recognized as some of the best.
But as much as Gadow loves Stump Sound, he is also increasingly concerned about poor water quality in the sound and the surrounding watershed. Stump Sound has been on North Carolina's list of impaired waters for decades — a sign of devastating pollution in the area.
As a result, Gadow frequently has to close down operations when pollution levels get too high. This means that the same body of water that represents North Carolina's shellfish mecca is also inhibiting his flow of business.
"We have restaurants and seafood markets depending on us, and we also have full-time employees that we have to pay whether we're harvesting or not," said Gadow. "It really hurts the economics of our business."
Gadow, like others in the Stump Sound and surrounding areas, is eager for a solution. A planning-based approach now in the works aims to improve water quality in Stump Sound and protect it in the years ahead.
Last fall, the North Carolina Land and Water Fund awarded a $75,000 grant to the North Carolina Coastal Federation to develop the plan. The federation publishes Coastal Review Online. Two main objectives of the project will be decreasing stormwater runoff into the sound and identifying other sources of nonpoint source pollution. In other words, the project is geared toward figuring out what is causing such extreme pollution in Stump Sound and determining how to mitigate those causes in the future.
The project does not focus on a short-term cleanup but rather emphasizes a sustainable approach to prevent ongoing pollution in the future. The federation's Southeast Regional Manager Tracy Skrabal said recently that it doesn't make sense to clean up waters without figuring out how to prevent the problem going forward.
"The goal of this project is really to take a holistic look at everything we can do to protect water quality and reverse the trend of degradation of Stump Sound," said Skrabal.
The federation's approach will focus largely on stormwater runoff. As land-based development has increased along the North Carolina coast in recent years, the amount of polluted water that makes its way into rivers and streams has become a growing concern. But does land-based development have to cease in order to protect North Carolina's waters?
Not according to Skrabal. She said a focus for the project will be educational outreach to the community about options for low-impact development, or strategies for allowing rainwater to soak into the ground, mimicking natural hydrology, as opposed to drainage systems that direct runoff toward water bodies. Currently, these low-impact building strategies are not widely used.
A 2014 case study by the Cary-based engineering firm, WithersRavenel found that when implemented correctly, low-impact development can be a cost-effective alternative to conventional building methods. Skrabal said she hopes that cost comparisons like this will show developers that low-impact development could save them money and increase their engagement in the project.
It was the amount of support of other stakeholders that the federation included in its proposal that led to the grant.
"One of the things that stuck out to me about this project is that the Coastal Federation was able to get every municipality within this watershed to actually come out in support of the project," said Justin Mercer, eastern field representative with the North Carolina Land and Water Fund. "So, there's this great local buy-in, which is very important for any of these types of projects –not just for the planning stage, but for hopeful eventual implementation."
Skrabal said this active engagement with municipalities around Stump Sound was intentional. Local governments are the ones who view development plans, and since land-based development is a driving force in this project, it made sense to get those teams on board.
"It makes no sense to prepare a watershed plan in a vacuum," said Skrabal. "You have to involve the people that are looking at development requests day by day by day."
It's also why Skrabal said she plans on opening the floor this year to other local stakeholders. She said diverse attendance at public hearings will lead to the most effective plan possible. Without the engagement of oyster farmers, landowners and others with a stake in Stump Sound's water quality, the eventual plan would be lacking, she said.
"These are the people that are on the water, on the land, and they can tell us things that don't pop up when you're just doing GIS work, or soils analysis and that sort of thing," said Skrabal. "So we're going to be having them help us really make sure that we really understand this watershed before we establish a plan to protect it or restore some of these waters."