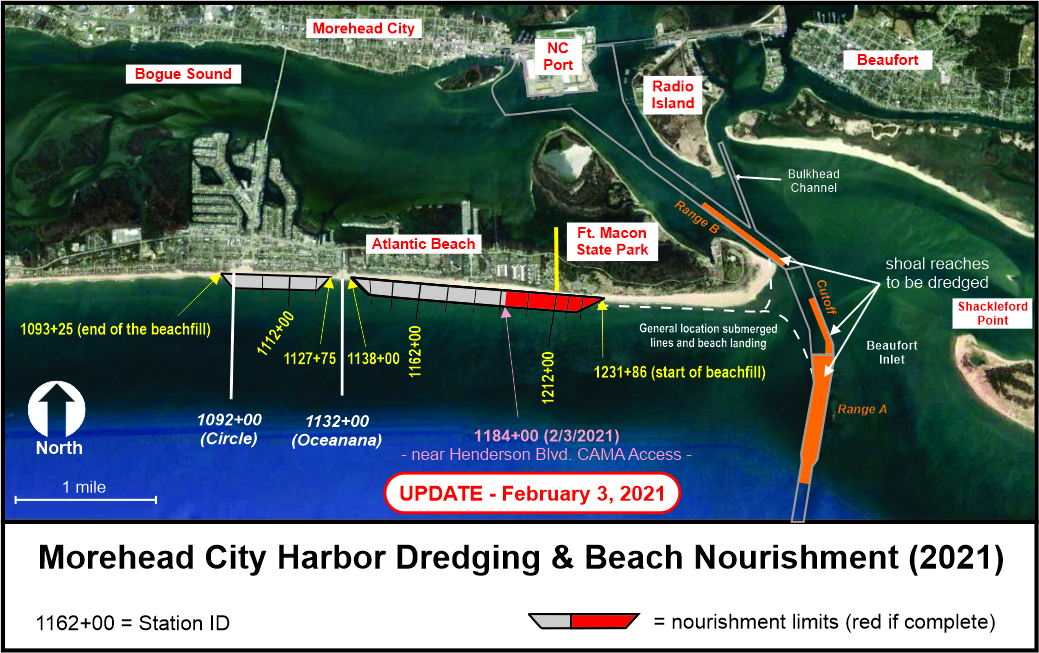 Maintenance dredging at the harbor for the North Carolina Port of Morehead City and simultaneous beach nourishment project for 2.5 miles of Atlantic Beach oceanfront that began Jan. 6 is one-third complete.
Weeks Marine is the contractor for the $18 million project planned under the Dredged Material Management Plan, or DMMP, developed for the Morehead City Harbor by the Army Corps of Engineers and the National Park Service.
The plan is to nourish just shy of 2.5 miles of Atlantic Beach's oceanfront with the more than 1.143 million cubic yards of shoal material expected to be excavated or dredged from the Morehead City Harbor, mostly from the areas known as the
Range B, Cutoff, and Range A.
Weeks Marine had dredged, pumped and graded sand starting just east of the Fort Macon Bath House Access moving west to the Coastal Area Management Act access at Henderson Boulevard, the former location of the Triple S Pier, according to an update last week from Carteret County Shore Protection Office.
Greg Rudolph with the Cartert County Shore Protection office told Coastal Review Online Monday that the beach fill for the Morehead City Harbor dredging and nourishment project was in place well west of the Henderson Boulevard, "1,200 linear feet to be more exact."
The cutterhead-suction pipeline dredge J.S. Chatry arrived at Morehead City Harbor Dec. 29, 2020, and moved Jan. 6 to the most seaward reach of the channel to start maintenance dredging the harbor.
The sand dredged by the cutterhead-suction pipeline dredge at the harbor is pumped through a submerged pipeline from the channel west of the terminal groin at Fort Macon State Park, where the land-based pipe is affixed. Nourishment is taking place east of the Fort Macon State Park Bath House Parking/Access area to the Circle in Atlantic Beach.
The contractor is required to complete the project by April 30, when the environmental window for the work closes.